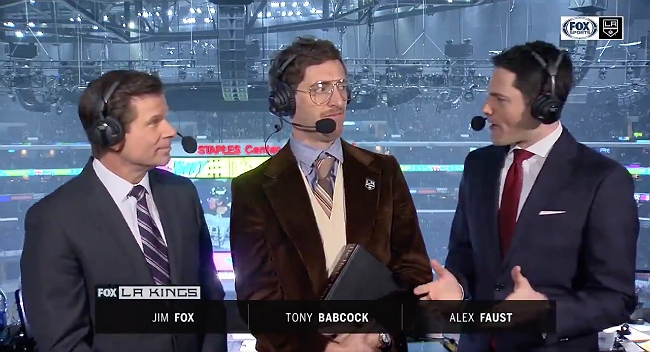 You probably know Thomas Middleditch as the nebbish tech company guy from Silicon Valley, or maybe as the somewhat less nebbish guy from those Verizon commercials that pop up during every single sporting event that's ever aired on television. But did you know that Middleditch also has a secret life as a hockey broadcaster? And a Canadian one at that?
Enter Tony Babcock, a hockey broadcaster who made his long-awaited American television debut last weekend with the Fox Sports broadcast of Los Angeles Kings hockey. Fittingly the Kings hosted the Edmonton Oilers on Saturday, giving Babcock a chance to use some local flair to call a pro hockey game..
Babcock, of course, is actually Middleditch in what amounts to a retro outfit and Canadian accent. But the broadcast tried to play it straight and was introduced as a "legendary" hockey broadcaster with a paper-thin minor league broadcasting career. He joined Jim Fox and Alex Faust during the start of the second period and, well, they were unconvined of his resume.
Middleditch posted some highlights of the experience on his Instagram account, showing off how he was introduced to an unwitting Kings viewing audience.
The bit is from the Comedy Bang Bang podcast that made Middleditch internet famous, of course, but it's truly wonderful to see him actually pull off the bit on a real hockey broadcast.
Here he is breaking down Oilers superstar Conor McDavid dangling around on the ice.
https://twitter.com/FoxSportsWest/status/1081742779854647296/video/1
"That's a little bit of a razzle dazzle dingle dangle," Babcock said, making the actual broadcasters crack up with laughter. "Right now he's heating up the oven to a cool 450 because he's gonna bake a pizza pie with any toppings he wants."
Middleditch then starts using the telestrator to put 10 numbers on the Oilers bench. Why? Well, the broadcasting "legend" will tell you.
"Look there, I put some numbers on there," he said. "That's to just let you know how many people are on the ice that are also on the bench."
Babcock/Middleditch then puts arrows pointing the wrong way the players are actually going, and circles a player in the corner for no apparent reason. It's amazing. And just what real hockey broadcasts have been missing for too long.