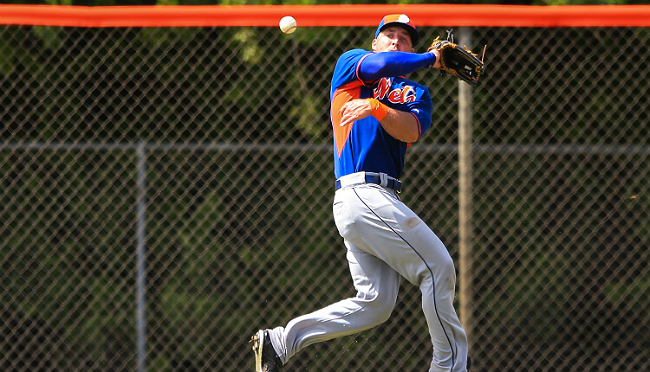 Tim Tebow sucks at baseball. He already sucked at football, but now we know he sucks at baseball, too. He's not Bo Jackson. He's No Jackson.
Tebow played in his first spring training game with the New York Mets on Wednesday, and the only way it could have gone worse would have been if … he died? It's very possible that you, the regular person who was not given a chance to bat in the same lineup with Yoenis Cespedes because you weren't bad in the NFL, could have done better than Tebow on Wednesday.
Let's look at some of Tebow's highlights on a day he went 0-for-3 with two strikeouts and hit into a double play with the bases loaded. He reached base once (when he was hit by a pitch), but was quickly erased when he ventured too far off first base and was doubled off on a line drive.
That alone means you could have done better, because yeah, you probably wouldn't get a hit either, but you wouldn't have gotten doubled off on a line drive in front of you. It's crazy how much Tebow sucked in this game.
Here's him striking out looking and getting mouthy with the ump, because someone with his status in the game should get the benefit of any close calls on the corners.
Those were just two of the indignities Tebow suffered on the field, but perhaps the most embarrassing thing happened before he even stepped to the plate. Let the Daily News paint the picture for you.
It's not often you see a hitter walk across to the other team's on-deck circle to get ready to hit. Actually, you never see that, not even in high school, where Tebow last played before signing on for this sideshow with the Mets.
It was so unusual that Red Sox pitcher Rick Porcello, warming up at the time, said he assumed it was a bat boy when he noticed someone in a Mets' uniform walking behind the plate to the Red Sox' side of the field.
When home plate umpire Ryan Addition noticed, he told the Heisman Trophy winner to get back to his side of the field.
Tell them why you did it, Timmy.
Afterward Tebow said he thought because he's a lefthanded hitter, he should go to that side. He said Jacob deGrom kidded him, "I won't tell anybody but I saw it."
What Porcello said is insulting to bat boys, who would never be dumb enough to stand in the other team's on-deck circle.
The lesson here for kids is if you're famous enough, you can do anything. So if you suck at baseball, find something else you're good at, get really famous for it, then ask the Mets if you can play baseball for them. There's a good chance they will say yes.