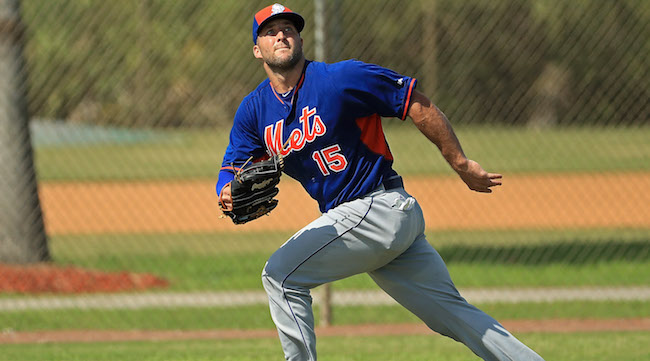 36-year-old Michelle Thompson was arrested in Port St. Lucie, Florida on Feb. 28 on trespassing charges after she was allegedly walking around the Mets' spring training complex looking for and asking about Tim Tebow.
According to the police report obtained by USA Today, Thompson had a sticker on the back that said "I (heart symbol) Jesus/Tim Tebow," and was hanging around the complex asking about Tebow's presence. Thompson, who is from Colorado, told people she was in a relationship with Tebow and when pressed on whether it was a "friendly, platonic, romantic or matrimonial" relationship said, "all of the above." She also insisted she was living with Tebow in Jacksonville and the address on her Colorado license was old.
The Mets director of minor league facilities requested Thompson be removed from the property and was told not to return, but she came back two days later and was arrested and held with bail set at $750.
When the Mets signed Tim Tebow to a minor-league contract and brought him to camp, the devoted Tebow fans were part of what they attracted this spring. Unfortunately, part of that contingent goes beyond fan and into stalker territory. The good news is this is a pretty innocuous example of stalking, as she was clearly just very strange and didn't seem terribly malicious.
Tebow was asked about stalkers and fans going too far and insisted he just goes about his business as usual.