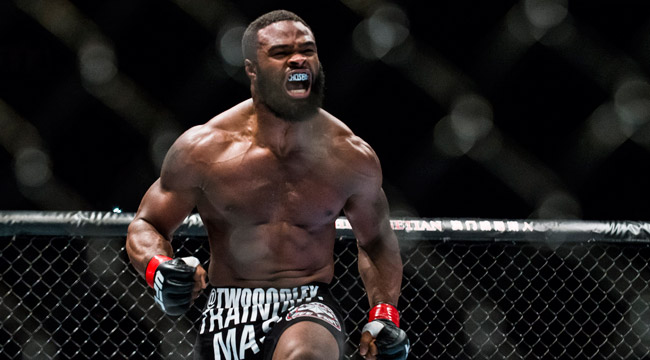 Ever since Conor McGregor became the first fighter in UFC history to hold two UFC belts at the same time, people have been wondering if he may go for a third. Since he used to look like death dropping down to 145 pounds, the only direction to go is up. And if he wants to try and take the welterweight title, he'll have to go through the heavy hitting, hard wrestling welterweight champion, Tyron Woodley.
Woodley and McGregor ended up having several run-ins at UFC 205 resulting in security pulling them apart. After the event, Woodley seemed confused and surprised at the media interest in a fight considering their size difference. That's still the general sentiment he has, but now he's warmed up to the idea of setting the record straight for the doubters who think McGregor would win.
"If him and his coach John Kavanagh and everybody think that Conor can do well against me and they gas this dude up – you know, he's a dope fighter but there's levels to this," Woodley said in a video uploaded to his YouTube account. "When you start going up, it's like me going up to 205 and challenging guys at that weight. When you come up to this weight, brother, it's real power. It's real people that will put real hands on you, that'll put you down to the canvas and you will not get up unless I let you up.
"So if you want to get in there with a lion and get your head bit off and have me spewing your blood all over the octagon while you've got that goofy tiger tattoo on your chest, looking like a clown with a clown on your chest, we can do it. We can do it in Ireland, Dublin. We can do it in the back of White Castle, I don't care. But just know, I ain't that guy. I don't like to try and act overly hood or overly ghetto, a million hood stripes, but where I'm from you don't call me a bitch, number one. Number two, you don't fake like you're about that life. If you want to scrap, if you want to make this money, let's do it. If you don't, shut your mouth. Just do your thing."
Woodley also made it clear that he wasn't another 'McGregor chaser' just looking to make big money off a fight with the brash Irishman.
"I ain't trying to build myself off Conor," Tyron continued. "I've got legendary ideas about my career. I want to be a great. There are four or five more people I've got to beat to solidify that position and that's my focus and that's my goal. If he wants to be a stumbling block that gets me to there faster, so be it."
Those people include names like Georges St. Pierre and Nick Diaz. But first Woodley will have to finish what he started with Stephen 'Wonderboy' Thompson. On the same night that McGregor won his second belt, Woodley fought Thompson to a draw in a fight of the year candidate that is set to be rematched in the next few months.