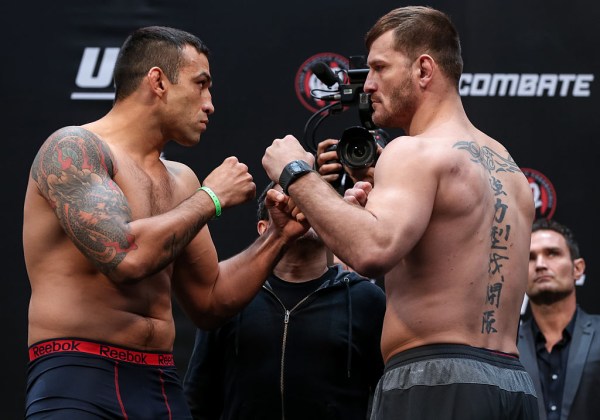 What's up, fight fans? UFC 198 is here, after some minor card changes, and thankfully we've still got a heavyweight title fight in the main event. The fight-stivities (I swear that'll catch on eventually) kick off at 6:30PM ET on Fight Pass, so let's take a look at who's going to win and how they'll get it done.
2016 Important Results:
Jessica: 81-66-2 (55 percent)
Burnsy: 68-54-1 (56 percent)
Ryan: 5-1 (83 percent)
Jason: 14-10 (58 percent)
Jackman: 7-5 (58 percent)
Enrique: 7-5 (58 percent)
Jamie: 10-8 (56 percent)
Justin: 13-4 (76 percent)
Marty: 20-12-1 (62 percent)
Jared: 13-11 (54 percent)
Parker: 3-4 (43 percent)
Dr. Vet: 39-21-2 (65 percent)
Suzanne Davis Note: Due to a hectic schedule, neither Dr. Vet, nor his master prognosticating cats will be making picks this week. Instead, he has bestowed a heavy burden upon my son, who is usually referred to as "E". He's four.
Y'all have been outpicked by – 1. A bunch of cats. 2. One cat. 3. Scrabble letter score. Are you going to lose to a four year old, too? (Editor's note: AWWW COME ON)
No more ado, he picked the fighters and the why-s. I did the how-s. Good luck!
Featherweight – Renato "Moicano" Carneiro vs Zubaira "Warrior" Tukhugov
Jessica: Tukhugov is going to bring some Chechen thunder down on Renato's head early and often. Zubaira wins this by first round TKO.
A literal child: Pick: Tukhugov.
Why: "His name looks like 'Zebra'!"
How: His name looks like "Zebra"!
Jamie: A wild Zubat appeared!
Go! Renato!
Wild Zubat used Supersonic!
Renato became confused!
Renato is confused!
It hurt itself in its confusion!
Wild Zubat used Sambo!
It's super effective!
Renato fainted…
Burnsy: No clue, so let's go with the best prediction strategy. Which of these fighters has a nickname that shares the name of a f*ckin' rad 1984 Scandal song? SHOOTIN' AT THE WALLS OF HEARTACHE, BANG BANG. I pick the Warrior.
Jason: Tukhugov. Of course. Right?
Welterweight – Sergio "Panther" Moraes vs Luan "Tarzan" Chagas
Jessica: Fun fact – "Chagas" is Portuguese for "Platter".
Enjoy that King of the Hill joke, friends. Let it soak deep into your brain as your heart turns cold and the hatred for me grows and grows.