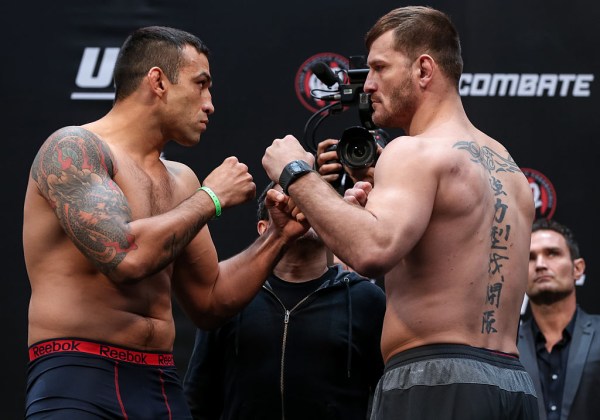 What's up, fight fans? UFC 198 is here, after some minor card changes, and thankfully we've still got a heavyweight title fight in the main event. The fight-stivities (I swear that'll catch on eventually) kick off at 6:30PM ET on Fight Pass, so let's take a look at who's going to win and how they'll get it done.
2016 Important Results:
Jessica: 81-66-2 (55 percent)
Burnsy: 68-54-1 (56 percent)
Ryan: 5-1 (83 percent)
Jason: 14-10 (58 percent)
Jackman: 7-5 (58 percent)
Enrique: 7-5 (58 percent)
Jamie: 10-8 (56 percent)
Justin: 13-4 (76 percent)
Marty: 20-12-1 (62 percent)
Jared: 13-11 (54 percent)
Parker: 3-4 (43 percent)
Dr. Vet: 39-21-2 (65 percent)
Suzanne Davis Note: Due to a hectic schedule, neither Dr. Vet, nor his master prognosticating cats will be making picks this week. Instead, he has bestowed a heavy burden upon my son, who is usually referred to as "E". He's four.
Y'all have been outpicked by – 1. A bunch of cats. 2. One cat. 3. Scrabble letter score. Are you going to lose to a four year old, too? (Editor's note: AWWW COME ON)
No more ado, he picked the fighters and the why-s. I did the how-s. Good luck!
Featherweight – Renato "Moicano" Carneiro vs Zubaira "Warrior" Tukhugov
Jessica: Tukhugov is going to bring some Chechen thunder down on Renato's head early and often. Zubaira wins this by first round TKO.
A literal child: Pick: Tukhugov.
Why: "His name looks like 'Zebra'!"
How: His name looks like "Zebra"!
Jamie: A wild Zubat appeared!
Go! Renato!
Wild Zubat used Supersonic!
Renato became confused!
Renato is confused!
It hurt itself in its confusion!
Wild Zubat used Sambo!
It's super effective!
Renato fainted…
Burnsy: No clue, so let's go with the best prediction strategy. Which of these fighters has a nickname that shares the name of a f*ckin' rad 1984 Scandal song? SHOOTIN' AT THE WALLS OF HEARTACHE, BANG BANG. I pick the Warrior.
Jason: Tukhugov. Of course. Right?
Welterweight – Sergio "Panther" Moraes vs Luan "Tarzan" Chagas
Jessica: Fun fact – "Chagas" is Portuguese for "Platter".
Enjoy that King of the Hill joke, friends. Let it soak deep into your brain as your heart turns cold and the hatred for me grows and grows.
Anyway, I don't care if it was three years ago (holy shit), but Sergio friggin tapped My Main Man Neil Magny. Chagas has beat some really random Brazilians that nobody has ever heard of, so I'll go with Moraes to submit Luan in the third.
A literal child: Pick: Draw.
Why: "These guys look dumb."
How: Mensa test failure.
Jamie: Moraes by final atomic buster.
Burnsy: Tarzan versus a panther? You're so clever, UFC. I pick the panther to finally stop taking orders from that human.
Jason: This is the best booking since "Superman" took on "Doomsday" all those years ago. I'll pick Panther in honor of the Marvel superhero.
Light Heavyweight – Antonio Rogerio "Minotouro" Nogueira vs Patrick "Durkin" Cummins
Jessica: Go to hell, Barista. Cummins is going to KO Lil Nog in the first and I'm going to be very upset.
A literal child: Pick: Cummins.
Why: "He makes donuts." (Durkin? Durkin Donuts? The teenage years won't be kind to my boy.)
How: I was hoping he'd pick Nogueira just so I could say, "Nogueira will finish Cummins." Sigh.
Jamie: Please, God, let this be Nog's last fight. This is gonna be depressing to watch. Cummins by whatever he damn well pleases.
Burnsy: I'll pick Cummins and his feel-good story as long as he's in the UFC.
Jason: Lil Nog should take this with his far more crisp boxing, but I have a feeling something bad is going to happen. Cummins.
Bantamweight – John "Hands of Stone" Lineker vs Rob Font
Jessica: Lineker is going to make an Impact and send Rob straight to Helvetica. Hands of Stone takes this with a first round KO.
A literal child: Pick: Lineker.
Why:
E – Mommy made me.
Suzanne – I did no such thing!
E – You said you'd give me a cookie if I said the guy won.
Suzanne – D'oh!
How: F&%king Davis genetics, I guess..
Jamie: VIOLENCE, SAYS I. Lineker is going to punch Font so hard that Rob will only be able to speak in Comic Sans for the next six months.
Burnsy: Font jokes! Well, Rob doesn't like that very much and he will use them as fuel to win.
Jason: I don't mean to be bold but I think Font will have a Helvetica of a fight.
Lightweight – Francisco "Massaranduba" Trinaldo vs Yancy "The Kid" Medeiros
Jessica: Trinaldo is old as dirt and super stumpy. However, I think his grappling will be very smothering and Medeiros will struggle under the overwhelming Meaty Cube-ness of Trinaldo. Plus, his name is YANCY. Trinaldo wins this by decision.
A literal child: Pick: Medeiros.
Why: [Five minutes of talking about dinosaurs]
How: Paleolithicing.
Jamie: Remember when Trinaldo fought at middleweight and everyone thought he would cut down and be a big-ass welterweight? Nah, instead he cut down to Tibauweight and just hulksmashes everyone before he gasses. Expect more hulksmashery for a round and a half, followed by half a round of inaction and a round of desperately trying to not have a heart attack, and a close UD for Massarandubstep.
Burnsy: Yancy is such a fun name to say, like a foppish old timey person. I'll pick him just based on how much fun I'm having saying, "YAHN-SEE! YAHN-SEE!"
Jason: I always pick Yancy and I will continue to do so.
Middleweight – Thiago "Marreta" Santos vs Nate "The Great" Marquardt
Jessica: Marquardt is basically done, yeah? Santos should beat him up pretty thoroughly and finish him in the second via TKO.
A literal child: Pick: Santos.
Why: [Shrug]
How: Being distracted by lunch.
Jamie: Nate is more done than a steak you forgot was on the grill. Thiago just needs to hit him once and this is a done deal. One round and it's over.
Burnsy: Nate doesn't stand a chance. More like Nate "The Too Late."
Jason: I think the sketchy drug testing will allow Nate to be great again. So I pick Nate.
Welterweight – Demian Maia vs Matt "Immortal" Brown
Jessica: Oh dang, dang, dang. Matt Brown is a TUFF SUMBITCH and is one of my all time favorite Gangly Violence Monsters. Maia is probably the best grappler in MMA, and he's also a cool dude that trains guys he's beat to be better on the ground. I really like both dudes and don't want either to lose. That being said, Brown needs to play a spirited game of The Floor is Lava if he wants to win. He likes clinch work, but Maia has good trips and throws from there.
My pick ultimately comes down to my bias of who I want to see edge higher up the rankings. I'd rather see Brown rematch Wonderboy or Lawler than Maia go after them. Sorry, Demian, but you can remain in the middle tiers. Brown wins by third round TKO.
A literal child: Pick: Brown.
Why: "Has a tattoo of the Spaghetti Monster."
How: Shrinking number of Pirates.
Jamie: This is probably, short of the main event, the most exciting matchup on the card. Brown is relishing his heel role, and I'm having flashbacks to his dismantling of Stephen Thompson. Call me crazy, but I think we might watch an aging Demian get completely shut down here. Screw it, I got Brown by UD.
Burnsy: I really like Matt and his massive balls, and I'd like him to win, bit I think Maia is just a better fighter.
Jason: Maia, but it'll be a good fight.
Welterweight – Warlley Alves vs Bryan "Bam Bam" Barberena
Jessica: Bar-bar-bar Barberena is totally being punished for that win over Perfect Boy Sage Northcutt. Alves is undefeated and super good on the ground. Sorry, Bryan, but Warlley gets a second round submission. Just take your receipt and keep your head down, kid.
A literal child: Pick: Alves.
Why: "The other one is in water!" (See Here)
How: Sub.mersion
Jamie: Warlley is a fighter I love watching. I'm totally psyched to see his progression, and this is a pretty clear tune-up fight. Expect him to play with his food en route to a UD win.
Burnsy: Warley is both a better fighter and the sound that a shaggy dog makes when drinking a lot of water and then shaking his head.
Jason: I don't know these people so it has to be Bam Bam.
Light Heavyweight – Mauricio "Shogun" Rua vs Corey "Beastin 25/8" Anderson
Jessica: Sorry, Shogun, but you cannot deal with a man capable of Beasting 25 hours per day, 8 days per week. Unfortunately, that means Anderson is incapable of ending his Beastin early, so expect a long night. Anderson wins by decision, 25-8.
A literal child: Pick: Anderson.
Why: "He beasts-ste-sess."
How: Beasting, probably.
Jamie: Screw your reasons. Screw your logic. Screw your MMAth. Shogun is gonna have Corey's overly long nicknamed ass Persistent Vegetative Statin' 25/8.
Burnsy: Corey just won't stop Beastin'.
Jason: This is so sad… Corey. No, Shogun. Ugh… Don't let me pick against Shogun. I PICK SHOGUN!
Catchweight (140lbs) – Cristiano "Cyborg" Justino vs Leslie "Peacemaker" Smith
Jessica: If, if, if Cyborg actually makes weight, which I'm not giving great odds to, I think she can smash up Smith without much difficulty. If she struggles and is on death's door at the weigh in, Smith could have success with her Diaz-style volume straight punches to prevent Cyborg from swarming.
Will it be a long-term strategy that will prevent Cyborg from closing in at all during the 15 mintues? Oh heck no. Is it a strategy that could be beneficial as Cyborg rushes her face directly into a cross? Oh heck yes. You know what, screw it. I'll take Cyborg to win by first round TKO just so she can fight Ronda down the line.
A literal child: Pick: Smith.
Why: "Uhhhhhhhhhhhhhhhhhhhh [imagine that going on for 30 seconds] . She's from USA!"
How: Patriotism.
Jamie: F*ck, I hate having to say bad things about Leslie Smith. She fights with the reckless disregard of a bleeding Stefan Struve, laughs at pain in ways that make Robbie Lawler uncomfortable, and enjoys hurting people in a way I've only seen in a sexually aroused Shinya Aoki. None of this will help her. Cris Cyborg will drop her on her head and punch her into the next time zone. I hate this, but Cyborg by KO, round one.
Burnsy: Cyborg will win, unfortunately, and then she'll talk some shit about Ronda Rousey and people will be like, "Why don't they just fight already?" and then Cyborg will drink the contents of Buick's gas tank.
Jason: Cyborg, duh.
Middleweight – Vitor "The Phenom" Belfort vs Ronaldo "Jacare" Souza
Jessica: If Souza can avoid the Belfort Blitz that lasts all of three minutes, he'll be fine. Luckily, Souza's hands seem to be getting better each time he fights. I'm guessing Vitor might land a decent shot or two, but he'll get all tuckered out, as usually, and then Souza drags him to the ground to finish things off. Souza wins by second round submission and then GATOR CHOMP N CRAWL TIME!
A literal child: Pick: Belfort.
Why: "He looks meaner."
How: Cheesus.
Jamie: Vitor's complaining about slave wages. He's talking about crowdfunding his camp. He's mentally checked out, and just collecting a paycheck until his contract is up. I trust him about as much as I trust his claims that the Holy Spirit is just as powerful as TRT. Jacare is gonna strangle him. First round. No doubt.
Burnsy: What a potentially fabulous clash of two maniacs with questionable chemical integrity. I like Souza a lot, so I'll just pick him until he is busted for snorting dinosaur DNA.
Jason: First round, Vitor. Second round, Jacare subs him.
Heavyweight Title – Fabricio "Vai Cavalo" Werdum vs Stipe Miocic
Jessica: Werdum is dangerous everywhere. Miocic needs to be very careful about tryint to wrestle Fabricio, as Cain found out last year. Granted, Stipe probably won't be as terribly gassed as Cain was, but still, he better listen to the Wu Tang Clan and protect his neck.
I think Werdum avoids the worst of Miocic standing, lands some good shots of his own, and gets the fight to the ground. After that, it's a wrap. Werdum wins by second round submission.
A literal child: Pick: Werdum.
Why: [giggling] "He has big ears!"
How: Leftover anger from other kids picking on him.
Jamie: Maybe it's bias, maybe it's a reaction to the massive hype he initially received ("Bro, he's Croatian and he has checkered shorts, and can wrestle too! HE'S BASICALLY WHAT WOULD HAPPEN IF MIRKO AND MARK COLEMAN HAD A KID") but I've never been able to take Stipe seriously as a fighter. Every time I think about him winning a fight, I immediately think BUT STRUVE WHOOPED DAT ASS. However, Stipe did indecent things to the Samoan Kaiju known only as MAKUHAUNTO as well as the redneck Kaiju Roy Nelson, and he was a participant in the magnificent clusterf*ck known only as Moosin: Gods of Martial Arts. Having stood among such deities as superheavyweight Tim Sylvia, he stands a fair chance against the Godking of Trolls.
Now Werdum, however? Fabricio used to hold a similar place in my mind. He beat Easter Island Silva? Meh, Silva is made of testosterone and disappointment. Fedor? FEDOR JUST GOT OVERCONFIDENT. The fight with Ubereem just proved the point. What kind of serious fighter would flop like that so many times in a fight? Disgraceful! At some point, though, it just clicked in my head, though: HE WANTS YOU TO BELIEVE THIS. He wants to come off as goofy and not serious. He wants you to underestimate him. Every WERDUM TIME gif that we post, every Werdum Trollface image we share? They add to the underestimation of Werdum. With every stupid Goddamn grin, he becomes more powerful. I think Fabricio has transcended humanity at this point. It's very possible that he's become some sort of immortal troll lord. Who knows what kind of gifs will come out of this, but I've got Trolldum by sub in the third.
Burnsy: Finally, a chance for progress in this boring shitshow of a division. What I think will happen is Werdum fights a smart, strategic fight and wears Miocic out, winning and retaining the title in five boring rounds. What I hope will happen, and is therefore my prediction, is that Miocic puts his fist through Werdum's head and wins the belt, marking the beginning of change in the heavyweight division.
Jason: I almost always pick against Werdum and he comes out looking better than ever. He is getting older though, so when will his decline come? Maybe against Overeem later this year. Werdum wins, and I think it'll be a split decision.
Performance of the Night
Jessica: Lineker, Tukhugov
Jamie: Werdum, Zubat
Burnsy: Souza, Anderson
Jason: Maia, Souza
Fight of the Night
Jessica: Brown vs Maia
Jamie: Brown vs Maia
Burnsy: Belfort vs Souza
Jason: Brown vs Maia