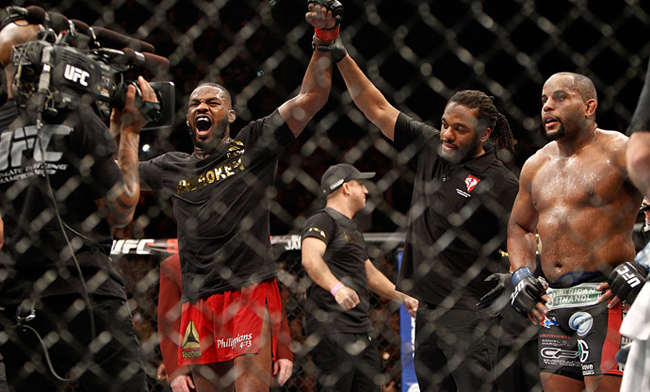 Daniel Cormier and Jon Jones will forever be linked in the history of MMA. Few fighters matchups have been booked more than Cormier vs. Jones, and even less have had matchups fallen apart as many times. Beyond their feud in the cage, their dislike for each other is real and genuine.A failed drug test, injuries, and Jones' legal troubles haven't cooled down their hatred. These are two of the best fighters of all-time, and they can't stand each other.
Now, with Jones on the sidelines, suspended for violating the UFC's drug policy, Cormier is defending his UFC light heavyweight title against Anthony Johnson in a rematch of their UFC 187 battle in which Cormier won the vacant belt. Still, even with Jones out of the spotlight for basically years, his shadow covers the light heavyweight division he dominated for a half-decade. Because of this Anthony Johnson is giving Jones his props. In an interview, "Rumble" said Jones will, "always be around, regardless of what happened."
Cormier, in an interview with ESPN, understands, but wants to remind everyone why Jones is banned until July (h/t BJPenn.com for the transcription):
"You kind of expect it, but there's only one problem with Anthony's answer," Cormier said. "I think we've got to stop saying, 'Regardless of what happened.' We know what happened. We know exactly what he did. So when we say stuff like, 'Regardless of what happened,' or we don't state the facts, it's almost like we're sweeping it under the rug. We know what he did. We know the bad things that he did. We know that he tried to cheat. We know all this stuff. So I get annoyed because I'm like, 'Why are you asking me about a guy that, three days before we were supposed to fight, pissed hot?' That's the stuff that annoys me, not the fact that he's a good fighter. He's a great fighter."

You cheated. You also smashed into somebody's car and ran away. I know what you did. If everybody else wants to ignore it, they can. I'm not."
Cormier isn't here to play nice with Jones. He never has and never will. Despite Jones' superb career, he wants to remind the world that he's not off taking a vacation, he failed a drug test. He cheated, and he was out of control outside the cage.