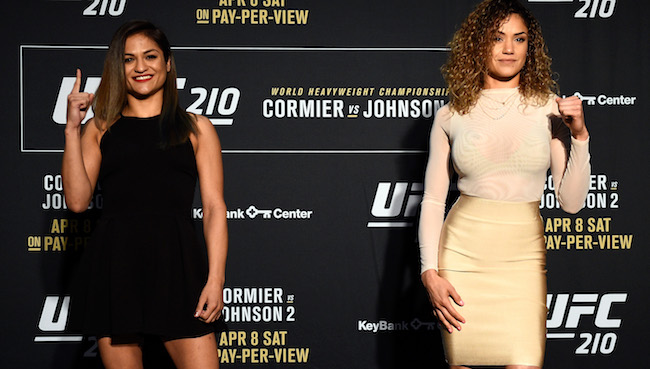 The sport of mixed martial arts fought for years for the ability to stage events in the state of New York, and when it was finally granted the privilege in 2016 the UFC took full advantage. UFC 205 was a massive event featuring the sport's biggest star in Conor McGregor and three scintillating title fights in the world's most famous arena, Madison Square Garden.
The promotion's second attempt at an event in New York though isn't going so swimmingly, and now they might get one of their pay-per-view fights from UFC 210 cancelled for the strangest reason.
Breast implants.

Yes, the New York State Athletic Commission has a rule that female fighters are not allowed to fight with implants and as such, one day before the event, they've cancelled the main card fight between Cynthia Calvillo and Chicago fighter Pearl Gonzalez. The whole episode is strange, as the rule wasn't implemented yesterday, and surely Gonzalez didn't get implants yesterday so the fact that the UFC was either unaware or didn't bother to look into the rule is curious.
According to omniscient UFC reporter Ariel Helwani, Calvillo was upset to say the least but hopeful the ruling will be overturned and the fight will go on, but the NYSAC would not comment on the matter.
With the fight between relatively unknown fighters being bumped to the main card, it was obvious the UFC had hopes a star could emerge from the bout between the 115 pound fighters, but now that may be out the window, at least until Gonzalez can fight in a state where her implants will be allowed.