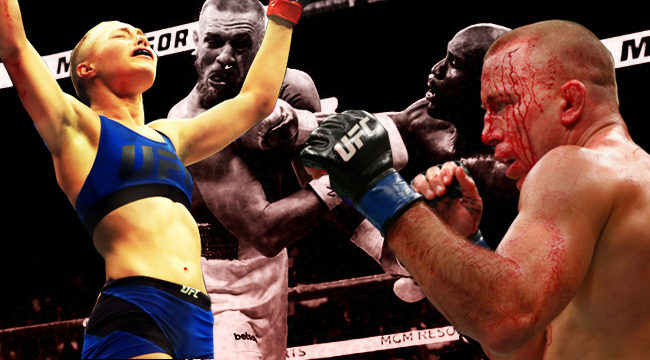 By all measurements, the UFC had a down year in 2017. Their two biggest stars — Ronda Rousey and Conor McGregor — didn't step foot in the Octagon once, and ratings showed it. PPV buy-rates were down outside of Jon Jones' grand return at UFC 214, and there was a general lack of fan hype around the promotion's weekly events. High-profile USADA violations took down Anderson Silva and Jon Jones yet again, and few stars were truly born.
It was a year that kind of skirted by for the UFC, existing, for most fans, only in the orbit of the Floyd Mayweather vs. Conor McGregor circus.
It paints a gloomy picture, but MMA has a pretty high basement when it comes to enjoyment. Yes, the stars of old are falling away, and too few have been there to pick up the slack, but the UFC put on the best combat sports show of 2017 with UFC 217, and it's a reminder of how utterly enjoyable the sport can be.
UFC 217 had the perfect amount of spectacle, drama and easy to grasp storylines to allow for maximum enjoyment from the hardcore fan to the fringe viewer who would only watch one UFC show per year. Most importantly, every fight on the main card could be summed up in a simple, enticing logline.

A Former Champion Falls For Possibly The Last Time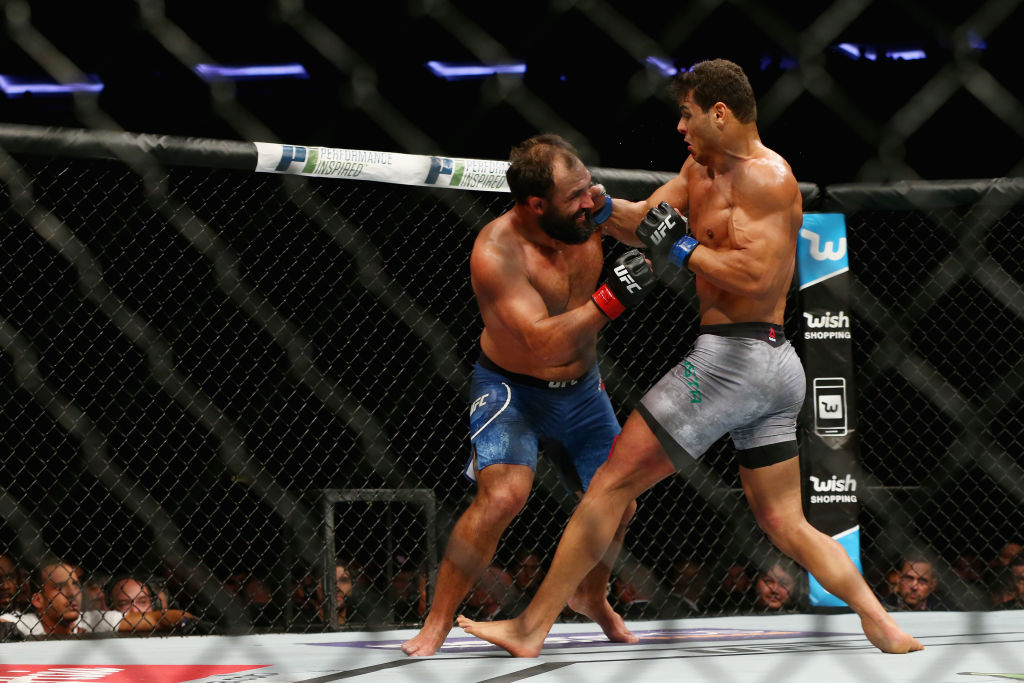 Paulo Costa wasn't known to many fans, but the buff Brazilian showcased his skills against the former welterweight champion Johny Hendricks, who was moving up in weight after no longer being able to cut to 170. The fight showed two things: Hendricks belongs at a lower weight class and the gap between the welterweight limit of 170 and middleweight's 185 is too much. There needs to be a happy medium. These men look like they're three weight classes apart, and it felt like it too.
Hendricks was soundly defeated, throwing his once-great career into further turmoil. This was the final fight on the former champ's contract, and considering he's lost seven of his last nine fights, it could be the end.
Paulo Costa knocks out Hendricks in the 2nd round#UFC217 pic.twitter.com/oa2GpTOCSn

— Rob Lopez (@r0bato) November 5, 2017
Karate and Street Fighting Clash
It's a simple setup. Confident, trash-talking Jorge Masvidal was working his way to a title shot up a weight class from the lightweight division. He's a gritty, but skilled fighter who ran with Kimbo Slice back in the day, making his way to the famed fight mecca of Madison Square Garden where he would take on one of the greatest karate practitioners in modern history.
The two men engaged in a high-level dance that illustrated the best karate and MMA striking has to offer. This was a battle of two completely different humans. One willing to smile through a mouthful of blood, the other considering every angle, avery juke and every step of his opponent with mathematical precision. Thompson won, keeping him near the top of the division, while Masvidal would go and consider his options in the division.
Rose Namajunas Shows the True Heart of a Martial Artist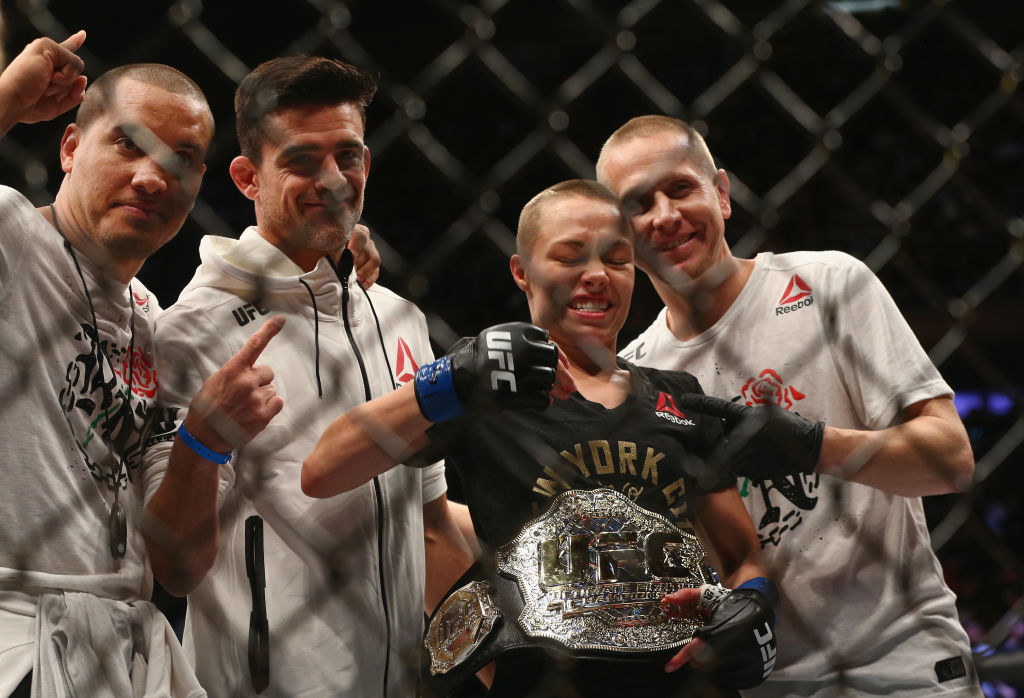 Rose Namajunas was a 7-1 underdog against Poland's Joanna Jedrzejczyk, the champion of over two years and someone who has no qualms with kissing her fist and placing it upon an opponent's nose. At only 25 years old and with a 6-3 record, most MMA fans have seen Rose since she began her career in the shadow of her former UFC fighter boyfriend Pat Barry. Over the last few years, she's blossomed into a talent, racking up wins over Michelle Waterson and Paige VanZant, becoming a fan favorite along the way. But Joanna. As Nick Cave says: "Oh, Joanna." Few are as deadly as her.
Look at these mind games:
When someone who owns nearly every record in women's MMA say they're going to destroy someone, frankly, it usually happens. But at UFC 217, in Madison Square Garden, Rose Namajunas didn't flinch. She moved forward and blew up Joann's chin. Rose killed the badass. The bully. And after, she showed why so many fall in love with the martial arts in the first place. It's a competition, not a battle to the death. They are sportsmen, entertainers, and Rose, being Rose, used her first moments as champion to tell everyone that they need to be cool with each other.
The unfortunate reality of being a combat sports fan is that it's rare to see two athletes compete against each other at the top of their game. In TJ Dillashaw challenging ex-teammate Cody Garbrandt for his bantamweight title, we not only saw them at their best, but we witnessed a true changing of the guard. Dillashaw has been around, as has Garbrandt, but these men represent the next generation of fighter. They're fast, brilliant wrestlers, and can knock out the best strikers in the division.
After years of relatively one-dimensional mixed martial artists, we're seeing a welcome homogenization of MMA. These fighters are elite in every aspect of the game, and seeing them clash was like a a Street Fighter match in fast forward. These men hated each other. Drama left over from a camp breakup, video of knockdowns while training, and general shit talk added a jet propulsion to every strike, and in the end, Garbrandt fell. TKO'd in a shocking but beautiful flurry. After years of bad blood, the two men finished it.
There are levels to this thing called fighting, and Dillashaw and Garbrandt showed that they were on the top.

Georges St-Pierre Cements His Legacy As GOAT
Four years ago, Georges St-Pierre walked away from fighting as the undisputed greatest of all time in the welterweight division. As rumors swirled around a return, he clearly made it known that he would only return for the biggest challenge possible. He wanted to join BJ Penn, Randy Couture, and Conor McGregor as one of the only men to hold a belt in two UFC weight divisions, at 36-years-old. Father time defeats all men, but GSP looked reborn against Michael Bisping.
The fight was a bloody, stiff, clash that saw both men rocked. GSP did what many could never do in taking Bisping down, but the Brit made him pay, slicing him open with elbows. As GSP began to gas in the third round, a counter uppercut rocked Bisping, sending him to the mat. GSP dove onto him, throwing ferocious elbows before sinking in a rear-naked choke to send Bisping into unconsiousness. GSP made history, had his first finish since 2008 (Penn quitting on the stool doesn't count), and proved that he really, truly was a GOAT.
#GSP with an elbow , the ref should of stopped it sooner @GeorgesStPierre #ufc217 #gsp #bisping lost to @danhendo pic.twitter.com/zrBnhfCjpn

— Flagman Ireland (@flagmanireland) November 5, 2017
UFC 217 showed that MMA action could still be the most gripping, dramatic sports in the world. Even if the hype wasn't through the roof, even if multi-millionaires weren't bragging about making another few hundred million dollars — this show proved that MMA won't die. There are too many stories, too many important turns and twists. It said goodbye to the old, greeted the new, showed upsets, comebacks and revenge. It was perfection.