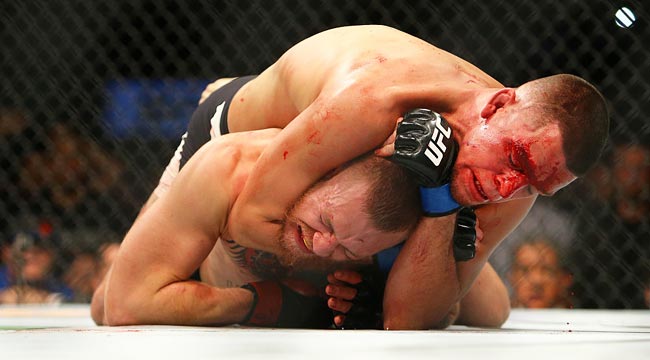 In Star Wars: The Phantom Menace, Jedi Master Qui-Gon Jinn states that there's "always a bigger fish." That's true of the deep, dark waters of Naboo, and earthly combat sports. In this case, the big fish is Nate Diaz, who tapped Conor McGregor back at UFC 196 and has loomed large over McGregor's braggadocious behavior even as the Irishman has made a nine-figure payday fighting Floyd Mayweather.
No example of Diaz's shadow being cast of the never-ending McGregor-Mayweather feud is better than the stamp he put on Floyd and Conor's ridiculous back and forth on Instagram. It started with Floyd Mayweather probably paying too much to commission a Photoshop of him elbowing a bloody McGregor with the caption "certified killa vs. certified b*tch."
Which then led to McGregor posting a picture of a "real elbow in a real fight" showing a picture of Mac elbowing the skull of Nate Diaz at UFC 202.
Then Nate posted a reply that got a 10-7 on the judge's scorecards. "A real kill in a real war…"
The increasing talk that Mayweather could have a run in the UFC's Octagon is no-doubt fueling all of these social media posts, but there's no way Floyd takes an MMA fight at 40-plus years old. It simply makes no sense. What does make sense is McGregor dropping his lightweight belt if he doesn't want to fight Khabib Nurmagomedov or Tony Ferguson so he can finish the trilogy against Diaz.