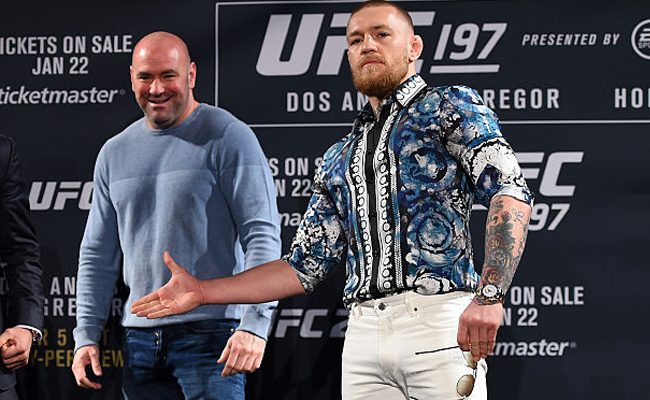 For the last seven years, FOX has been the official broadcast home for the UFC, splitting events between their FOX Sports channels and occasional shows on Big FOX. But all that is coming to an end this year, and for months the industry has speculated on where the UFC might land. Now we know: Variety has announced the UFC has struck an extensive distribution deal with ESPN.
The deal includes 15 events a year to be broadcast on ESPN+, ESPN's new digital streaming service. In addition to that, it sounds like a bunch of shoulder programming will make its way onto ESPN channels as well. A new 30 minute 'Countdown' type show will be produced and aired on ESPN to promote upcoming PPV events, and we wouldn't be surprised if you start seeing loads of UFC Knockouts and UFC Unleashed type shows filling in the many dead slots on ESPN's Ocho-like slate of cable channels.
According to Variety, ESPN will air "hundreds of hours of UFC library programming and re-airs of current UFC PPV events" across its cable networks and digital outlets." That's some pretty deep integration. How deep? It sounds like ESPN+ will be integrating the UFC's Netflix style Fight Pass into their service, to be made available to ESPN+ subscribers for an extra cost.

"I couldn't be more excited to partner with The Walt Disney Company and ESPN on an agreement that will continue to grow our sport. UFC has always done deals with the right partners at the right time and this one is no exception," UFC president Dana White said in a press release. "We will now have the ability to deliver fights to our young fan base wherever they are and whenever they want it."
No word yet on how much ESPN will be paying the UFC per year or how long the deal will last, but previous reports had ESPN offering between $120 and $180 million a year to the UFC. That's a bit less than FOX's reported $200 million per year offering, but we can see the UFC turning that down in favor of getting on sports gold-standard ESPN in a way that makes it easier for fans to see their product. Watching on the internet is easier than paying way too much for the obscure cable tiers with FOX Sports 1 and 2, and now the UFC is set to have a major marketing tool at their fingertips with ESPN's cable channel pushing them as the new crown jewel of ESPN+.
There's also the possibility that the UFC-ESPN deal isn't exclusive, allowing the UFC to add more deals with other networks for even more money. The last credible update had FOX willing to share rights with ESPN. While that potential side of the deal hasn't been announced, we'll certainly keep you informed of anything new in the future.