This Sunday's matchup between Minnesota and Oakland (4:05 p.m. EST, FOX) doesn't necessarily jump off the scoreboard page and slap you between the retinas the way, say, New England and the New York Giants does, but I submit to you that Vikings-Raiders will be more competitive, feature a more inventive kind of football, and produce considerably more excitement than any other contest on the Week 10 slate. I make no guarantees, but the outlook looks sunny with a chance of kick-ass 'ball.
It's not at all complicated. We all know that quarterbacks make the NFL run and this game features two of the most promising young QBs in the league. Teddy Bridgewater (drafted 32nd overall in 2014) and Derek Carr (36th overall) both came out of the same draft and so their careers are going to do that thing where they're inextricably linked for as long as they play and there's nothing you or I can ever do about it. But this may not be Bledsoe-Mirer or Manning-Leaf or Luck-Griffin. So far, so good for both of these players, still too young to rent a car but ready to usher in the next era of the NFL. Only Blake Bortles, Jameis Winston, and Marcus Mariota are younger full-time starting QBs, but Carr and Bridgewater are at the front of the pack, thanks to the talent already around them and the promise each man still holds.
Of the two, Bridgewater is still theoretically the one with the greater promise, but the idea of Teddy Bridgewater is still eclipsing the reality of Teddy Bridgewater. That's not such a bad thing, though. Bridgewater started 12 games in his rookie year — a tumultuous Vikings season, to be sure — and was more or less what you hope for from a rookie QB who's been thrown into a tense and fluid situation. He threw for a hair less than 3,000 yards and had more TDs (14) than picks (12). That's not so bad for a rookie! Hell, the annals of NFL history are strewn with the remains of first-round QB busts who would give a kidney for numbers like those. But last year, after Adrian Peterson was summarily exiled from the league, Bridgewater had to be everything for the Vikings.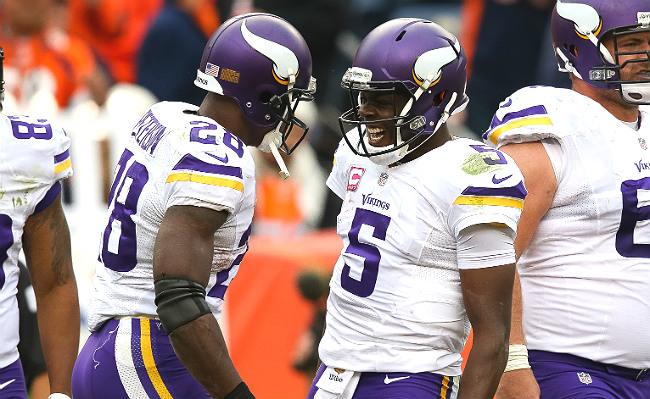 This season, with Peterson not only back but back to his old form (758 rushing yards), Bridgewater hasn't had to shoulder that load, but his peripherals have remained static. His interception rate is down a tick, but so is his TD rate. His completion rate, yards per attempt, and yards per completion are virtually unchanged from last year. His sack rate is down 10 percent even as his rushing yardage will be about the same, so that's something. But with Peterson relieving undue pressure from Bridgewater, you'd want to see some development, some uptick in the overall result. Yes, the Vikings (6-2) are winning games and could very well be alone in first place in the NFC North after this weekend, which is a hell of a feat considering they're battling Green Bay every second of the season.
But has Bridgewater really plateaued? Sure, it's still a small career sample size and plenty of QBs don't fully develop until their third, fourth or maybe even fifth season, but right now, Bridgewater is playing like a competent QB who can give you 3,000 passing yards, 200 rushing yards, and 15 TDs in a season. Those are below-average stats in today's league, and maybe the larger problem is also that Stefon Diggs and Mike Wallace aren't exactly Irvin and Harper out there, but Bridgewater will be expected to elevate those around him, not the other way around. He can still do it, he has time, but the Vikings must remain patient.
The Raiders, on the other hand, are a 4-4 team that could easily be 5-3 (if they don't lose 38-35 to the Steelers last week) or 6-2 (if you reverse a dreadful loss to Chicago in Week 4). For the first time in more than a decade, Oakland is a fun team to watch and Carr is the primary reason. After just a season and a half, in which he has started all 24 of his team's games, Carr has already thrown 40 touchdown passes, which is two-thirds the total that his older brother, David, threw over 11 seasons in the league from 2002 to 2012. Carr was a revelation last season, even as Oakland limped to a 3-13 record.
This season, Carr's completion rate is up near 64 percent (same as Bridgewater's but a 5 percent jump on his own from last year), his TD rate (3.5 to 7 percent) has doubled, his sack and pick rates are down considerably, and his yards per attempt (7.7) is equal to that of Aaron Rodgers. A lot of that is attributable to having legit deep threats like rookie Amari Cooper (653 yards) and Michael Crabtree (591 yards), who's now in his seventh season but still only 28. But Carr has thrown TDs to eight different players this season thus far — only Drew Brees, Tom Brady, Andrew Luck, and Philip Rivers have also done that. The onus has been on him to diversify the offense, and thanks to the rushing threat of Latavius Murray (630 yards), he's been able to spread the wealth, keep opposing defense guessing, and score enough points to compete with anyone. This Raiders team now has a core of talent that should scare every AFC West rival. And of course, Carr still has every possibility of improving, but he's already on a 4,000-yard, 40-touchdown pace in his second season so he's probably closer to his ceiling than any under-25 QB in the league.
Figure there'll be lots of deep balls, lots of rushing the ball to set up the pass, and a few incredible end zone plays that'll show up on RedZone. Most of all, count on some fun football happening in O.co Coliseum on Sunday. Not every team has a talent like Carr or Bridgewater to cheer, and watching them go head-to-head for the first time should be a delight.