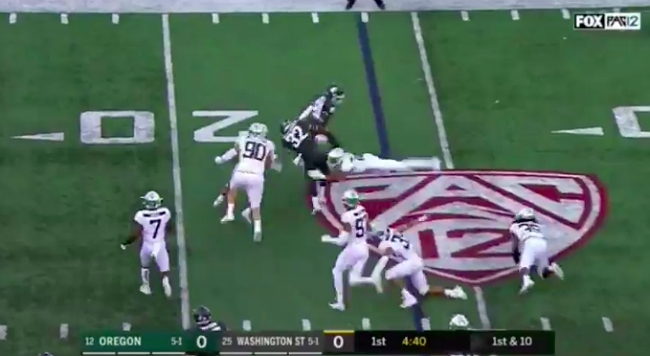 It was a big day for Pullman, Washington on Saturday, as ESPN showed them some love before a big college football showdown against Oregon. Washington State hosted the Ducks and College Gameday showed up to broadcast from there for the first time in the show's history. That's a 15-year wait for a visit from a guy who might pick your team's mascot head, if you're lucky.
They expected somewhere between 50,000 ad 60,000 people for College Gameday in Pullman, and it sure was some kind of scene before dawn there.
The game itself was a bit uncertain, as Oregon and Washington State play in the PAC-12 and the game, indeed, was going to take place after dark. But early on, Oregon State scored one of the most impressive touchdowns of the season — pay special attention to where the center lines up and where the snap comes from.
It was impressive, though, because of just how brutal the tackling was for Oregon. Redshirt junior running back James Williams got the carry just outside the red zone for Wazzu near the end of the first quarter, and he made a point to run through as many people as possible on his way to the end zone.
Williams had made two people miss tackles before he even reached the line of scrimmage, then turned it upfield on the far sideline. Missed tackle No. 3 literally windmilled around him before losing grip. Four was really his last chance to get stopped before the goal line but never managed to get a good grip on his steel grey uniform. And the last two tacklers, by my count, were last-ditch efforts to reach the end zone.
But none of them could stop Williams from hitting pay dirt. It was an impressive run, and a much less impressive effort from the Oregon defense. It certainly didn't do much to slow down the party Pullman put on Saturday.