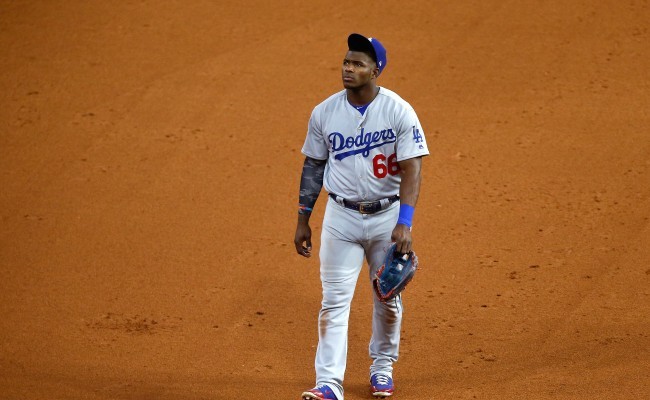 It's one thing to lose a World Series Game 7. Having your house burglarized in the hours afterward is one of those things that TV producers make insurance commercials about. Unfortunately, that's exactly what happened to flamboyant Dodgers outfielder Yasiel Puig, who came home in the hours following the soul-crushing loss to the Houston Astros to find that his house had been ransacked.
Police were called to Puig's Encino residence to find that a window had been smashed, and items were taken from from the home. Unfortunately for Puig, this isn't the first time that his house has been robbed. Puig had his Sherman Oaks home broken into in March, where burglars had taken nearly $200K in jewelry.
It's been a turbulent past two weeks for the Dodgers outfielder as he had struggled mightily during the Fall Classic, hitting only .148 with 2 HR and 4 RBI in the seven-game set. He played well in the postseason overall and helped ensure the Series would go the distance. Unfortunately for Puig, the guarantee of a seventh game didn't come with the promise of playing well in Game 7. In the final tilt, he finished 0-3, only reaching base when he was hit by a pitch in the bottom of the first inning.