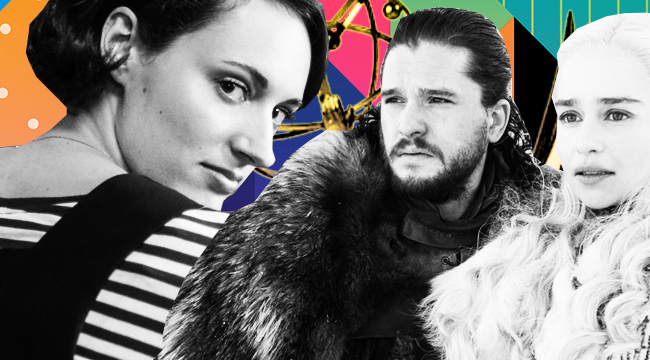 The 2019 Emmy nominations are out. You can find the full list here. This is not about the full list. This is something different. This is us attempting to select who won and who lost in the whole process. Not who won awards, that happens in September. We'll have thoughts about that, too. No, this is all very general and subjective and mostly just an excuse to shout about some snubs. That's what this is. And here it goes.
WINNER: Comedy, generally
Lord in heaven, are the comedy categories stacked. All of them, basically, from top to bottom, to the extent there even is a bottom. Outstanding Comedy Series has Barry, Fleabag, The Good Place, Russian Doll, Schitt's Creek, Marvelous Mrs. Maisel, and the freaking final season of Veep. Even if we trim the list a bit and toss out Mrs. Maisel (weaker second season) and Schitt's Creek (very cool that it got nominated but it's surrounded by monsters), I mean, how do you choose between what's left? Fleabag was the one that affected me the most and kind of broke the form compared to the others, so I guess I'd lean that way, but I couldn't possibly be mad about another show winning. The field is too deep for that. Murderer's Row over here.
A few weeks ago, I made the point that the coolest and most innovative stuff on television is happening in the half-hour format, which usually is translated to "comedies." (Mrs. Maisel runs an hour but the point stands.) Look at this list. This is what I'm talking about. And it doesn't even take into account shows like Big Mouth and BoJack Horseman, both of which were nominated for Outstanding Animated Program but could have — should have? — been included with these heavy hitters. I don't know that any show, comedy or drama, took a swing as huge as Big Mouth's Planned Parenthood episode. That's worth noting and I'm glad the Emmys did.
LOSER: Dramas, generally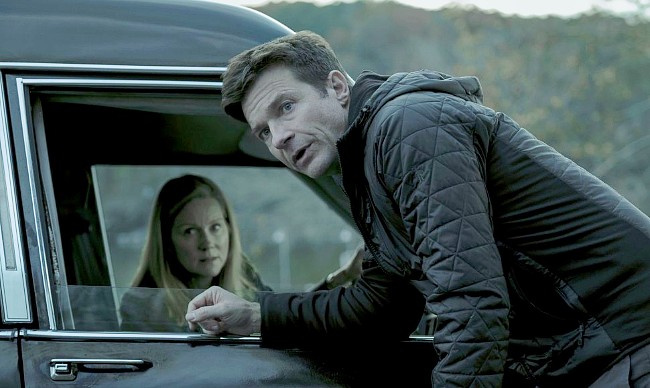 Welllllllllll, here's the flip side of that coin. The Outstanding Drama category is… fine. It's fine. I don't know that I'd go as far as Outstanding, now that I think about it. Change the title to Some Pretty Good Dramas, One Of Which We'll Settle On. Pretty catchy.
Let's run down the list: Better Call Saul (very good), Bodyguard (fine), Game of Thrones (gimme a minute, we'll discuss this), Killing Eve (great performances, weaker season two), Ozark (nah), Pose (I need to watch Pose, I'm sorry, I'm doing the best I can), Succession (very good show but is it any more of a drama than, like, Barry?), This Is Us (sure). Are there any shows on that list that you're passionate about? At all? Because I would die for about 80 percent of the nominated comedies. This list? I don't know. Not so much. Give it to Succession and let my sweet boy Cousin Greg hold the trophy. That's all I got here.
LOSER: A few very deserving people and things that I am biased about because I love them but still
Ah, snubs. Everyone loves talking snubs. "SNUBS," they shout while lighting up some torches and sharpening their pitchforks. "SNUBS, SNUBS, SNUBS" they chant while forming a mob in the streets. "SNUBSSSSS" one shouts while heaving a cinder block through the window of an electronics store. It's fun. We have fun.
The thing is… this year's nominees are pretty good? They're not perfect. I can always quibble, and I will in a second, but this is all very hard and I want to recognize that first. Good job, guys, mostly. Now allow me to flip over your parked cars.
Rhea Seehorn was not nominated for Better Call Saul, which is truly insane.
Pamela Adlon was not nominated for Better Things, which is also insane but somewhat understandable — let's be generous! — given the depth of that category.
D'Arcy Carden was not nominated for The Good Place, which is insane, especially when you remember the showcase episode where she played her character AS all the other characters, I'm really mad now.
I Think You Should Leave did not get nominated despite being the funniest and most original comedy show of the year. Load this whole ceremony's carcass into the mud.
Well, that got out of hand quickly. I started out so nice. Oh well. Let's freaking riot. It's a Tuesday. What else are you doing?

WINNER: Game of Thrones, I guess?
The important thing to remember is that two seemingly opposing things can be true. It can rain while the sun is out, you can love people you don't even really like, and the final season of Game of Thrones can be both a somewhat disappointing stinker (still irked) and also the recipient of the most ever Emmy nominations in one year (32).
Some of this felt inevitable. Between the Final Season of it all and the lack of great competition (some of which may have been a result of competitors fleeing the battlefield entirely and saving their seasons for the next eligibility window), it's almost like the engraver started grooving all these nominations into the gold before the season started and then was like "Hoo boy, well I can't really stop now, you know? I'd have to start all over. And I have to pick up my kids in an hour, soooo…" Boom, 32.
That's not to say they're all undeserving. The show took four of the six Supporting Actress nominations (Lena Headey, Maisie Williams, Gwendolyn Christie, Sophie Turner), and you could give it to any of them. And it's nice that Emilia Clarke and Kit Harington got nominated as leads, especially Kit, if only because of what we all put him through during the "How can Jon be dead if we saw you at the airport?" fiasco. Some of them, though, woof. The finale is up for a writing award. Let's give Benioff and Weiss a very long and heartfelt standing ovation for creating a series that captured the world's imagination and then let's definitely not give them this particular trophy. I think that's a fair trade.
In conclusion, Euron was snubbed. I don't mean that. I just wanted to type it.
LOSER: Actresses
Let me explain. This has nothing to do with the quality of performances or the character of the people involved. Quite the opposite. This is about the fact that the actress categories this year are absolutely loaded and a bunch of very deserving people will go home empty-handed. Almost all of them. Voters have to choose between Phoebe Waller-Bridge and Julia Louis-Dreyfus. How do you do that? How do you start to do it? Natasha Lyonne is in there, too, as are Catherine O'Hara and Christina Applegate and Rachel Brosnahan. It's nuts. I'm panicking right now and I don't even have to make the choice. I suspect it'll be JLD both because she was great in Veep's swan song and because it's always JLD. That's fine. She rules and hopefully will forever. But Fleabag was so good.
Lead drama actress is somewhat less loaded. Robin Wright is great, but we need to stop pretending House of Cards was a good show. Viola Davis is very cool, Sandra Oh is very cool, but all I really want to say here is that if Jodie Comer does not win for her role in Killing Eve, I might dress up in a pig mask and gut the voters from belt-to-clavicle in front of shocked onlookers in Amsterdam's red-light district.
WINNER: Barry
Barry got a bunch of nominations. Bill Hader is in there for acting, there are nods for writing and directing, but I'm singling the show out because Anthony Carrigan got nominated for his role as NoHo Hank, and I'm so happy about it that I might fly out the window. The only downside is that he's up against two of his castmates on the show in the Outstanding Supporting category, Henry Winkler and Stephen Root. I still vote we give it to Carrigan. Henry Winkler just caught this fish, after all. He's doing fine without more blessings.
WINNER: A bunch of bad stuff that happened in real life
Outstanding Limited Series nominees include Chernobyl (nuclear disaster), Escape at Dannemora (prison escape), and When They See Us (gross miscarriage of justice), all of which are based on real events. I hope, I truly hope, that one day things are so good that we run out of tragedies to make these shows about and instead we start scraping the bottom of the barrel for like That Time Everyone Got Sick From Eating Chipotle. Starring John Malkovich. Could work.
LOSER: The nominees that are up against the Succession theme song
Rest in peace, Castle Rock, Crazy Ex-Girlfriend, Good Omens, and Our Planet, a collection of fine nominees who must all drown in flood of cascading tinkly pianos.