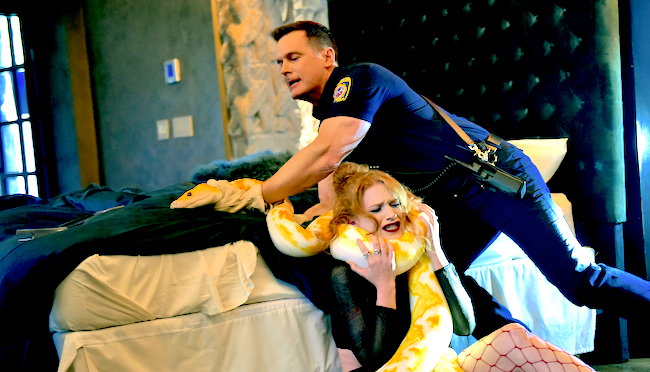 Last week, in my continued attempts to remain vigilantly on-brand at all times, I was having a conversation about 9-1-1 with Uproxx's traffic wizard, Alex Diedrick. I love talking about 9-1-1. It's completely insane. Our conversation started out normal enough (or at least as normal as a conversation can be when it's about a show that just killed off of man by having a faulty escalator crush him during a marriage proposal), but then Alex said something that truly flabbergasted me. It seemed impossible. I immediately went and scanned through every episode of the show to see if it was true. Folks, it was. I've been giggling about it ever since.
And I am going to tell you what he told me. But first, both because I really want to drive this home and because I just really want to do it, I'm going to run through every emergency the team of firefighters has responded to in the show's first season and a half. Buckle in:
Season 1, Episode 1 – An infant gets stuck in a toilet pipe and has to be cut out of a wall; a snake enthusiast gets attacked by one of her snakes and a fireman decapitates it with an ax; small child must be saved from a burglar and the burglar is blasted off of his getaway motorcycle with a fire hose
Season 1, Episode 2 – A heavyset man flies off of a rollercoaster; a window washer is saved; a suicidal man on a ledge is saved
Season 1, Episode 3 – An occupied bounce house flies off into the sky because a dad was showing off; one of the firefighters gets a piece of rebar jammed through his brain and survives with nothing but a tiny scar; a group of trafficked people is saved from a boiling hot trailer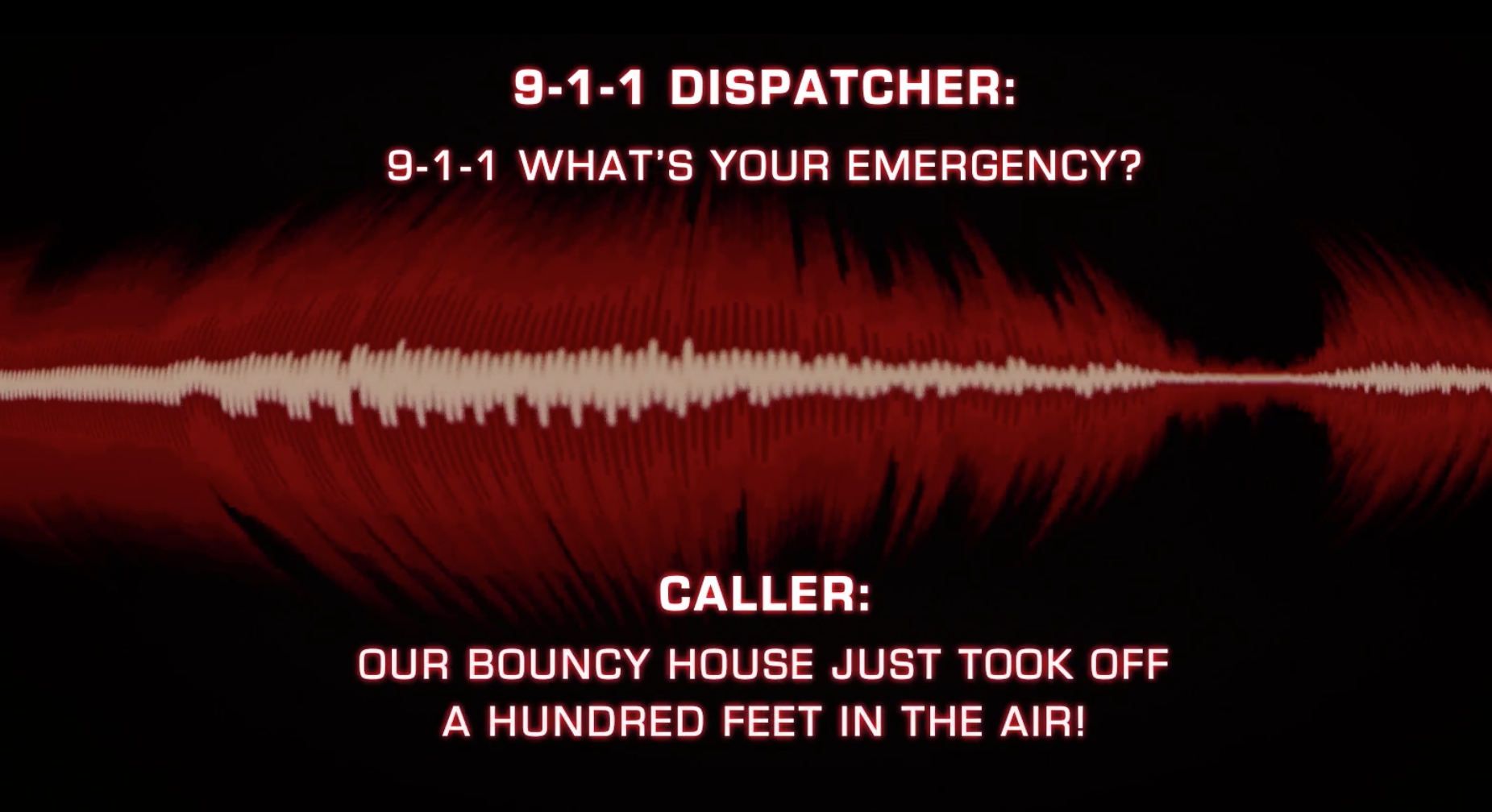 Season 1, Episode 4 – Plane crash
Season 1, Episode 5 – A dance floor collapses during a wedding; downed wires land in a swimming pool and a little girl is saved and everyone cheers while the barbecued corpse of her manny floats around the pool; a doofus gets stuck in the sponges at a car wash

Season 1, Episode 6 – A guy fakes a heart attack while flying a plane before proposing to his girlfriend but it gives her a horrible panic attack; a psychotic woman kills her boyfriend and wants to replace his evil heart with the "good heart" of a cop she took hostage; Connie Britton performs an emergency Valentine's tracheotomy on her 25-year-old boy toy using a steak knife; some guy falls off a balcony while fleeing the home of a woman whose husband came home
Season 1, Episode 7 – A creepy guy stalks his ex and gets violent; Angela Bassett shoots a guy who is high on bath salts and is eating another guy's face; two firefighters deliver multiple babies at a pregnant yoga class; the same two firefighters later remove a 15-foot tapeworm from a man's rectum that he got from eating sushi
Season 1, Episode 8 – A guy dies when he dynamites a dead tree and a bullet that was lodged in the tree after the wife he abused shot at him and missed comes launching out in the explosion and hits him in the heart; a jerk gets roasted in a tanning bed; a package thief wipes out on the sidewalk; a dentist who hunts big cats in Africa gets killed in a zoo by a tiger he taunted
Season 1, Episode 9 – A guy gets stuck in a garbage truck; some people get stuck in an elevator; a hoarder gets stuck in his own booby-trapped house

Season 1, Episode 10 – A British lady accuses a stranger of assault until everyone realizes she's an American woman who is having a mental breakdown and the man is her husband and is trying to help her; a guy is pronounced dead and taken to the morgue but then zaps back to life; a guy is ripped in half and dies on the street; a guy who has been catfishing one of the firefighters is discovered dead in his trailer and bloated with gas and pus and they have to drain it all to get him out and it is the grossest thing you've ever seen
Season 2, Episode 1 – In a montage that opens season two, a city employee's arm is blasted off by a pressurized manhole cover and lands in a swimming pool, and a double-decker bus filled with tourists gawking celebrity homes crashes into a mansion after its driver whips it off a cliff in a road-rage-induced incident; a YouTube star cements his friend's head inside a microwave; an auto mechanic falls butt-first onto a pressurized hose and puffs up like the Michelin man; a war memorabilia collector gets a live grenade round embedded in his thigh
Season 2, Episode 2 – There's an earthquake; a parkour-loving teenage car thief hot wires a cement truck to help the cop who arrested him put out a car fire; a Weinstein-type gets trapped in a hotel room with the woman he harassed and later falls face-first to his death; a basketball player is rescued from the rubble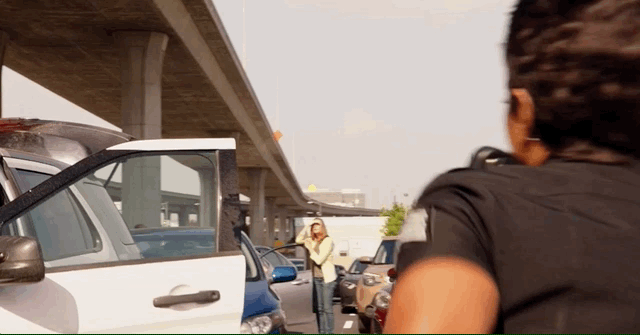 Season 2, Episode 3 – A missing girl and a missing firefighter are saved from earthquake rubble; the Weinstein-type's victim and two hunky fireman escape the building but only after saving a guy and lowering him through an elevator shaft
Season 2, Episode 4 – A tubby guard gets stuck between buildings while attempting to chase parkour-expert graffiti teens; a sorority girl gets her head stuck in a monster truck tailpipe and her friends spend the whole rescue hitting on the firemen; a guy gets stuck in an ATM; the escalator things happens, which was nuts, I still can't quite believe it
Season 2, Episode 5 – The package thief from season one gets run over by a car during a new scam; a 9-1-1 operator gets fired for hanging up on people and then requires help herself; a homophobic and racist funeral protester vomits diarrhea after his colostomy bag backs up and he won't let the non-white EMTs help him; a store owner is shot; an evil tattooed lady overdoses

If you read all of those (and I do hope you did because I swear all of those things happened on this show, and more), a few things might have jumped out at you. There have been two emergencies involving failed proposals, two involving airplanes, and two involving mischievous parkour teens. Three different guys became horribly bloated and needed to be drained with flatulent results. A bounce house floated into the sky with people in it. But did you notice what wasn't on that list?
A fire.
The fire department on 9-1-1 has yet to fight a single fire. They haven't even been called to one. The closest they've come was the plane crash and that a) was in the water, which cut down on flames; b) featured them in a rescue role; and c) doesn't count. In fact, over the course of the show's season-plus, they've only even used the fire hose once, for the motorcycle thing, which I am going to post here because it's hilarious and I love it.
That's kind of crazy, right? And perfect? The firefighters on this show have encountered every possible emergency you can imagine but have yet to fight fire. They've almost boxed themselves into a corner, too, because with all of the nutso stuff they roll out every week a four-alarm fire is almost ho-hum now. They'll have to add layers to it just to keep the audience interested. Like, it'll have to happen at a trampoline factory or something, with the firefighters bouncing up and down while holding the hoses so they can reach the flames on the upper levels.
Just an option. I'm sure they'll figure it out. I find all of this beautiful and right and wildly funny. In a way, if you think about it, the fact that the firefighters haven't fought a single fire might actually be the wildest thing about the show. Unless…
Wait.
No, yeah, the wildest thing about 9-1-1 is still all that stuff I just listed. But this is pretty wild, too. Worth noting, at least.