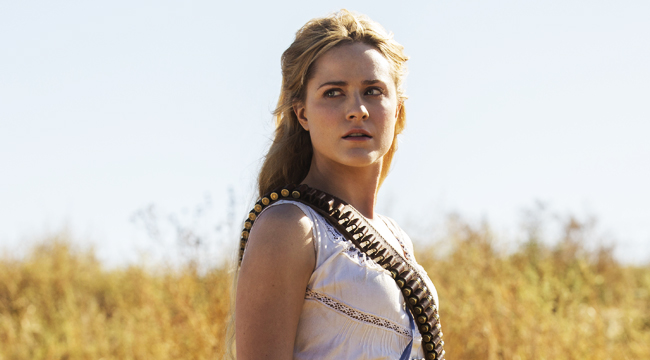 Dear Valued Customer,
We here at Delos appreciate you and your loyalty. Some of you have been coming to our parks for years now, enjoying the Wild West fantasies of Westworld and the samurai-filled Shogun World experience and our other immersive historical attractions. It's always a pleasure to see a familiar face return. That's why it pains us to much to inform you that your upcoming trips must be rescheduled. After a number of years in service, our hosts and facilities could use, well, an upgrade. That's why, for an as-yet-undetermined amount of time, all of our parks will be closed for renovations. We apologize for the inconvenience and for the sudden nature of this announcement. We were caught off guard by it ourselves, to be honest, and plan to refund your deposits as soon as possible.
We would also like to address the screaming. A few of our customers — valued customers, of course — reported that when they called to confirm upcoming visits they heard "loud screaming" and "buzzing alarms" and "a panicked man shouting 'but… but… YOU GODDAMNED ROBOTS WERE SUPPOSED TO BE UNDER OUR CONTROL" which was followed by "that 'shiiiiiing' sound you hear in a movie when someone draws a sword" and "squelching, like a blade slicing through human internal organs." After a thorough investigation, we have confirmed that this was not "a robot uprising," as some tabloid reporting has claimed. One of our employees was playing a video game, during work hours, without wearing headphones. The matter has been handled internally. We apologize for any concern this caused.
Regarding those media reports: We are aware of the clickbait-style articles that have started appearing online. You may have seen these in your social media feeds, or you may see them shortly, riddled with outlandish claims like "Delos Board of Directors killed in robot ambush" or "Westworld mastermind Robert Ford killed in apparent suicide-by-robot" or "Hundreds of Delos hosts found drowned in a lake at the hands of Robert Ford's longtime number two, Bernard, who is also actually a robot and may be responsible for the murder of another high-ranking Delos executive." To say these articles are irresponsible journalism bordering on fake news is an understatement, but in any event, we do not comment on personnel matters or the private health information of our employees. We take privacy very seriously, both yours — our valued customers — and that of our staff.
This is why it saddens us so deeply to report that some of your personal data may have been accessed by a third party. Delos sometimes collect small details about its visitors to provide better service upon repeat trips: your likes, your dislikes, what types of stories you prefer, etc. It's what allows us to provide the consistent, high-level of quality that you — our valued customers — have come to expect. It appears some of this information was accessed by an unauthorized party. We assure you we are working diligently to correct the matter. Your privacy is of the utmost importance to us. It's why we would never, say, harvest every aspect of your being and convert it into code and store in it a giant virtual library guarded by a CGI version of our founder's drug-addicted son. That would be irresponsible. Our valued relationships with our valued customers are just too valuable to do something like that.

In a totally unrelated matter, a small one, not worth worrying about at all, really, if you happen to see a Delos executive named Charlotte Hale, please contact us. Do not approach her under any circumstances. Again, nothing to worry about. Ms. Hale is definitely not a robot on the loose who is hellbent on destroying mankind. But please contact us if you see her.
We at Delos apologize for these inconveniences. We value you and your business. Delos strives to provide its customers with a safe and fun experience. From now on, we will do more to guarantee that and more to protect your privacy, so we can all get back to what made Delos good in the first place: consequence-free murder and robot sex. We hope to see you again soon.
Sincerely,
Your friends at Delos