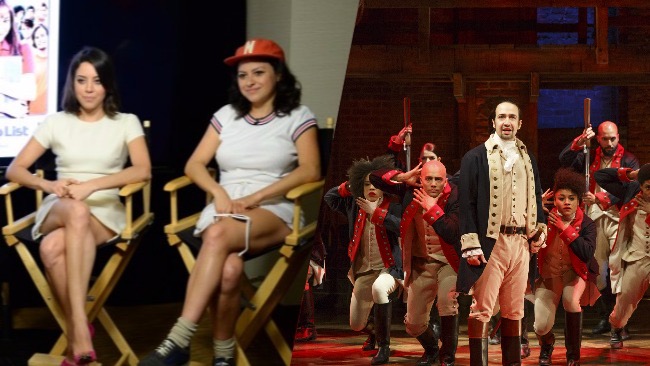 Drunk History is about to make television history as the intoxicated tale of Alexander Hamilton and Aaron Burr will be played out by two women. Thomas Jefferson must've finally included women in the sequel. Work!
An upcoming Drunk History episode will feature Tony Award-winning composer and lyricist Lin-Manuel Miranda drinking three-fourths of a bottle of honey whiskey and rambling about Alexander Hamilton, the subject of his musical behemoth, Hamilton.
Entertainment Weekly reports that Arrested Development actress Alia Shawkat will take on the role of the bastard, orphan, and son of a whore, Alexander Hamilton. Actress Aubrey Plaza, from Mike and Dave Need Wedding Dates and, of course, Parks and Recreation, will be taking on the role of Aaron Burr, sir. The casting reflects the spirit of the Broadway play, which has practiced racially blind (and more recently, gender-blind) casting for a majority of its characters.
Manuel took to Twitter Friday to describe what it was like to film the episode, which took place on Superbowl Sunday. Apparently he drunk FaceTimed a bunch of people, including Questlove. Let's hope that was caught on camera, too, because that would be awesome.
The Alexander Hamilton episode of Drunk History airs Nov. 29.
(Via Entertainment Weekly)