It's Always Sunny in Philadelphia returned for a 14th season this week. That is, mathematically, a lot of seasons. It premiered in 2005, the same year as The Office. One of the co-creators of that show, Michael Schur, has gone on to create two more full shows since then. When his latest show, The Good Place, ends later this year, he will have ended three different iconic comedies during the course of the single Always Sunny run. And Always Sunny shows no sign of slowing down. This 14th season brings it into a tie with The Adventures of Ozzie and Harriet for longest-running live-action sitcom. Barring any sort of catastrophe, the show will blast by it and into the upper-teens. Maybe longer. Who knows?
The truly amazing thing about these figures is that the show is still clicking as well as it did back when it was young and fresh. It might even be clicking better. It's most recent season featured some of the show's most memorable scenes yet. It's kind of crazy to think about. This isn't a cartoon, like South Park or The Simpsons, which are easier to maintain without the grind of a filming schedule. And The Office, the show that it debuted alongside, starting creaking and sputtering as it approached its conclusion over six years ago. This doesn't happen anymore. No show maintains its peak quality for over a decade.
That brings us to a very simple question: Do you think the creators of this show made a deal with a sorcerer to keep it this good for this long?
Let's consider our options.
THE CASE AGAINST SORCERY
The case for no sorcery has three prongs.
Prong One: These are talented people who are producing high-quality work with minimal intrusion. There's something to be said for giving smart people a task and leaving them alone. That seems to be what FX has done with the creators and stars of the show: Rob McElhenney, Glenn Howerton, Kaitlin Olson, Charlie Day, and Danny Devito. They've all been playing in their own sandbox for something like 15 years now and they have more or less created a system that works.
Prong Two: These talented people have created a very special set of characters that do not need to grow one inch in any direction for the show's momentum to push forward. They can grow, sure, and I'm thinking specifically about Mac's journey toward acceptance of his sexuality over the last few seasons, which was handled with a really touching level of care. They don't have to grow, though. The whole point is that these people are awful and irredeemable. You can just parachute them into any new situation and let them introduce chaos. It's genius, really. Things keep happening in the world. There's always new stuff to see and do. Introduce the same goons we know and love and, blammo, there's an episode. It's much harder than I'm making it sound here but I think the point stands. They last because they never have to change. It's the live-action equivalent of Bart Simpson staying in elementary school for 25 years.
Prong Three: If we want to be very technical here, if we want to be real jerks about it all, we could agree that Always Sunny has an inherent advantage in its cable schedule that requires only 10-13 episodes per season. At the end of this new season, Always Sunny will stand at a total of 154. Ozzie and Harriet made 435 episodes in its 14 seasons. There's something to be said about Always Sunny facing a lower level of difficulty by running 300 fewer episodes. That's 300 fewer stories to create, 300 fewer trips to the edit bay, 300 fewer ideas to generate. It's not nothing. But Ozzie and Harriet never had to compete with Netflix or an environment that produces 495 scripted television shows per year, as the industry did in 2018. It's a different world out there. An apples to oranges situation. The years are as impressive as the episodes totals now. Let's not be a jerks about it.
So that's that. All pretty convincing and logical. Unless…
THE CASE FOR SORCERY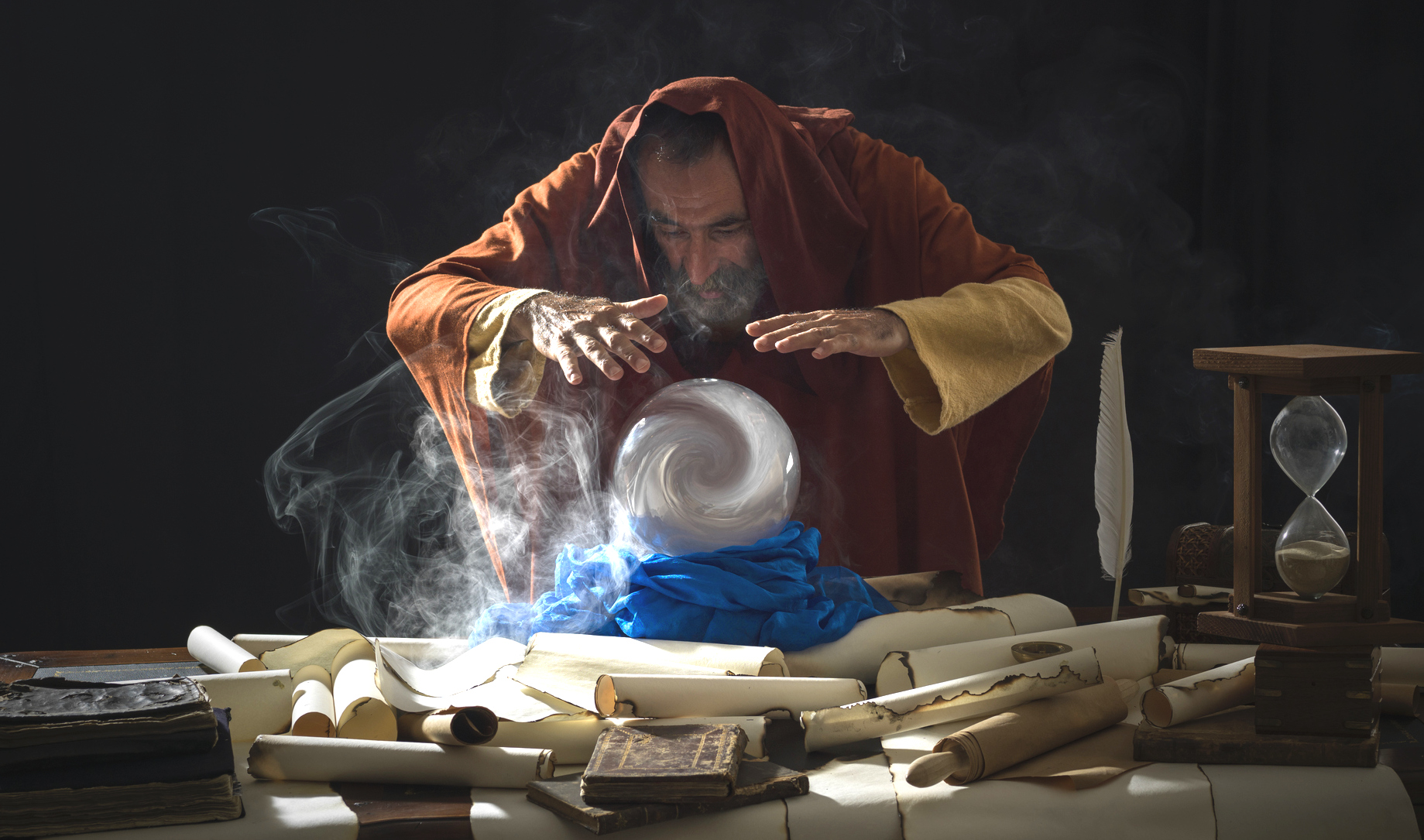 Yes, fine. The three prongs make sense. It all explains how this happened in a simple and straightforward way. But do you know what none of those prongs do: Definitively rule out the possibility that a scary old sorcerer cast a spell back in 2005 to grant them tremendous longevity with no decrease in quality. Look all around. Click on every link you can find. Show me one story that proves it never happened. Because I've been looking for a long time now (15 minutes), and I have not found a single thing. It smells fishy.
Now, am I saying for a fact that the run of Always Sunny was sorcery-aided? Of course not. I'm not saying they risked life and limb to climb a dangerous mountain in a land at the end of the earth that most cartographers consider they stuff of myth and legend. I'm not saying they first scoured the globe looking for ingredients for the spell, spearing fish in the Indian Ocean to extract certain oils, climbing trees in the rainforest to pry various nuts and berries from the sharp claws of a number of indigenous birds, going to the Trader Joe's three towns over because the one near them kept running out of the hummus the spell requires. I'm not saying the spell is what convinced Danny Devito to join the show in season two or that the deal with the sorcerer caused Happy Endings to be canceled years later at the peak of its run as a sacrifice. I'm not saying any of that.
But I'm not not saying it, you know? It would explain a lot. In a way, it's almost more logical than the idea of a show about five idiots with a crappy bar continuing to be among our smartest and funniest comedies for so long that children born the day it premiered are now entering high school. I mean, that's just ridiculous. Open your eyes, people.
VERDICT
We must make the journey ourselves to see if the sorcerer exists. Only then can we be certain. But that also seems very hard and time-consuming and I just put some laundry in the washer. It'll get all wrinkled in there if I leave it now to go search for a sorcerer. And I have plans this weekend. A friend and I are trying a new restaurant. The place is supposed to have these really great onion rings. I've been thinking about it all week. I'll have to cancel if I go on this journey. I don't know, man. I really love onion rings. This sorcerer hunt is just coming at a really inconvenient time for me. That's what I'm saying.
So I guess we'll give them the benefit of the doubt. For now.