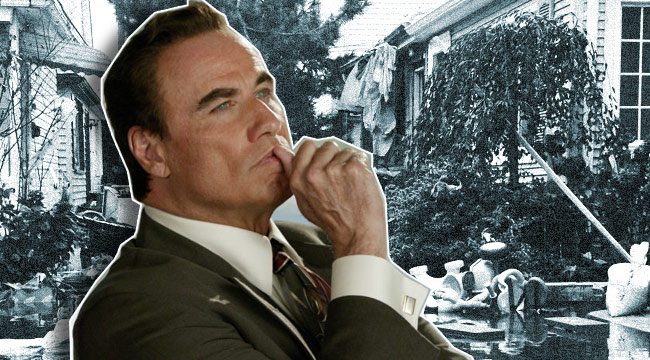 That American Crime Story would get a second season after the phenomenal The People v. O.J. Simpson should come as a surprise to absolutely no one. Not just because of how good it was, but due to the fact that we've known since January that Ryan Murphy wanted to use the show's lens to dramatize, and examine, the political and personal travesty that was the federal government's response to Hurricane Katrina in New Orleans. Thanks to the Television Critics Association summer press tour, we know a tiny bit more about what the second season will involve.
And by "tiny bit," what I actually mean is "not all that much." Especially since, as executive producer Brad Simpson told the Hollywood Reporter on Tuesday, "There's a writers room right now, working on Katrina" and not much else:
"We're just starting to get the episodes in. I'm sadly not going to make any big news, but you will have the famous people. You will also have the people who weren't famous… It's going to be about the intensity of what it was like to be there on the ground — and also the bigger crime, that Katrina was something that was predictable."
Yet his confirmation that both "famous people" and "people who weren't famous" will be included in the mix is nice to hear. Especially since, per The People v. O.J. Simpson, viewers have come to expect characters based on real-life persons with ties to the main story. This doesn't necessarily mean some big actor will come along and trump Josh Brolin's George W. Bush from W., of course, but it does beg a very important question.
Who will play CNN anchor Anderson Cooper, John Travolta or David Schwimmer?
(Via the Hollywood Reporter)