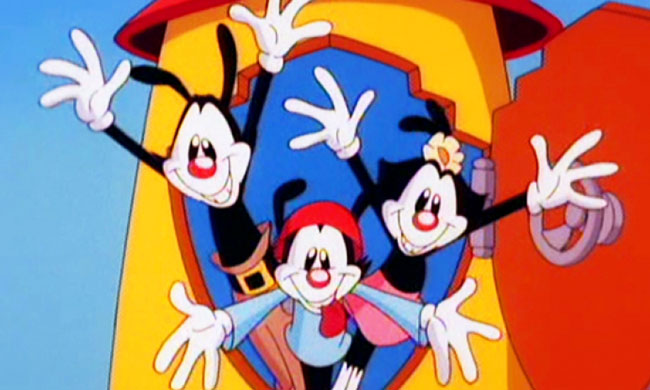 Yakko, Wakko, and Dot, everybody's favorite mouse-dog-bunny hybrid sibling creatures, are coming back to entertain and educate a whole new generation of kids with brand new episdoes of Animaniacs. Hulu announced on Thursday, along with Amblin Television and Warner Bros. Animation, a deal to reboot the fan-favorite animated program with a two-season straight-to-series order in 2020. Steven Spielberg will return as executive producer and Pinky and the Brain will also reportedly be returning with appearances in each episode.
News of a possible reboot was first reported in May of 2017, however details were thin and no network had been attached yet.
Can't wait that long? In the meantime, Hulu subscribers can revisit all 99 episodes of the original Animaniacs series, in addition the complete Tiny Toon Adventures series, Pinky and the Brain, and Pinky, Elmyra and the Brain, which are available as of today.
Spielberg said that he was "pleased and proud that Animaniacs will have a home at Hulu," of the deal. "Together with Warner Bros., we look to bring new audiences and longtime fans into this wild world of Yakko, Wakko, and Dot. I am also excited that the full library of Animaniacs and Tiny Toon Adventures episodes are included in the deal."
"Yakko, Wakko and Dot have been waiting impatiently inside the water tower, and now their hilarious brand of animated chaos will be unleashed — again! We're incredibly excited to be partnering with Amblin and Hulu for new episodes of Animaniacs, filled with endless laughs — and ongoing plots for world domination by Pinky and the Brain," said Sam Register, President, Warner Bros. Animation and Warner Digital Series. "Parents who grew up with the cartoon now have new episodes to share with their own families."
Oh snap, they've been locked away in the tower this entire time? Something tells us they are not going to like this Trump guy. Now we have yet another reason to look forward to 2020.