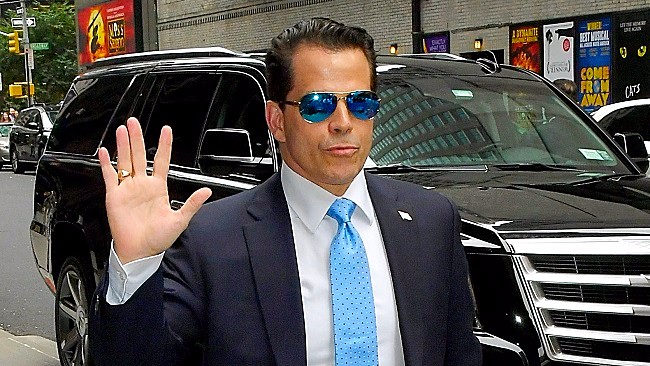 Far as Trump staffers go, Anthony Scaramucci got off lightly. They've been heckled at restaurants. They've had their reputations destroyed. Some are going to jail. Scaramucci's punishment for spending 10 whole days as as the White House's Director of Communications? He'll merely be sequestered on Celebrity Big Brother. And this is on top of officially not being allowed back in the White House.
The news comes from EW, which reports that Scaramucci — aka "The Mooch," whose stint came about halfway through the president's first year — will be one of 12 new contestants on season 2 of Big Brother: Celebrity Edition. Scaramucci made a name for himself by out-Trumping Trump, at least when it came to colorful insults; in a scorched earth interview with The New Yorker, he unforgettably described himself as being different from Trump's ex-Chief Strategist/Jabba the Hutt cosplayer Steve Bannon by saying, "I'm not trying to suck my own c*ck."
The Mooch won't be the first ex-Trump staffer to appear on the show. Season 1 featured former Public Liaison and tell-all book writer Omarosa Manigault Newman, who, like Scaramucci, was also fired by newly departed Chief of Staff John Kelly, not by the reality TV star-turned-president whose catchphrase was literally "You're fired."
Big Brother requires its contestants to share a house, and considering Scaramucci is someone who "tells it like it is" (read: is a loud-mouthed jerk who has found ways to monetize his boorishness), that should be fun for the other 11 guests, including Blossom alum Joey Lawrence, Olympian Ryan Lochte, O.J. Simpson gadfly Kato Kaelin, and — why not? — Tom Green. Here's hoping the former Mr. Drew Barrymore drives the Mooch crazy by re-enacting scenes from his classic avant-garde film Freddy Got Fingered.
(Via EW)