Last Updated: November 1st
The past few years have seen a rigorous expansion of stand-up comedy after years of neglect. Hence why there are hundreds of titles in Netflix's stand-up category. Even for budding comedy fans, there's a lot of must-see specials to choose from.
So here are the 25 best stand-up specials on Netflix right now. While they may be ranked, they're all really good and deserving of your time and laughs.
Related: The Best Comedies On Netflix Right Now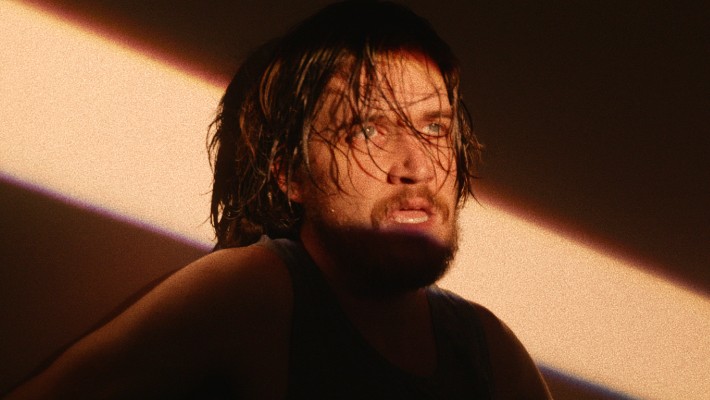 Bo Burnham, Inside
Run Time: 87 min | IMDb: 8.7/10
How did you spend a year in lockdown? Bo Burnham kept busy by writing, directing, starring in, composing, and editing this bleak-yet-hilarious bit of performance art that might be the most exciting, inventive special we've seen yet. The self-deprecating humor and catchy tunes are here of course, but Burnham goes darker, crafting complete bangers about everything from the white savior complex to cancel culture, toxic masculinity, depression, and global economic inequality. It's one of the best things to come out of quarantine.
Aziz Ansari, Right Now
Run Time: 65 min | IMDb: 7.6/10
Aziz Ansari's first Netflix special following allegations of sexual harassment is an exercise in topical comedic commentary. Ansari, in a brilliant move, drafts Spike Jonze to direct this intimate stand-up performance in front of a New York crowd, and Jonze wields the camera in a way that gets the audience up close and personal with a celebrity who's been spending plenty of time away from the limelight recently. That time away has been for Ansari, or at least his comedy, as he shares hilariously deep thoughts on wokeness, the importance of family, and yes, even that #MeToo controversy. It's a rare look at a talent willing to peel back the layers of fame and self-preservation to dig at something more universal, and therefore, important.
Trevor Noah, Afraid of the Dark
Run Time: 67 min | IMDb: 7.2/10
Trevor Noah has been doing a fantastic job manning The Daily Show after Jon Stewart's exit. He's been able to pair his wide-eyed foreigner status with some shrewd commentary on American culture and politics. He does the same in this Netflix special, his first, which sees him recounting his Coming to America story and throwing in an array of accents to address the growing nationalism trend that's affecting the entire world at this point. Serious stuff, but Noah finds a way to make us laugh in spite of everything
Nick Kroll and John Mulaney, Oh, Hello on Broadway
Run Time: 104 min | IMDb: 7.8/10
Comedians Nick Kroll and John Mulaney stretched out their popular skit from Comedy Central's Kroll Show into a nearly two-hour act for live audiences to enjoy with this special. The guys reprise their roles as Gil Faizon (Kroll) and George St. Geegland (Mulaney), two elderly New Yorkers in turtlenecks with strange world views and the tendency to say "hello" in unison. The men are caricatures of a universally-shared misery — elderly relatives with misinformed opinions and they don't mind making a racist joke or two. Boomers are an easy mark in the world of comedy but Kroll and Mulaney elevate their show to something more than just mocking old people by refusing to adhere to a traditional format and letting things play out like an overly-long SNL sketch instead.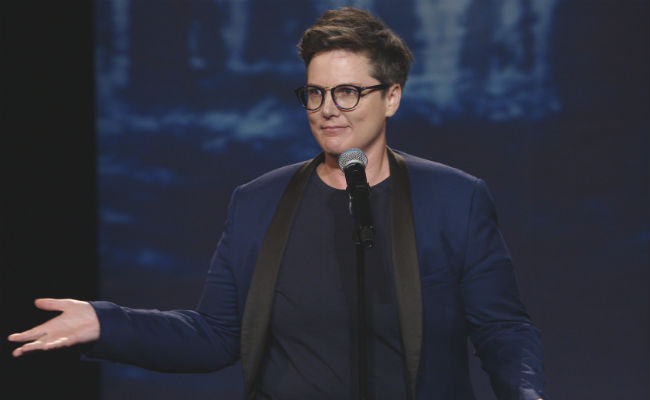 Hannah Gadsby, Nanette
Run Time: 69 min | IMDb: 8.4/10
You'd have to be living under a rock not to have heard about Australian comic Hannah Gadsby and her must-watch stand-up special. Her hour-long set is changing the way we think about comedy, chucking the ironic detachment in the trash and instead, offering up a bit of humor interlaced with moving reflections on life. Most of Gadsby's routine chronicles the joys and hardships of being a queer woman — her childhood in Tasmania, her praise for Monica Lewinsky, her commentary on why sexuality and comedy go hand-in-hand — but she also claps back against the idols of her early life, men like Louis C.K. who've now become the problem. In other words, Gadsby's not holding any punches with this one.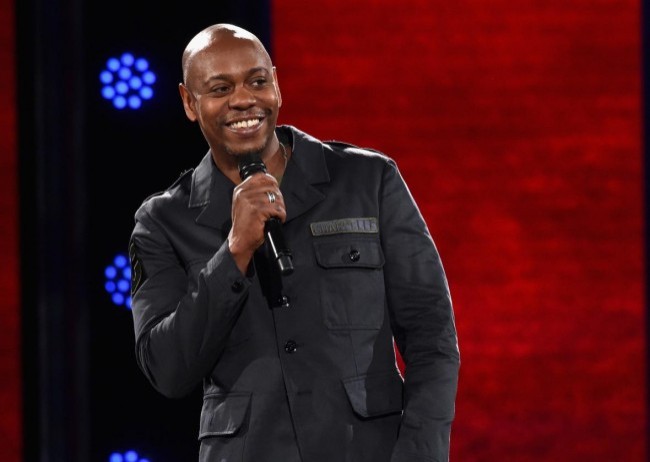 Dave Chappelle, The Age of Spin
Run Time: 67 min | IMDb: 8/10
It's difficult to miss Dave Chappelle while skimming through Netflix's comedy offerings. After all, in less than a year, the Chappelle's Show star and co-creator debuted four — yes, four — stand-up specials on the streaming platform. Depending on who you ask, the latter two specials —Equanimity and The Bird Revelation — are either additional examples of his brilliance or signs of a celebrity rushing to maintain his cultural relevance. The first two, however — Deep in the Heart of Texas and The Age of Spin — fare much better. This is especially true of Spin, which is regarded by critics and audiences alike as one of Chappelle's better comedy offerings in recent memory. Of course, this is Chappelle we're talking about, so none of these routines are without their share of controversy.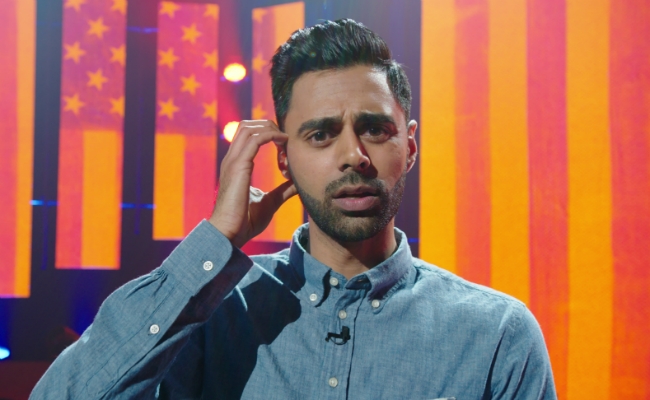 Hasan Minhaj, Homecoming King
Run Time: 73 min | IMDb: 8.3/10
The Daily Show's Hasan Minhaj uses his Netflix stand-up special, Homecoming King, to weave an intricate and hilarious account of his life as a son of Indian-American immigrants. Sure that means there are plenty of funny cultural learning curves. Minhaj describes how his dad took him to Home Depot instead of Toys-R-Us for his birthday and how he struggled to fit in with a "bunch of Ryan Lochte's" in high school, but what really makes this special stand out is how Minhaj manages to be bluntly honest about the difficulties of being brown in America without ranting about Muslim bans, Trump's presidency, and other obvious issues that have been touched on before.
Jim Jefferies, Bare
Run Time: 77 min | IMDb: 8.1/10
Australian comedian Jim Jefferies isn't new to stand-up, either in the United States or elsewhere, but his name was passed around frequently after the San Bernardino shooting. This is largely due to Bare, which premiered on Netflix in 2014. Jeffries spends a large chunk of the routine discussing guns and gun control in the United States, and how his home country responded differently to an infamous mass shooting in 1996. Jefferies' approach is polemic at times, but it more often that not focuses on the comedy to be surprisingly gained by poking fun at the perilous moral and political conundrum the U.S. still finds itself in today. Then again, Jefferies' comedy isn't just about politics — everything from fatherhood to granting an old friend a lifelong wish is included, and it's all wonderful.
John Mulaney, Kid Gorgeous at Radio City
Run Time: 65 min | IMDb: 7.9/10
John Mulaney doubles-down in his self-effacing humor in his 2018 comedy special. The guy's still a tall, lanky, baby-faced bro who likes to rib on himself and point out the blatantly baffling norms of society, but he's doing it on a bigger stage, one that feels in tune with his old Hollywood vibe. In this special, Mulaney eviscerates pretty much everything (school assemblies, aging, manners, church) with his patented good-humored charm. He even manages to wade into the tricky political arena with horse comparisons and the refusal to name a certain orange-haired president. In other words, Mulaney's at his best here, and the Emmys thought so too.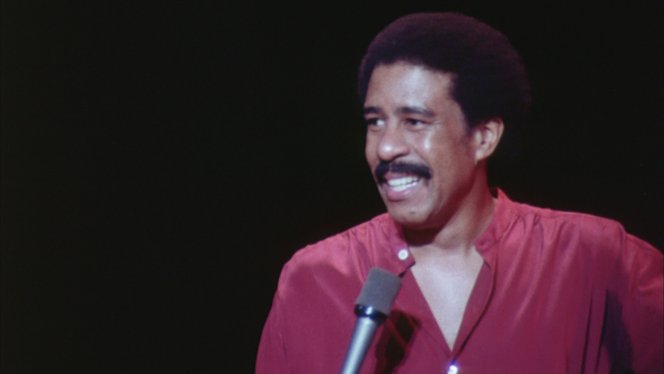 Richard Pryor, Live in Concert
Run Time: 78 min | IMDb: 8.2/10
Aside from new, original and other licensed specials, no comedy aficionado with a Netflix subscription can ignore Richard Pryor's seminal 1979 film, Live in Concert. Spearheaded by the influential concert film director Jeff Margolis, Live in Concert was the first feature-length film to entirely focus on a stand-up comedy routine. Previous films or television specials had included stand-up performances in their various mixes, but Live in Concert was the first to do nothing but. Hailed by Pryor devotee Eddie Murphy as "the single greatest stand-up performance ever captured on film," Live in Concert went on to garner Pryor a Best Actor nomination from the National Society of Film Critics, and set the blueprint for all comedy specials to follow.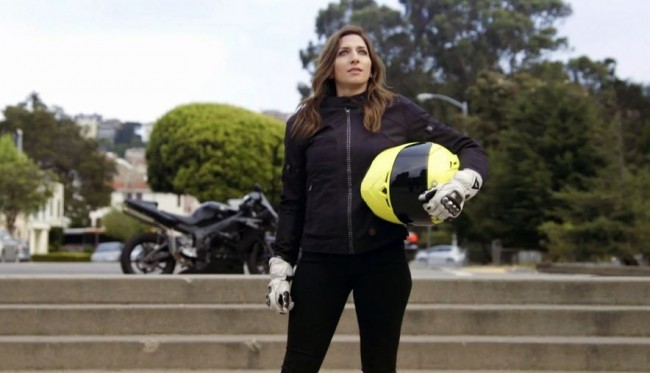 Chelsea Peretti, One of the Greats
Run Time: 74 min | IMDb: 7/10
Most viewers will recognize Chelsea Peretti from Brooklyn Nine-Nine, in which she plays the precinct's cynical civilian administrator Gina Linetti. The actress is also known for her work as a writer for numerous programs, including Saturday Night Live and Parks and Recreation. Hence her 2014 Netflix special, One of the Greats, which is a purposefully overwritten hour rife with almost as much comedy about comedy as straight stand-up. Self-reflective character work usually isn't always for everyone (as comedian Ralphie May proved during a Twitter rant a year after the special was released), but Peretti pulls it off without breaking a sweat. It's great fun to watch on its own, but Peretti's One of the Greats works especially well when viewed immediately after a typical stand-up special. (Much like watching Robin Hood: Men in Tights after Robin Hood: Prince of Thieves.)
Marc Maron, End Times Fun
Run Time: 71 min | IMDb: 6.7/10
It only feels right that we appreciate the filthy, dark, doomsday humor of Marc Maron's latest Netflix special. The comedian, who gave UPROXX an eye-opening interview about what goes into crafting a Mike Pence penis joke, covers everything from doomsday prepping to the saturation of politics in the media and vitamin hoarders. He never shies away from the controversial, heavy-hitting news commentary, but he manages to elevate otherwise crass humor and sharp satire to something that feels enjoyable unifying, instead of divisive.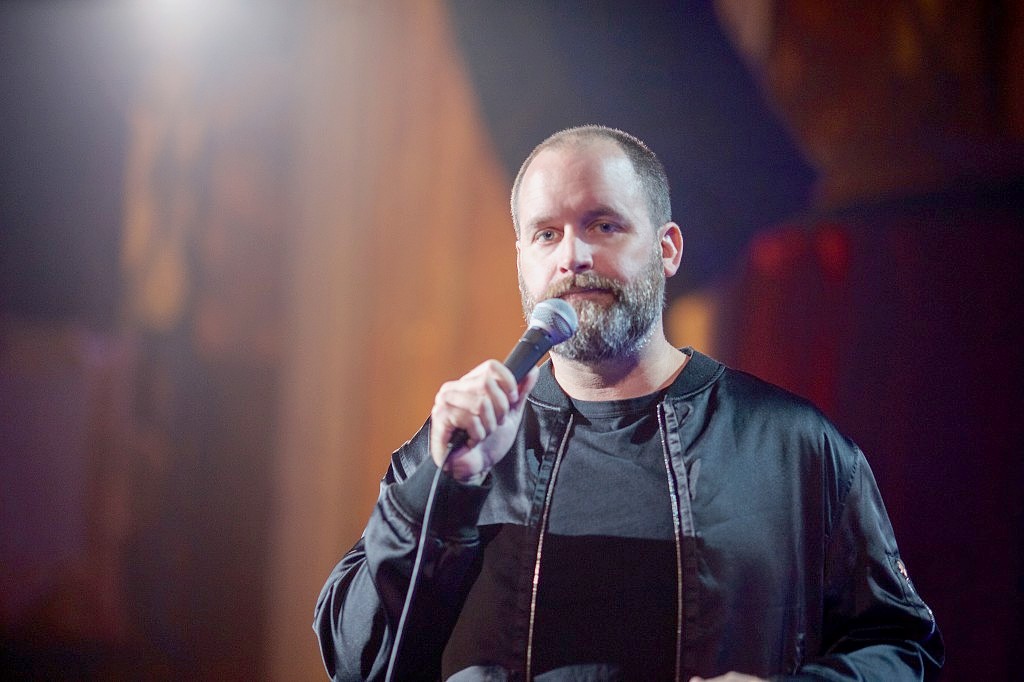 Tom Segura: Disgraceful
Run Time: 71 min | IMDb: 7.6/10
Tom Segura's third Netflix special feels comfortably lived-in, like the comedian knows how this streaming thing works and doesn't mind playing along. He's got timely content, jokes about PC culture and the like, and relatable material too, especially when he waxes about fatherhood. These all make for great soundbites to sell to the masses but what really elevates Segura's comedy is his stage presence. He approaches this set as if he were playing to a crowd of 50 at an underground comedy cellar in NYC and it gives the whole thing an aura of authenticity rare with some of the bigger specials on the same platform.
Anthony Jeselnik, Thoughts and Prayers
Run Time: 59 min | IMDb: 7.8/10
If Mitch Hedberg were still alive and outrageously offensive, he might resemble Anthony Jeselnik. Best known for his dark one-liners, the comic's Netflix stand-up special, Thoughts and Prayers premiered in 2015 after his first stint as the host of NBC's Last Comic Standing and the cancellation of his Comedy Central show, The Jeselnik Offensive. His comedy is gleefully acerbic, and whether he's on tour or tweeting, and it's earned its share of detractors who find it distasteful. Jeselnik loves this about his work, however, and his most ardent fans do, as well. Hence, if you're feeling the need to laugh and feel slightly terrible about yourself, then Thoughts and Prayers is the comedy special for you.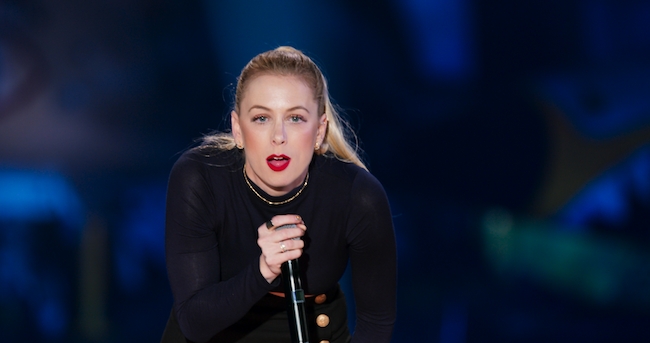 Iliza Shlesinger, Elder Millennial
Run Time: 72 min | IMDb: 7.2/10
Iliza Shlesinger returned in 2018 with her signature brand of comedy, which means this is a set that basically educates men on everything they should know about women. That might seem a bit off-putting for those with a Y chromosome, but Shlesinger manages to get her digs in at everyone this go 'round, cracking jokes about society's insistence on women finding husbands, having babies, and concealing their inner-she-dragons. It's a nice bit of feminist humor that's surprisingly accessible and has something worthwhile to say.
Jim Gaffigan, Cinco
Run Time: 73 min | IMDb: 7/10
Jim Gaffigan is like comfort food for comedy. He's got a schtick and he's good at it. In his 2017 stand-up special, Gaffigan sticks to what he knows: Parenting kids, his proud couch potato status, his affinity for junk food, etc. What's always surprising about Gaffigan's set is how he's able to reinvent the wheel, mining new bits of humor from age-old situations, like our obsession with binge-watching and his love-love relationship with food.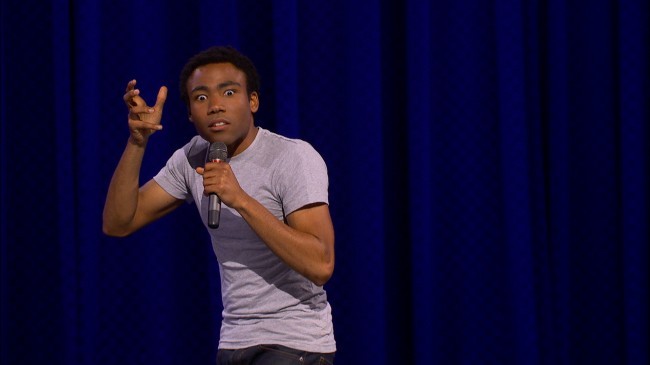 Donald Glover, Weirdo
Run Time: 65 min | IMDb: 7.5/10
By now, it's no secret that Donald Glover is good at everything, but when his stand-up special Weirdo was released, at the height of his Community fame, it served as an intro into the mind of one of the most brilliant comedians on TV. Glover uses his time on stage to talk about sex and race and poop … lots of poop jokes. He also gets serious about trying to fit in as a kid and the lack of black superheroes on film. It's a good routine to watch, especially with the benefit of hindsight, and it'll only make you like the guy more.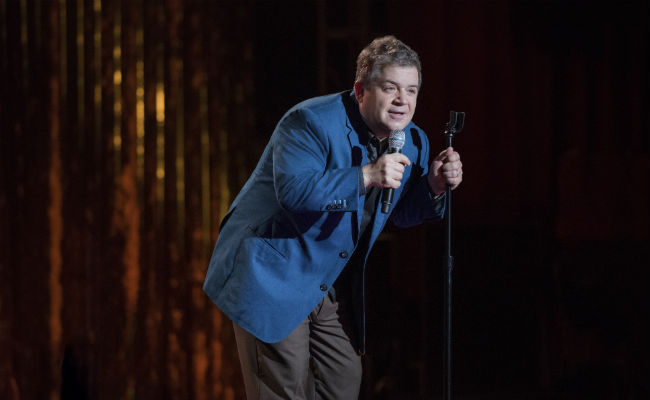 Patton Oswalt, Talking for Clapping
Run Time: 65 min | IMDb: 6.8/10
Patton Oswalt's special Talking for Clapping is a gem. Much like 2009's My Weakness is Strong, the comic, actor and writer excels while doing his thing on stage — be it rants about joke-stealing or fraternity chants. Yet with this particular comedic offering, the incredibly nerdy, opinionated and genuinely wonderful performer doesn't hold back on the more relevant, pressing topics plaguing modern society today. Things like Donald Trump's ridiculous run for the White House, the wonders of Kentucky Fried Chicken (KFC), and the joyful perils of fatherhood.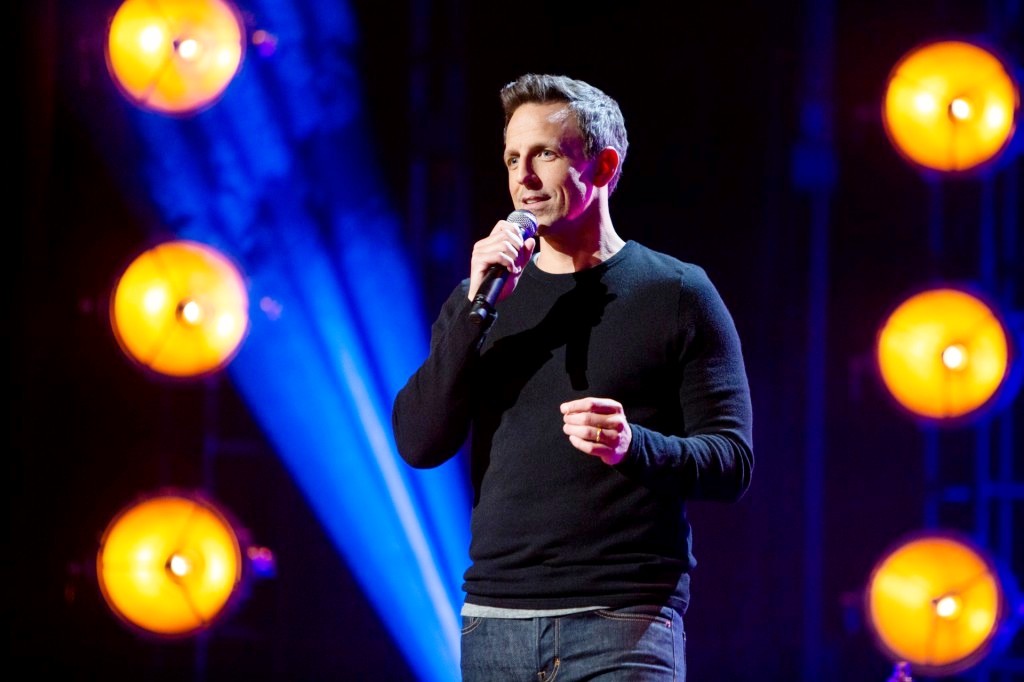 Seth Meyers, Lobby Baby
Run Time: 61 min| IMDb: 7.6/10
The most noteworthy thing about Seth Meyer's new Netflix special may be that there's a "Skip Trump Jokes" button you can use any time you need an out, but most of the laughs in this aren't political. In fact, Meyers gets real about parenting and that disastrous birth story — his wife went into labor in the lobby of their building — mining the humor from the most ridiculous happenings of his everyday life. He brings his trademark charisma and charm to the stage, familiar to anyone who tunes in for his nightly talk show, but his comedy seems most at ease when he's directing it against himself, for our benefit.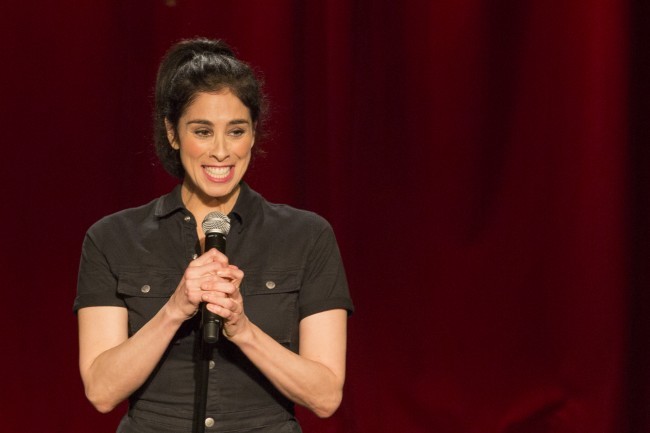 Sarah Silverman, A Speck of Dust
Run Time: 71 min | IMDb: 6.8/10
Sarah Silverman's made a career out of shock-and-awe. She's known for her explicit sense of humor — her ability to joke about everything from the Holocaust to sexual assault and AIDS. But with A Speck of Dust, Silverman seems to have matured a bit in her routine, relaxing into a more conversational tone, leaving behind the sharp one-liners and playing the long-game with running jokes that touch on intimate life moments. This stand-up special might not be as headline-making as her previous ones, but it's a good look at the kind of comedian Silverman has become.
Wanda Sykes, Not Normal
Run Time: 60 min | IMDb: 7.1/10
It seems strange it's taken us Netflix this long to order a Wanda Sykes Netflix special but, then again, the comedian rarely gets her due. Despite being in the business for years, Sykes' style and material still feels a bit unknown, a bit mysterious, and therefore, wholly exciting. This set, filmed in D.C., tackles everything from Trump to aging and body image with a kind of self-effacing humor and good-natured pessimism that feels relatable, conversational, and yet intellectually valuable. Sykes is able to crack jokes about 45, speculate about old age, complain about relationships, and more with an every-day charm that only serves to get her real message across, things right now just aren't normal.
Chris Rock, Tamborine
Run Time: 64 min | IMDb: 6.5/10
Before Tamborine, we hadn't heard from Chris Rock in a long time. Sure, the 53-year-old comedian was one of a handful of significant names who threw their hats into the Netflix ring in 2016, but Amy Schumer, Jerry Seinfeld, and Dave Chappelle debuted their stand up specials long before him. Rock, whose previous comedy special hit HBO ahead of Barack Obama's first election win in 2008, waited until Valentine's Day 2018, when Netflix finally revealed that the secretive Tamborine project was Rock's first special with them. Not only is it one of his best stand-up hours to date, it's also possibly one of 2018's best specials.
Jenny Slate, Stage Fright
Run Time: 66 min | IMDb: 5.9/10
Funny woman Jenny Slate teams up with her Obvious Child and Landline collaborator Gillian Robespierre for her first comedy special on Netflix, a show that's equal part stand-up and documentary. Slate takes viewers on a tour of her life, her childhood, her career, mixing in footage and confessionals with behind-the-mic bits that display her comedic brilliance. It's revealing and intimate in a way most comedy specials just aren't, and it's all the funnier for it.
Nate Bargatze, The Tennessee Kid
Run Time: 60 min | IMDb: 7.5/10
Nate Bargatze rose to fame as Jimmy Fallon's stand-up guy on his Late Night show and The Tonight Show, but this special proves the every-man comic is still a Southern boy at heart. In his first Netflix special, Bargatze contemplates the perils of air travel, global warming as a conversation starter, and life as a dad. He also reminisces about his unusual upbringing — his father is a professional magician/party clown — and regularly ribs his own intellectual abilities for laughs.
Eric Andre, Legalize Everything
Run Time: 51 min | IMDb: 6.1/10
Eric Andre gives a wild, incredibly timely stand-up routine here with Legalize Everything. It's a mash-up of brutal digs at the defunct Cops docu-series, satiric history lessons about John Calvin and Puritanism, Xanax blackouts, and Tupac holograms. It's relevant and timeless and forward-thinking in a way that does punch down — which feels refreshing in the current age of stand-up.
Recent Changes Through November 2022:
Added: Eric Andre, Legalize Everything, Bo Burnham, Inside
Removed: Ellen Degeneres, Relatable, Bo Burnham, Make Happy