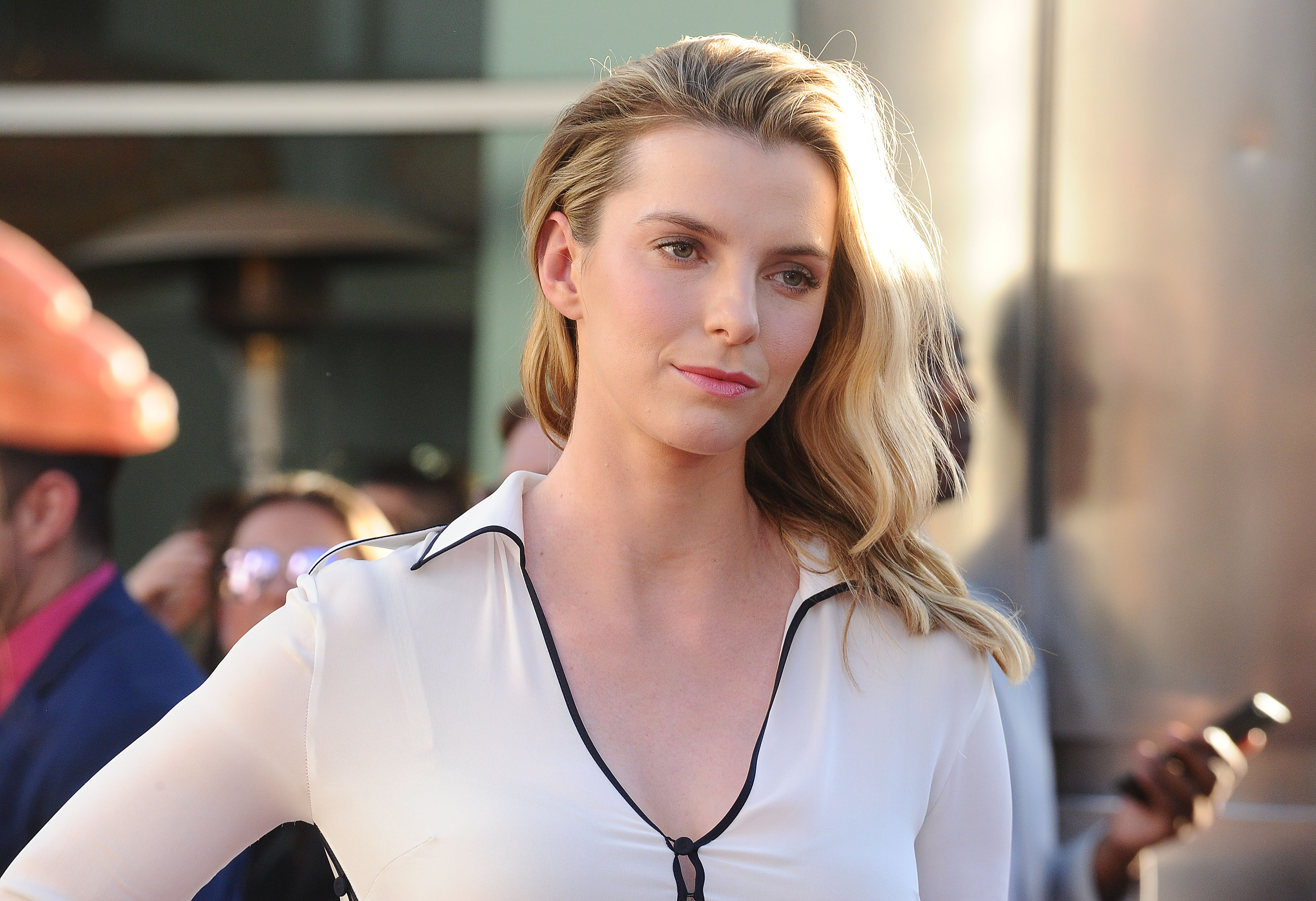 Betty Gilpin is an actress best known for portraying Debbie "Liberty Belle" Eagan on Netflix's GLOW and Doctor Carrie Roman on Showtime's Nurse Jackie. You may have also seen her on Masters of Sex, Elementary, Law & Order: SVU, and American Gods. Additionally, Gilpin has appeared in numerous off-Broadway stage productions. GLOW is available for streaming on Netflix (read our review of the show here).
Betty was nice enough to devote a few minutes of her time to participate in our 20-questions questionnaire series recently.
1. You walk into a bar. What do you order from the bartender?
In college it was a shot of Jameson with a Shirley Temple back, and then I realized I was trying to be a character in a novel. So one mezcal neat and then five glasses of water and two personal questions please.
2. Who's your favorite person to follow on Twitter and/or Instagram?
Ashley Graham on Instagram and Zoe Kazan on Twitter.
3. What's currently waiting for you on your DVR or in your streaming queue?
Not The Bachelorette, no no. A documentary about whales and their role in the War of 1812.
4. It's your last meal — what are you going out with?
We'll start with a bathtub full of meat sauce and a baguette the size of a fire hydrant to dip into the tub. Next we have baseball-sized gnocchi in chocolate sauce and it's somehow good. Then Tempurpedic mattress pad-sized blueberry pancakes floating in maple syrup. And those are the appetizers.
5. What websites do you visit on a regular basis?
Twitter, Politico, Amazon, Playbill.
6. What's the most frequently played song on your mobile device?
I've been listening to "It's Raining Men" on repeat for three days. I can't and won't stop.
7. If you could go back and give your 18-year-old self one piece of advice what would it be?
Break up with him, eat some red meat, and don't show anyone your poems.
8. What's the last thing you Googled?
Does a clicking in your hip mean early death?
9. Dogs or cats?
Dogs. But shoutout to Smokie who was Clint Eastwood in a cat.
10. Best concert of your life was…?
I was "dragged" to *NSYNC in middle school and within ten minutes I had lost my voice from screaming lyrics.
11. What book are you most likely to give as a gift?
We Should All Be Feminists by Chimamanda
12. What's the nicest thing anyone has ever done for you?
One of my best friends had a fashion intervention with me and told me teal and purple were not staple colors.
13. South Park or Family Guy?
South Park!
14. You have an entire day to do whatever you want. What would you do?
See question 4. And then maybe see a great play and walk home with ice cream.
15. What movie can you not resist watching if it's on?
Elf.
16. The sports team or teams you're most passionate about?
Red Sox.
17. Where did you eat the best meal of your life?
My husband's cooking is out of this world. So, my living room floor? Because we can't get it together to buy chairs but we have 473829 chopsticks.
18. The last movie you saw in a theater?
The Big Sick and it was so beautiful.
19. Who was your first celebrity crush?
Chris O'Donnell in Batman and Robin. He came on screen and my sexuality was like 'Hi, nice to meet you. We're here. Hello."
20. What would you cook if Nic Cage was coming to your house for dinner?
I mean I think I'd just commit to having a weird night and do like hard boiled quail eggs and ayahuasca soup. And peanut M&Ms in an urn.
PREVIOUSLY: Mike Tyson