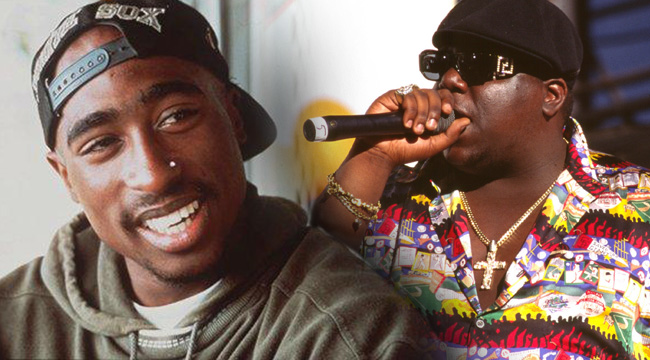 USA Network ordered a true-crime pilot about the deaths of Tupac Shakur and Biggie Smalls. Based on the book Murder Rap: The Untold Story of Biggie Smalls & Tupac Shakur Murder Investigations by former LAPD Detective Greg Kading, Unsolved will chronicle the two police investigations following the murders of the legendary rappers, which occurred only a few months apart. Both cases remain unsolved (now I get the title). According to Variety:
Anthony Hemingway, who just came off another true crime series with FX's American Crime Story: The People v. O.J. Simpson, is set to direct the pilot. The project is based on the experiences of former LAPD Detective Greg Kading who led multiple law-enforcement task forces investigating Tupac and Biggie's murders. He will consult on the pilot and serve as co-exec producer. Kyle Long (Suits) is writing the pilot and will serve as executive producer. (Via)
Unsolved shouldn't be confused with the Tupac biopic All Eyez On Me, or TBS' comedy based on Biggie's lyrics, or Labyrinth, starring Johnny Depp as another L.A. detective who looked into the deaths of the hip-hop icons. Tupac, who never died obviously, plans to binge all these projects in one day, and then check out this Stranger Things he's heard so much about.
(Via Variety)