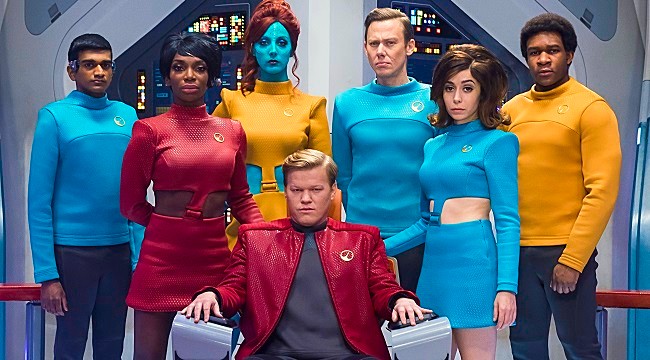 Back in October, Bloomberg reported that the upcoming fifth season of Charlie Brooker's acclaimed series Black Mirror would premiere sometime in December of this year. The report also indicated that, among the new episodes to be featured in season five, one would essentially be a choose-your-own-adventure style entry. In other words, Black Mirror and Netflix would be releasing an interactive episode. Now it seems a leaked December premiere date and some fan theories may have lent credence to Bloomberg's report.
According to Forbes, the official @NXOnNetflix account, which tweets about all things science fiction and fantasy on the streaming service, tweeted and promptly deleted a list of upcoming leased and original titles for December. The tweet itself read, "A perfectly balanced December," perhaps in reference to Avengers: Infinity War's Christmas Day release date. However, it also included a listing for Black Mirror: Bandersnatch, which is purportedly set to stream a few days later.
The word may refer to a creature of the same name in Lewis Carroll's Through the Looking-Glass, which describes it as a long-necked creature with "frumious jaws" that "savagely [snap] around." Yet as TV Guide notes, many fans who have been keeping track of the Black Mirror production's movements are theorizing that it has more to do with an infamously abandoned video game from the 1980s.
TV Guide adds that the game was "about a group of computer nerds locked away together to try and create the ultimate Commodore 64 and 48k Spectrum game," with Bandersnatch being the Spectrum version and Psylapse being the Commodore version. And the reason this particular bit of trivia is important, it seems, is because the British video game magazine Edge created fictional covers to promote the season three Black Mirror episode "Playtest," and one of the covers directly referenced Bandersnatch and Psylapse.
If the original deleted tweet is real, and the upcoming Black Mirror episode or special "Bandersnatch" is set to be released on December 28th, then it looks like Brooker's series is about to travel back in time for some '80s video game goodness. What's more, considering the story of the game itself and the fact that Black Mirror season five will include an interactive episode, perhaps this is it. Besides, the inclusion of a Carroll reference all but indicates that Netflix is about to ask its subscribers to follow it down the rabbit hole.