The first word spoken in the BoJack Horseman season five trailer? "Ugh."
Or maybe it's just a deeply disgusted sigh. Either way, BoJack is back, baby! The funniest show on television — which is also, somehow, the saddest show on television — returns to Netflix for season five on September 14.
The last time we saw the titular alcoholic horse, he had just learned that Hollyhock (make that, Hollyhock Manheim-Mannheim-Guerrero-Robinson-Zilberschlag-Hsung-Fonzerelli-McQuack), who he thought was his daughter, is actually his half-sister. That should bring a sense of calm to his life. He's finally related to someone who isn't a monster! But nope. BoJack is still drinking, he's still unsatisfied with his career (he's now the star of crime drama Philbert, which Princess Carolyn calls "confusing, which means that it's daring and smart"), and he's still "skulking behind doors with a malevolent aura." Actually, that last one is new, but his reaction to Mr. Peanutbutter — another "ugh" — isn't.
But while BoJack is barely (bearly?) holding on, everyone else is doing…
Hm. Diane looks pretty sad. How about Princess Carolyn?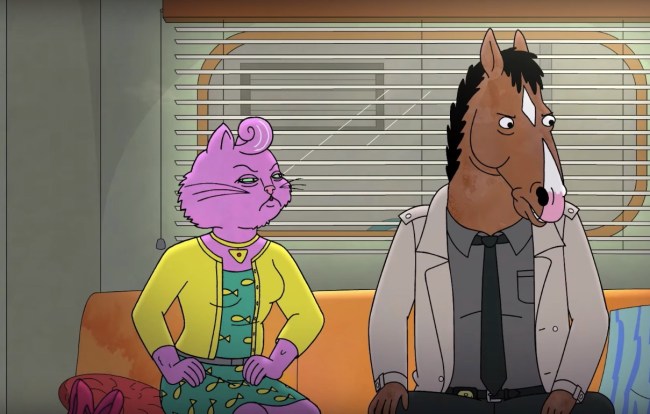 That is not a happy face. Let's try Todd.
Todd has a hand for a face. Hooray?
For more on BoJack, read our interview with creator Raphael Bob-Waksberg.