"Chapter Six: An Exorcism in Greendale"
I was genuinely surprised to learn (or, be reminded) that Sabrina the Teenage Witch never actually attempted to tackle a The Exorcist riff in its patented cheesy way, so I originally figured this episode didn't ruin any childhoods by doing so. But even without an analogous episode, this episode somehow probably ruins childhoods the least. The most I could note is that Sabrina astral projecting to negotiate with a demon is probably something that wouldn't have happened in the sitcom… but honestly, it totally would have. You can imagine the one-liners — and Salem crying — already, can't you?
So I guess what I'm saying is: Yeah, the episode with a full-blown exorcism? Perfect for your inner child.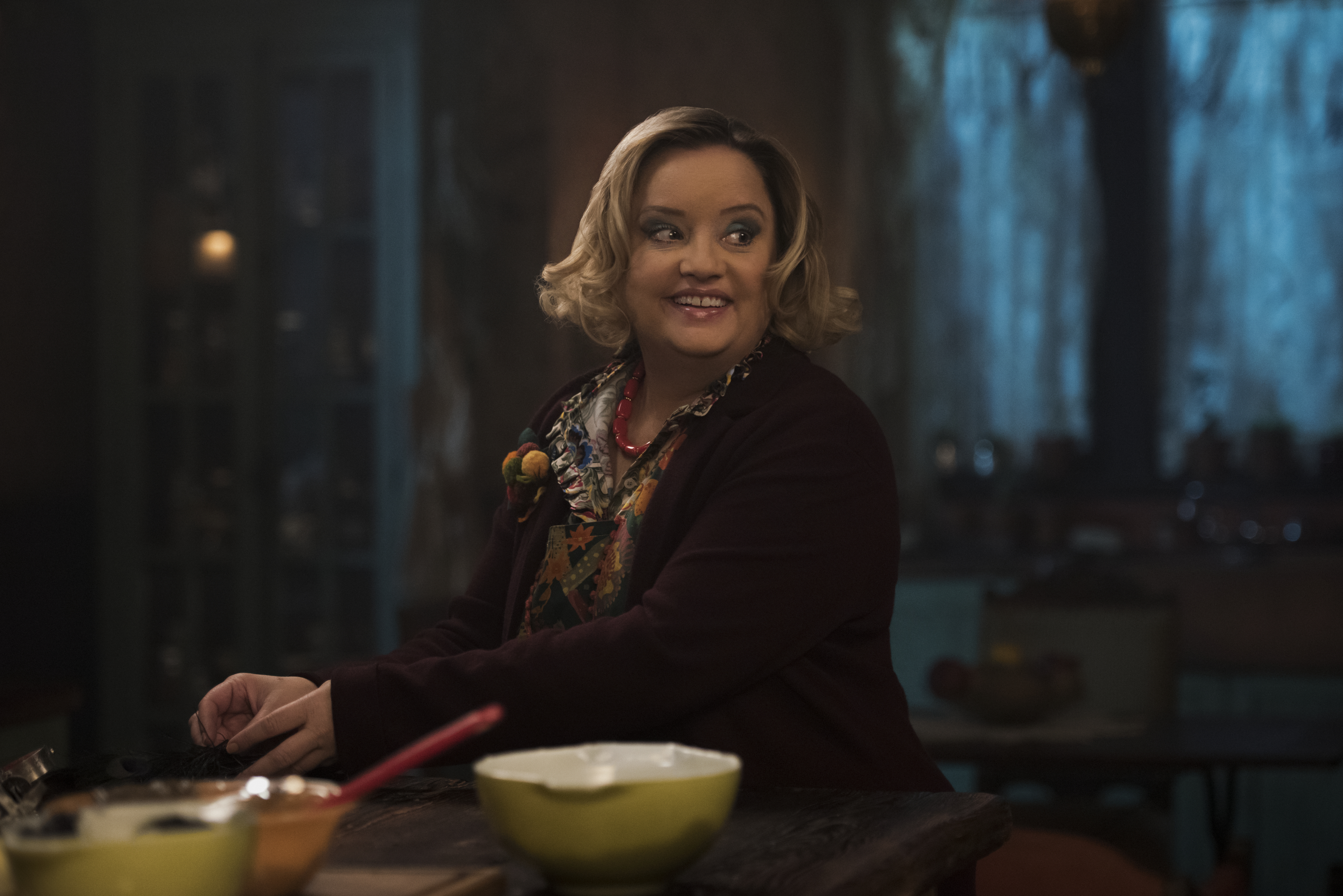 "Chapter Seven: Feast of Feasts"
Aunt Hilda's truth cake is actually the most sitcom-y moment of this entire series, but…
Instead of feasting on pancakes, Sabrina is expected to feast on the flesh of a witch. She doesn't, but what's one good decision when the rest of her decisions are all wrong?
While Lindsay Sloane was of course magical (just by virtue of being Lindsay Sloane), Sabrina the Teenage Witch never decided all of Sabrina's friends should also have some supernatural powers of their own. Chilling Adventures of Sabrina, on the other hand, just starts handing out powers and witch-hunting backstories seemingly out of nowhere around this point. Depending on how you feel about the mortal characters on this show, either that's a betrayal of your childhood or the most necessary choice this show could make to get these characters to be interesting in any way.
"Chapter Eight: The Burial"
Again, in an aspect that hearkens right back to childhood, this episode is a reminder that Sabrina really should stop doing spells on her boyfriend. And yet, she does not. So childhood remains intact with that.
This show's Harvey Kinkle (Ross Lynch) is better than sitcom Harvey Kinkle in terms of not having those sideburns or those earrings — really, Nate Richards was one of the stranger teen heartthrobs of the '90s, especially when Sabrina somehow chose him over Donald Faison — but in terms of childhood ruination, I can't say I've ever expected any version of Harvey Kinkle to say "chickenshit" a bunch of times. And just to be clear, it really is terrible each and every time, so this actually goes past ruining one's childhood into ruining every scene in which it happens on Chilling Adventures of Sabrina.
Oh yeah, Sabrina sacrifices a witch to bring a mortal back to life. Childhood ruined! You know, because of the murder aspect, no matter how temporary it is.
"Chapter Nine: The Returned Man"
Harvey Kinkle murders his zombie brother. At least it proves he's not chickenshit and there are extenuating circumstances, but it's still another case of one of these teens murdering someone.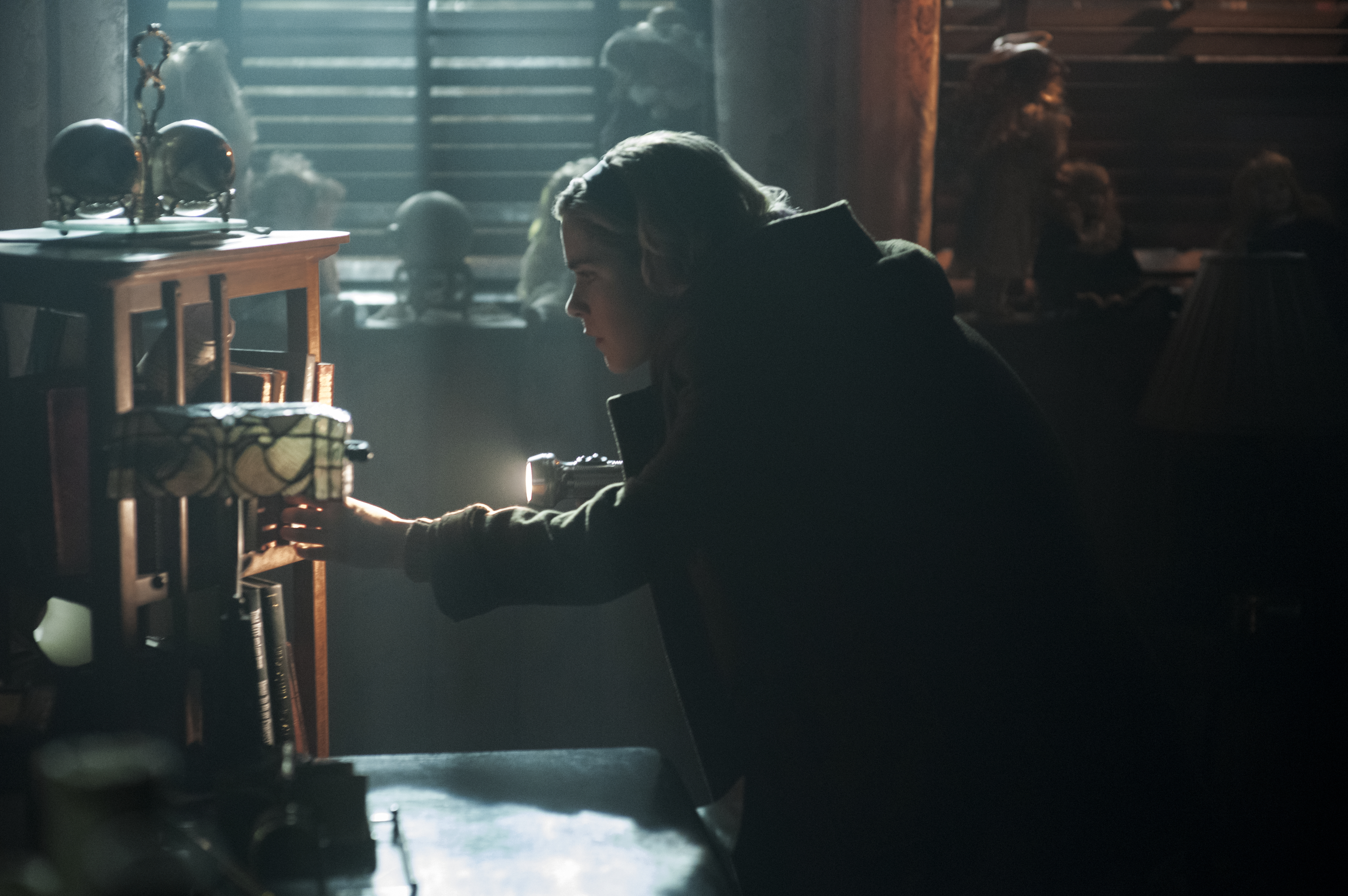 "Chapter Ten: The Witching Hour"
As I've previously mentioned, Sabrina accepting Satan into her heart counts as ruining one's childhood, I guess? That's kind of a childhood buzzkill when you really factor in everything about this show. Melissa Joan Hart's Sabrina, I'd never want her to pledge her allegiance to the Dark Lord, because that's just not how they rolled on ABC/The WB. But here? Who does Sabrina Spellman think she is, thinking she's too good for Satan? (This show may have warped my view on some things. I watched all these episodes in the middle of the night, for proper mood-setting.)
And there you have it — a definitive list of every single moment in Chilling Adventures of Sabrina that have clearly ruined your and others' childhoods. No more, no less… as long as you ignore the point where I said it became difficult to truly capture "every single moment" as the show got better.
I hope it's clear that there's absolutely nothing wrong with enjoying Sabrina the Teenage Witch — unless we're talking The WB years, that is. But Chilling Adventures of Sabrina's approach to its (darker, which is surprisingly the first time I've brought up the dreaded d-word here) source material isn't an attempt to erase that enjoyment or even the very concept of a sitcom approach to Sabrina Spellman's misadventures. In fact, the people behind this show clearly have a sense of humor about the whole thing.
In fact, it's almost as if the idea of a childhood being ruined by an adaptation of a spin-off source material — or any new spin on anything from years ago — is such a childish, misinformed line of thinking in the first place. But I guess that couldn't possibly be true, because there was a sassy talking cat (again, whose backstory was actually terrible) in the sitcom. (Spoiler alert: It's true, and in fact, finally processing childhood hallmarks through more mature eyes is what ruins childhood. Well, that and genuine traumatic events from childhood, I guess.)