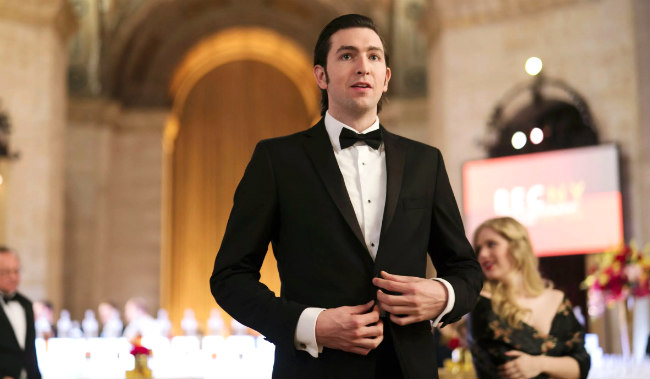 No list of the Best Things About Television in 2018 would be complete without Cousin Greg. Succession's breakout character is hilarious, a "sweet gangly boy," the kind of dope who despite being a tall lurker always blends into the background, the target of numerous f*ck offs, and apparently irresistible to everyone, including Bill Clinton. GQ spoke to the cast of HBO's summer hit, and everyone, from Jeremy Strong (Kendall) to Kieran Culkin (Roman), praised Nicholas "F*ckin' Cousin Greg" Braun for what he brings to the show.
"I have a hard time keeping it together with Nick. And that goes for just, like, everyone across the board who meets him. When we first worked together, I invited him over to a birthday thing that I had, and everybody that came over was like, 'Who the hell is this guy? This guy is great!' Both men and women flock to him in such a flirty way without quite understanding why they want to flirt with him, you know?"
Matthew Macfadyen (Tom) called him "the tallest man in the world" and confessed that he had "terrible giggles" whenever he had to insult "Pig-Man" Cousin Greg, while Braun told a story about meeting the Clintons at a party in New York. "Long story short, I'm told I'm gonna meet Hillary [Clinton]. I go and shake her hand, and I'm so excited and nervous; I think she's amazing. And then I see Bill, and he's got a crowd around him, totally enthralled, and he's regaling them with some story. Kind of Greg-style, I just go over and sort of lurk," he said. "He finishes his story, and the first thing he does, he puts his hand out to me, and says, 'How're you doing? Bill.' I'm like, 'Hey. Nick. Huge fan.' And somebody in the circle says, 'Oh, this is Nick Braun. He's on this show. You'll love it, Bill: Succession.' And he immediately takes an interest."
"I was just sort of like, 'At what point is Bill gonna want me to walk away, so he can talk to people he actually knows or cares about?' But we talked for a while. He really loved talking to me and Jeremy and hearing about the show. At one point he said, 'I'm gonna go home and I'm gonna watch the show — tonight. I'm gonna go watch it right now.' And I was like, 'That's awesome. If you'd like to do a guest spot, we'd love to have you.' He said, 'I just might do that. That'd be fun.' It was so Greg-y."
The moral of the story: if you want a former president to appear on your critically acclaimed HBO series (relatable!), lurk around him at a fancy party, and try not to puke out of your eyes. Also, Greg-y is the new Lynch-esque.
(Via GQ)