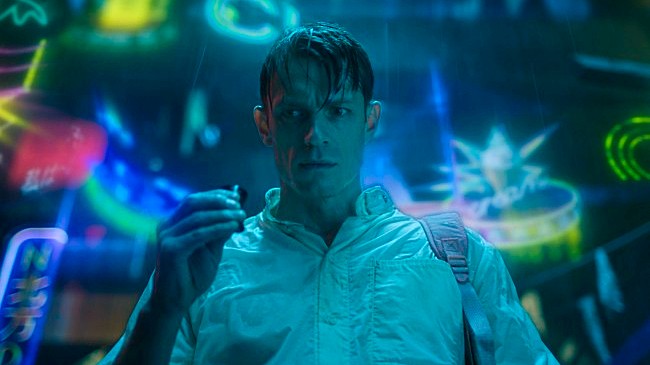 February may be the shortest month, but that doesn't mean its contributions to the Netflix catalog will leave subscribings wanting. For despite the fact that January saw the streaming giant amass the '90s Batman film series (and Christopher Nolan's Batman Begins) along with all three parts of The Godfather, this month's additions surely won't disappoint. From new original series like Altered Carbon and Coach Snoop to filmmaker Duncan Jones' Moon sequel(-ish) Mute, February's new catalog entries will keep users binging for quite some time.
ARRIVING
Altered Carbon (2/2)
Based on Richard K. Morgan's celebrated cyberpunk novel of the same name, Altered Carbon is one of Netflix's more promising looking new shows. Will Yun Lee plays Takeshi Kovacs, "the lone surviving soldier in a group of elite interstellar warriors who were defeated in an uprising against the new world order." 250 years later, he is revived (and then played by Joel Kinnaman) by Laurens Bancroft (James Purefoy), a wealthy businessman who wants him to solve his murder. In exchange, Kovacs' new benefactor will grant him his freedom and allow him to live again as a free man.
DEPARTING
All seven seasons of Burn Notice (2/15)
Sadly, every month in streaming also brings with it the loss of a few great titles, like the popular USA series Burn Notice. Starring Jeffrey Donovan as Michael Westen, an American spy disavowed (or "burned") by the U.S. government, the show went for seven solid seasons during the late 2000s and early 2010s. Co-starring Gabrielle Anwar and Bruce Campbell, Burn Notice is a simple-but-great procedural of sorts, and fans and newcomers now only have roughly three weeks to watch all seven seasons before Netflix burns them from its catalog.

Here's the full list of titles coming to Netflix in February:
Avail. 2/1/18
3000 Miles to Graceland
42 Grams
Aeon Flux
American Pie
American Pie 2
American Pie Presents: Band Camp
American Pie Presents: The Book of Love
American Pie Presents: The Naked Mile
Ella Enchanted
Extract
GoodFellas
How the Beatles Changed the World
John Mellencamp: Plain Spoken
Kill Bill: Vol. 1
Kill Bill: Vol. 2
Lara Croft: Tomb Raider
Liberated: The New Sexual Revolution
Lovesick
Meet the Fockers
Meet the Parents
Men in Black
National Parks Adventure
Ocean's Eleven
Ocean's Thirteen
Ocean's Twelve
Paint It Black
Scream 3
The Hurt Locker
Walk Hard: The Dewey Cox Story
Z Nation: Season 4
Avail. 2/2/18
Altered Carbon: Season 1 — NETFLIX ORIGINAL
Cabin Fever
Coach Snoop: Season 1 — NETFLIX ORIGINAL
Kavin Jay: Everybody Calm Down! — NETFLIX ORIGINAL
Luna Petunia: Return to Amazia: Season 1 — NETFLIX ORIGINAL
On Body and Soul — NETFLIX ORIGINAL
Avail. 2/6/18
Fred Armisen: Standup For Drummers — NETFLIX ORIGINAL
Valor: Season 1
Avail. 2/7/18
Imposters: Season 1
Queer Eye: Season 1 — NETFLIX ORIGINAL
Avail. 2/8/18
6 Days
The Emoji Movie
Avail. 2/9/18
Fate/Apocrypha: Part 2 — NETFLIX ORIGINAL
My Next Guest Needs No Introduction With David Letterman: George Clooney — NETFLIX ORIGINAL
Seeing Allred — NETFLIX ORIGINAL
The Ritual — NETFLIX ORIGINAL
The Trader (Sovdagari) — NETFLIX ORIGINAL
When We First Met — NETFLIX ORIGINAL
Avail. 2/14/18
Greenhouse Academy: Season 2 — NETFLIX ORIGINAL
Love Per Square Foot — NETFLIX ORIGINAL
Avail. 2/15/18
Deep Undercover Collection: Collection 2
Re:Mind: Season 1 — NETFLIX ORIGINAL
Avail. 2/16/18
DreamWorks Dragons: Race to the Edge: Season 6 — NETFLIX ORIGINAL
Evan Almighty
Everything Sucks!: Season 1 — NETFLIX ORIGINAL
Irreplaceable You — NETFLIX ORIGINAL
First Team: Juventus: Season 1 — NETFLIX ORIGINAL
Avail. 2/17/18
Blood Money
Avail. 2/18/18
The Joel McHale Show with Joel McHale — NETFLIX ORIGINAL
Avail. 2/19/18
Dismissed
FullMetal Alchemist — NETFLIX ORIGINAL
Avail. 2/20/18
Bates Motel: Season 5
The Frankenstein Chronicles: Season 1 and Season 2 — NETFLIX ORIGINAL
Avail. 2/21/18
Forgotten — NETFLIX ORIGINAL
Lincoln
The Bachelors
Avail. 2/22/18
Atomic Puppet: Season 1
Avail. 2/23/18
Marseille: Season 2 — NETFLIX ORIGINAL
Mute — NETFLIX ORIGINAL
Seven Seconds: Season 1 — NETFLIX ORIGINAL
Ugly Delicious: Season 1 — NETFLIX ORIGINAL
Avail. 2/24/18
Jeepers Creepers 3
Avail. 2/26/18
El Vato: Season 2
Heyday of the Insensitive Bastards
People You May Know
Sin Senos sí Hay Paraíso: Season 2
Winnie
Avail. 2/27/18
Derren Brown: The Push — NETFLIX ORIGINAL
Marlon Wayans: Woke-ish — NETFLIX ORIGINAL

Here's the full list of titles leaving Netflix in February:
Leaving 2/1/18
Brubaker
Corpse Bride
Day Watch
Desk Set
Enquiring Minds
Everyone's Hero
Hard Candy
How to Steal a Million
King Arthur
Magic City: Season 1-2
Night Watch
Open Season: Scared Silly
Perfect Stranger
Project X
Silver Streak
Stranger by the Lake
The Benchwarmers
The Five Heartbeats
The Fury
The Longest Day
The Nightmare Before Christmas
Tin Man
Top Gear: Series 19-23
Voyage to the Bottom of the Sea
Leaving 2/2/18
A Ballerina's Tale
Leaving 2/3/18
The Texas Chainsaw Massacre: The Beginning
Leaving 2/5/18
Hannibal Buress: Animal Furnace
Hannibal Buress: Live from Chicago
Leaving 2/10/18
Dragonheart: The Shadowed Claw
Leaving 2/11/18
A Little Bit of Heaven
Leaving 2/12/18
Honeymoon
Leaving 2/14/18
Family Guy: Season 1-8
Leaving 2/15/18
12 Dog Days Till Christmas
A Christmas Kiss II
Before I Go to Sleep
Burn Notice: Season 1-7
Christmas Belle
Leaving 2/16/18
Our Last Tango
Save the Date
Leaving 2/17/18
Freakonomics
Leaving 2/19/18
An Idiot Abroad: Season 1-3
Leaving 2/20/18
Aziz Ansari: Dangerously Delicious
Leaving 2/21/18
Enron: The Smartest Guys in the Room
Leaving 2/24/18
Jane Got a Gun
Leaving 2/28/18
American Genius
Brain Games: Season 3-4
Cesar 911: Season 1
I Am Ali
Miami SWAT: Season 1
The Catch: Season 1