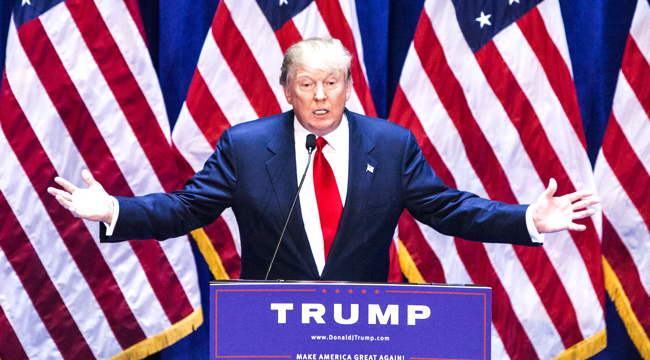 Fox News announced the list of Republican presidential candidates for this Thursday's prime-time debate. The cable news network made the decision based upon five national popularity polls. The baffling lead of bloviating side show Donald Trump all but guaranteed him a spot.
CNN reports that Trump will not be joined by former Texas Governor Rick Perry, who barely lost out on joining the extravaganza. Who made the cut? Jeb Bush, Mike Huckabee, Ben Carson, Ted Cruz, Marco Rubio, Scott Walker, Rand Paul, Chris Christie and John Kasich. (Rick Santorum's sweater will join Perry and the remaining candidates for an earlier debate.)
This momentous event will stand as the most watchable political spectacle in years. As the GOP race's front runner, Trump is sure to shout the word "disgusting" at least several times. Even a brief mention of "immigration" or "El Chapo" (which will certainly happen) will bring the debate to full frenzy. The internet shall be ready with gif-makers handy.
We hope to see you on Thursday evening, right here at 9:00 pm EST. Grab your hair-covered popcorn.
(Via CNN)