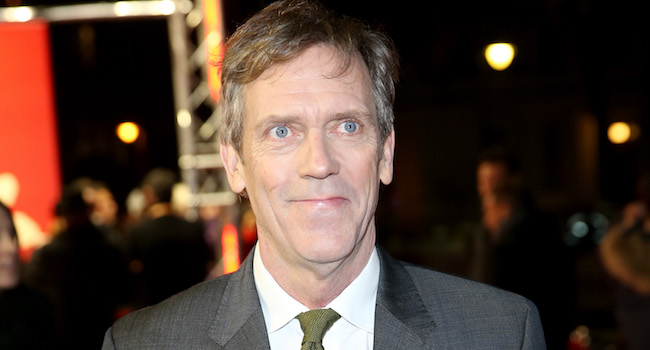 British comedy nerds, rejoice, for this news is like learning Iron Man is going to fight Deadpool. According to The Hollywood Reporter, Hugh Laurie will be teaming up with Veep creator Armando Iannucci on a comedy. And not just any comedy: a space comedy.
That's two titans of industry, each of whom crossed the Atlantic and conquered another nation's television, coming together, returning to HBO to create something that will melt the minds of Anglophiles (and actual Anglos) worldwide.
It's not the first time, of course, the House alum and the comedy mastermind have joined forces. Laurie was Emmy nominated for his 15-episode-run on Veep, where he played Tom James, friend-turned-foe of hero Selina Meyer. Great as Laurie was — and his appearance, we argued awhile back, took the show next level — it was just a glorified guest role. On their new show, entitled Avenue 5, Laurie will be top banana, taking on the role of a space ship captain in the deep future.

Iannucci stepped away from Veep starting with Season 5, and later swore off political comedy, saying the genre was dead now that the real deal is stranger than fiction. It's no surprise he's moved into sci-fi comedy — one of the richest sub-genres of British comedy, from Hitchhiker's Guide to the Galaxy to Red Dwarf.
Iannucci, one of the great, mostly behind-the-scenes talents of British comedy, is also one of the co-creators of Steve Coogan's long-running character Alan Partridge. He was also the mastermind behind the BBC government comedy The Thick of It, which birthed the hit semi-spin-off movie In the Loop and inspired Veep. He was last seen on movie screens with the dark, dark, dark historical comedy The Death of Stalin.
As for Laurie, Avenue 5 will be his first stint as a series regular since Hulu's two-season drama Chance. Not that he hasn't been busy: He earned yet another Emmy nom (and won a Golden Globe) for the AMC miniseries The House Manager, adding to the six he acquired on House. The pilot for Avenue 5 will shoot in London this year.