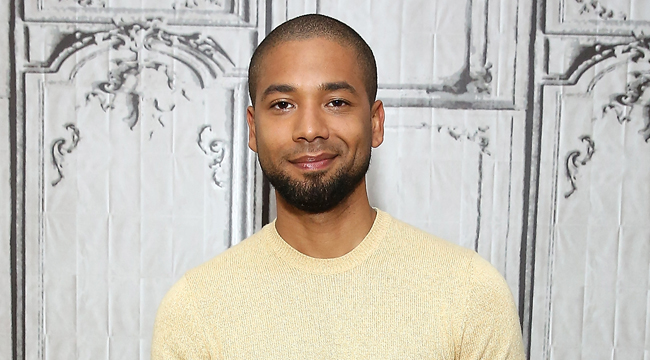 Following Jussie Smollett's arrest on a felony claim for filing a false police report, the Chicago PD held a press conference that summed up the incident as follows: "This publicity stunt was a scar that Chicago didn't earn." Via CNN coverage, Chicago Police Superintendent Eddie Johnson lodged a set of accusations against the Empire actor. Johnson first referred to a threatening letter "that relied on racial, homophobic and political language," which police believe that Smollett arranged to have sent to the FOX series' set. Johnson then alleges that Smollett then orchestrated the physical attack upon himself — at the cost of $3,500 — because he had an Empire salary beef:
"When that didn't work, Smollett paid $3,500 to stage this attack and drag Chicago's reputation through the mud in the process. And why? The stunt was orchestrated by Smollett because he was dissatisfied with his salary. So he concocted a story about being attacked."
It gets weirder. CBS Chicago reports that Smollett likely inflicted his own scratches and bruises and paid two Nigerian men (who were Empire extras that police no longer consider to be suspects) with a check — obviously an easily traceable method that further contributes to the bizarre nature of this story.
Johnson stated that Smollett "took advantage of the pain and anger of racism to promote his career." He continues in this clip while singling out the "use the symbolism of a noose to make false accusations":
Johnson also revealed that the PD was disgusted over the potential abuse of resources after uncovering the alleged motive at hand. "When we discovered the actual motive," he stated. "Quite frankly, it pissed everybody off because we have to invest valuable resources." Via ABC 7, Chicago Mayor Rahm Emanuel has also issued a statement calling out "a single individual" who acted in "their perceived self-interest" in this alleged attack:
"I want to thank all of the Chicago police officers who have worked on this case, and all of the private citizens and business owners who have stepped forward with information and video evidence to help us get to the bottom of what was reported as a hate crime.

"All across Chicago, in every neighborhood, there are signs in front yards and in windows that read, "Hate Has No Home Here." It is a sign that expresses our shared values and defines our great city. Chicago's message to the world is that no matter where you come from, who you love, or how you pray you will always have a home here. Our laws exist to reflect and defend those values, and hate crimes will never be tolerated. A single individual who put their perceived self-interest ahead of these shared principles will never trump Chicago's collective spirit."
Local WNDU morning news anchor Joshua Short tweeted Smollett's mugshot that's been released by police.
This case now moves forward after Smollett's seemingly inconsistent story began three weeks ago, when he claimed to be a victim of a homophobic and racial assault by two men who poured bleach on him and wrapped a noose around his neck. If found guilty on a felony charge of disorderly conduct (for allegedly filing a false report), he could face up to three years in prison and $25,000 in fines. His lawyers have vowed an "aggressive defense" in the case that police initially investigated as a hate crime against the actor.
20th Century Fox, which previously stuck by the actor, has now issued a new statement in light of the arrest: "We understand the seriousness of this matter and we respect the legal process. We are evaluating the situation and we are considering our options." Meanwhile, TNT has decided not to air an upcoming Drop The Mic episode in which Smollett takes on American Idol alum Clay Aiken.
Smollett's bond hearing (his first court appearance) resulted in a $100,000 bail setting and the surrender of his passport.
Watch the full press Thursday morning conference below.
(Via CNN, CBS Chicago & ABC 7 in Chicago)