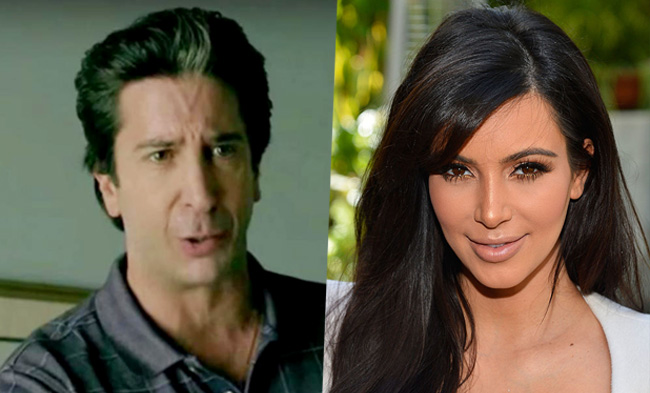 Kim Kardashian has a new interview out in GQ, which is currently making headlines over the selfie queen accusing Taylor Swift of lying about Kanye West not contacting her before releasing his song "Famous." And that's great! Who doesn't love a good controversy?
Some of us, however, are more interested in what Kardashian thinks about FX's American Crime Story: The People Vs. O.J. Simpson, and more specifically, her opinion of David Schwimmer's turn playing her late father Robert Kardashian. Thankfully GQ's Caity Weaver didn't leave us hanging, and asked the late attorney's daughter what she thought of both the series and the role which launched the quest for 100 Juices.
For the record, Kim (and Kanye) "loved" The People v. O.J. Simpson. She was especially exuberant in her praise of Friends star David Schwimmer, who portrayed her late father.

"There were times I was watching it and I was like, 'Oh shit, this is dead-on,' " said Kim. "Like, 'That looks like my dad. It feels like my dad.' It was eerie to watch sometimes."
Kardashian also offered some insight into the criminal case that not even the FX series could provide, specifically about that Louis Vuitton bag which was the subject of much questioning.
"I know people said at the time that he [joined Simpson's defense team] so he couldn't be called as a witness, because he had that Louis Vuitton bag that supposedly had the [murder] weapon and stuff like that," said Kim. The day the victims' bodies were discovered, Kardashian was filmed removing what The New York Times referred to as a "bulging" garment bag from Simpson's house; the bag was later introduced into evidence empty. "But that bag was sitting at my dad's house. I remember I went through it. The news was like, 'Where is this Louis Vuitton bag?' And I'm like, 'Oh, it's upstairs.' "

Did you really go through it?

"Totally."

What was in it?

"Just toiletries and clothes and golf clothes. Just random stuff. I'm pretty sure it's, like, still in — probably in my dad's storage."
Praises aside, Kardashian did echo her sister Khloe's sentiment that not all parts of the series involving the Kardashian children were 100 percent accurate — specifically the scene in which Simpson tried to kill himself in her bedroom, not Kim's. Damn sensationalism on FX's part, if you ask me.
(Via GQ)