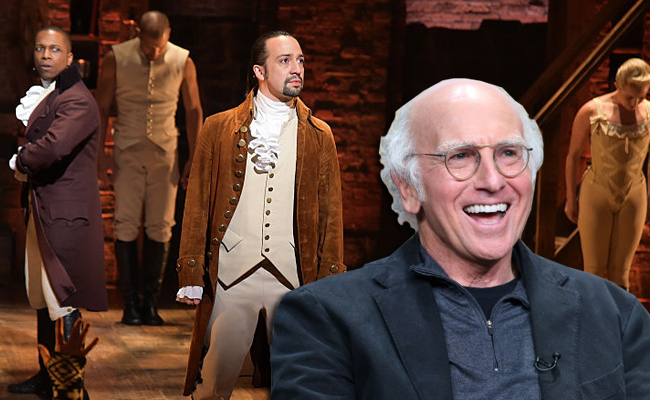 Curb Your Enthusiasm funnyman Larry David has a theory on what he believes may be helping Broadway hit Hamilton continue to garner success — just a case of white people trying to be "hip." The comedian told Daily News columnist Mike Lupica on his podcast, The Mike Lupica Show, that many whites who have seen the play just want to "solidify their liberal bonafides" on Tuesday.
Created by Lin-Manuel Miranda, the musical infuses rap and hip-hop music as well as a multicultural cast to tell the story of Alexander Hamilton and his rise to power during the American Revolution. It's one of the most popular plays on Broadway right now grossing 35 million dollars in ticket sales this year. David agrees that the play is "pretty amazing" but he thinks many whites don't have any idea what is really going on through most of it.
"I have a feeling there are a lot of white people who are saying they are completely blown away even though they didn't really understand half of the things the people on stage were saying. They just want to solidify their liberal bonafides and how cool they are: 'Yeah, I love Hamilton. Yeah, I get it, I'm hip.'"
Who knows how much truth there is to David's theory but Hamilton has already earned a Pulitzer Prize for drama and 16 Tony Award nominations — now that's what's pretty hip.
(Via New York Daily News)