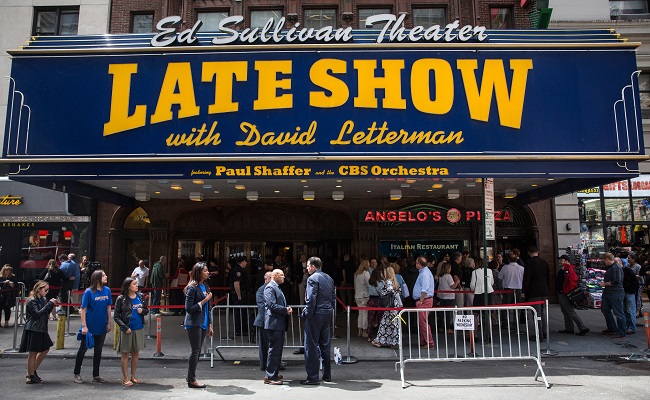 The best word for describing late night television in 2015 would be "change." A whole lot of change happened this year, what with retirements, replacements and brand-spanking-new developments coming together to form the current slate of programming. (Not to mention a few glimmers on the horizon of 2016.) Talk show titans David Letterman and Jon Stewart bid their final goodbyes; fan-favorites Stephen Colbert, Larry Wilmore and Samantha Bee began or announced new gigs; and newcomers James Corden and Trevor Noah got their big breaks. It was a lot of change for audiences to take in all at once, and late night won't see anything like it again for a very long time.
David Letterman Retired from the Late Show
After 33 years working in late night television, Late Show host David Letterman hosted the program he established with CBS for the last time on Wednesday, May 20. 13.76 million people tuned in to watch him smile his famous grin and flick a few more pencils around the Ed Sullivan Theater. High numbers and happy advertisers aside, Letterman's televised goodbye was a sweeping love letter to everyone — especially with its many throwbacks to some of the show's best bits. Like the last Top 10 list ever made, which featured one of the best Seinfeld jokes in recent years.
And Norm Macdonald gave him a beautiful sendoff
Many staple guests returned for Letterman's last hurrah, including comedian Norm Macdonald. The retiring show host gave the Saturday Night Live alum his television stand-up debut on Late Night 25 years prior, a fact he apparently forgot until the cue card reminded him just before the set. As always, Macdonald's set was great, but the best part about the nine-and-a-half minute segment was his tearful, heartfelt tribute to Letterman with one of the host's own jokes — complete with a fairly decent Letterman impression.
Jon Stewart retired, too
When Jon Stewart began his tenure at the then-fledgling Daily Show in 1999, no one could have predicted he would turn the Comedy Central program into a late night power house. Yet that's precisely what Stewart did, and after 16 years of doing it, he left after taping his final episode on Thursday, Aug. 6. The episode was replete with touching, memorable moments, as well as the host's cautionary words of advice to his viewers — be they fans or detractors. But the best came when the man who asked for naught was given so much by Stephen Colbert and the correspondents.
Then Trevor Noah took his job
Stewart used his final Daily Show piece to remind viewers to never stop seeking out and destroying "bullsh*t." Knowing a good thing when he sees one, South-African comedian and new Daily Show host Trevor Noah promised to keep doing just that at the beginning of his inaugural show on Monday, Sept. 28. In the two and a half months since, Noah's turn on Comedy Central is still struggling to differentiate itself from Stewart's legacy, and that's okay. Considering how they handled his emergency appendectomy in November, everything is going to be just fine.
Before that, Stephen Colbert took Letterman's job
Ever since Stephen Colbert left Comedy Central's Colbert Report in December 2014, audiences were left wondering how the soon-to-be host of the post-Letterman Late Show would be able to top his musical sendoff. They found out on Tuesday, Sept. 8 that, since his new broadcast home was quite different from cable television's Iron Throne, Colbert's Late Show was going to be entirely different. It would still include plenty of his trademark political humor, but would also offer a healthy dose of heart — like when he talked to Vice President Joe Biden about his departed son, Beau, in one of the year's best late night interviews.
Meanwhile, Samantha Bee reminded us she's still here
When long-running Daily Show correspondent Samantha Bee said goodbye to the show and to Jon Stewart a few months before his retirement, she went straight over to TBS to work on something new. Dubbed Full Frontal, the new program will premiere in February 2016 and add to TBS' already-heavy slate of Conan O'Brien. The show will make Bee the only active female host of a late night talk show — a fact that the comedian has emphasized to great effect in the promos.
Not that she's waiting for February, though. When Vanity Fair released its all-male late night cover in September, Bee took to Twitter to make it "better."
Conan O'Brien became the first American late night host to visit Cuba in decades
Soon after the White House announced renewed diplomatic relations between the United States and Cuba, Conan O'Brien made an announcement of his own — Conan was going to Havana. Since tourist travel wasn't yet open, the official process by which the late night host managed to get his TBS crew across the Gulf of Mexico wasn't entirely transparent, but they still made it happen. The result? Some damn good television on Conan's part, not to mention a public service — introducing Cubans to tall, ghostly-white gingers.
He also took his assistant to Armenia
O'Brien's assistant Sona Movsesian first gained fame in the 2011 documentary Conan O'Brien Can't Stop, and she has since become a regular staple on the TBS program. The host usually gives Movsesian sh*t, and she constantly dishes some back, but O'Brien decided to do something nice for her when he took her to Armenia in late 2015. The footage aired in November, and while most of it displays the comedian's typical sarcasm, the segment dedicated to the Armenian Genocide Memorial delivered one of late night's most painful gut punches of the year.
Larry Wilmore filled some big shoes
When Stephen Colbert left Comedy Central in 2014, this left an empty half hour time slot after The Daily Show. So who better to fill it than former Daily Show correspondent Larry Wilmore? The new show premiered in January 2015, and Wilmore quickly gained a following among late night followers. Not so much because he was the only African-American late night host at the time, but because of his Politically Incorrect-like approach to the format. That, and saying things like "that motherf*cker" did it" when discussing the rape allegations against Bill Cosby.
James Corden introduced "Carpool Karaoke" to the world
Comedian James Corden's new take on the Late Late Show began in March, long before the major changes discussed above. Obviously, this means the British late night host's entry into American television should come first, but since he didn't make as big a splash as the others, its pushed into the background. This isn't a slight against Corden, but rather the fault of the Late Late Show's later time slot. To his credit, however, the host has introduced several novelties to late night in the U.S. mainstream — Reggie Watts' eccentricities, talking to all the guests at once and "Carpool Karaoke."