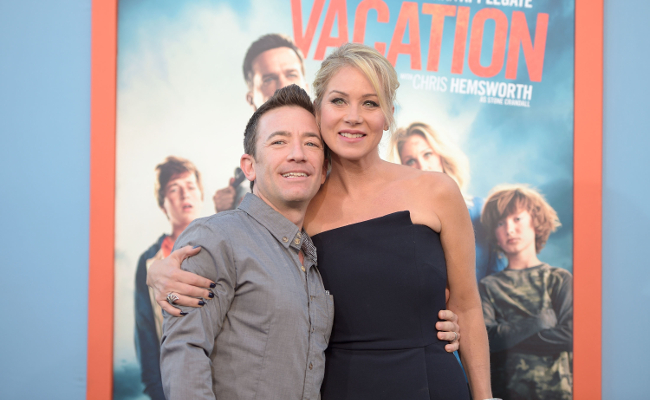 Here's some news on that Married… with Children spin-off we first mentioned was being pitched nearly a year ago. David Faustino was on hand at the premiere of his former sitcom sibling Christina Applegate's Vacation, out today, and E!'s Marc Malkin asked him for an update as to the status of the project. Although nothing is set in stone yet, he says that it's in Sony's hands, and the production company is apparently "very excited" about it.
But what's more is that the whole cast has now agreed to be involved in some capacity. Can I get a "no Bundy?" (Sorry.)
"The whole cast, including Christina, is down to do little bits in it," Faustino said, adding, "The idea would be a pilot for a spinoff. That's all I can say right now. It involves me and few other people."

"All of us have said we would all be there for [Faustino]," said Applegate, who played the Bundys' daughter Kelly.

Asked what she thinks her character would be up to these day, Applegate said. "Kelly Bundy probably has like 10 kids. I'm sure of it."
By the time they'd be able to produce a pilot and get it picked up, we're probably looking at a late 2016 to early 2017 premiere at the earliest. Although, Katey Sagal is currently shooting Kurt Sutter's The Bastard Executioner, with Modern Family circling the drain, and Christina Applegate still having yet to find sitcom success, it sounds like this could end up a reality.
To be honest, I think I'm actually most interested to see what Marcy and Jefferson are up to these days. Please tell me they're still having lots and lots of kinky sex. I hope they've seen Fifty Shades of Grey by now.
[protected-iframe id="feb4acb586eb02d007c9aa9fe1174bad-60970621-60765065″ info="http://www.eonline.com/videos/embed/238654″ width="650″ height="400″ frameborder="0″ scrolling="no"]
(Via E!)