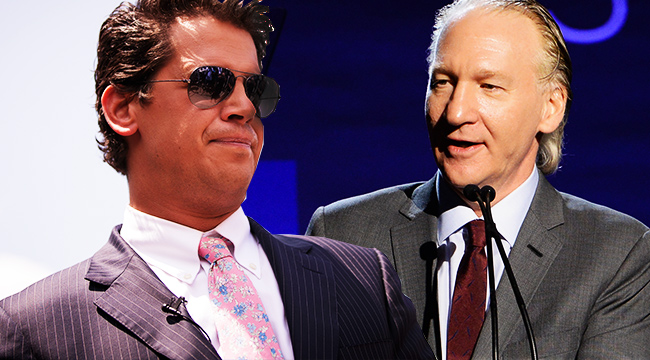 Real Time host Bill Maher is no stranger to controversy, especially when the University of California at Berkeley is involved. In 2014, he went back and forth with student groups after the latter voted to disinvite the talk show host from speaking at the school's fall commencement speaker. Almost three years later, Maher tore into the university yet again when the panel broached the cancellation of Breitbart troll Milo Yiannopoulos' speech following violent protests by students and visitors on the campus. The comedian even extended an invitation to the controversial figure, hoping he'd appear on Real Time in the near future.
Maher's wish is about to come true, as Real Time announced Yiannopoulos will feature as the top-of-show guest on the upcoming Friday, February 17th episode. According to Deadline, the man Maher dubbed a "provocateur" will appear alongside panelists Leah Remini, Republican and former congressman Jack Kingston, The Intercept founding editor Jeremy Scahill, and former Nightly Show host Larry Wilmore. In other words, the next edition of Real Time is going to be really, really good… or present viewers with one of the worst, most dumpster fire-y episodes of television to date.
"I guess we'll be putting on extra security," Maher joked on a previous episode when mentioning Yiannopoulos' then-potential booking. "I've been a longtime critic of colleges shutting people up. Free speech should be something we own." For all his free speech advocacy, however, Maher's resolve will be tested come Friday when he and the fiercely protested author sit down to chat. "He's a provocateur. He's been thrown off Twitter," Maher added. "That's how bad he is."
To be fair to provocateurs and banned Twitter users everywhere, however, Yiannopoulos' case is far more complex than Maher's prior descriptions suggest. After all, the Real Time guest is the same person who harassed Saturday Night Live's Leslie Jones with racist, sexist tweets, images and memes before Twitter ultimately kicked him off the platform. The harassment was so bad, especially since Yiannopoulos instructed his followers to do the same, that Jones left Twitter for a time.

Here's to hoping Wilmore keeps it 100 if and when he gets the chance to meet Yiannopoulos on Friday.
UPDATE: Jeremy Scahill released a statement declaring his intention to skip out on Friday's episode of Real Time. "I have total admiration and respect for the producers, writers, and others who work on the show," he wrote, adding that "whatever one might say about Bill, he always allows guests to challenge him or disagree with him." Yet despite The Intercept editor's professed adoration for Maher and the Real Time crew, Yiannopoulos' booking was "many bridges too far."
(Via Deadline)