Netflix has been warning users (for over a year) that a password showdown is coming, so it's time to say goodbye to riding on your parents' plan (or vice versa) to get your binge-fix on. Presumably, Netflix hopes to recoup some of the revenue that they've missed out on (understandable) during their years of looking the other way to encourage as many streaming hours as possible. However, the streaming pioneer has now revealed more about new guidelines, and let's just say that people aren't pleased.
I get where Netflix is coming from. They're digging more into their bottom line and working on how to make ends meet, but people don't like giving up preexisting perks. I get that, too. As much as I'd like to confine all saltiness to the unJustified cancellation of Santa Clarita Diet, this new plan sounds, well, messy. The finer details may actually have a chilling effect on legit account use because it will be very hard for account holders to stream after stepping outside their own homes. There will be temporary codes for some scenarios, but watching Netflix at the gym (to distract from cardio, as one does) might be a thing of the past:
Signing into Netflix outside of your home may lead to the device in use being blocked from Netflix. This could prevent you from signing into new devices while traveling, but Netflix has devised a workaround. Traveling users who want to use Netflix on a hotel smart TV, company laptop, etc. can request a temporary code from the service when signing in. This will give them access to their account for seven consecutive days.
Also, there's the awkward matter of Netflix's own words as expressed in a 2017 tweet. As of this writing, this still exists in public view: "Love is sharing a password."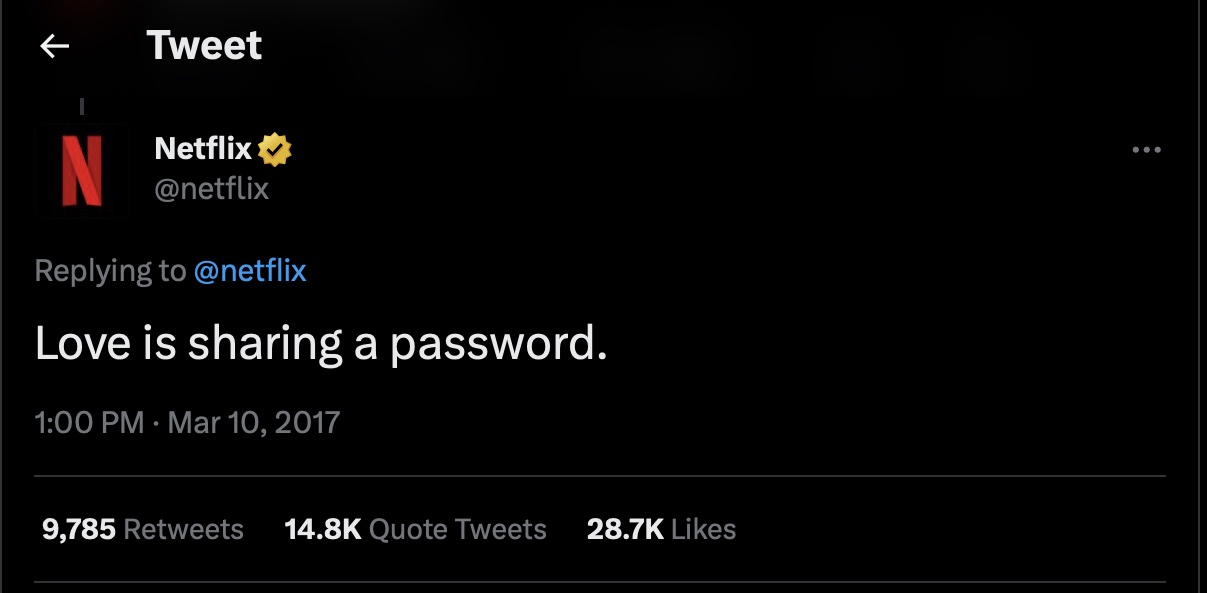 People cannot resist pouncing on this tweet. Not only is it screencapped for all of posterity, but Netflix hasn't deleted it (yet). The skewering has been in process and won't stop anytime soon.
You can read more of Netflix's upcoming guidelines on password sharing on their blog.