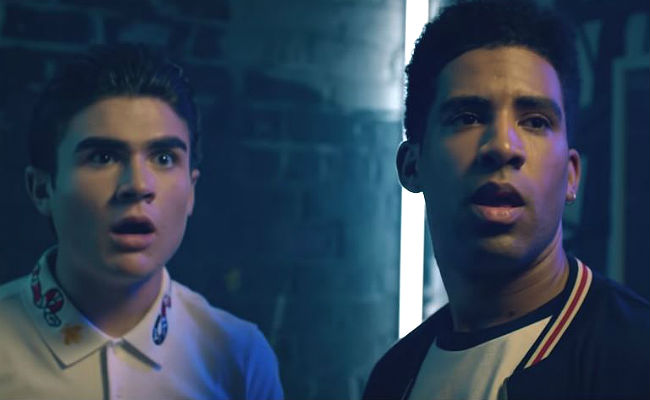 Netflix is ending August with a bang, giving us some juicy new titles to binge on this week before its September line-up rolls in. On the menu for now is a supernatural teen romance that proves the days of vampire love triangles are over, a hip-hop inspired comedy about a hopeful rapper trying to earn his rep back, and a docuseries that follows a couple of Buzzfeed reporters as they investigate some truly weird sh*t. Since it's so tough to keep up with what needs to be binged at the moment, we're bringing you a round-up of what's new to Netflix and what's departing this week of August 24th.
The Innocents (series streaming August 24th)
Netflix's latest supernatural romance follows a pair of teens on the run from their broken families and a mysterious hairy Norwegian bloke intent on capturing the girl, June, and spiriting her away to a government lab. The reason? She has the ability to shapeshift into anyone she comes into contact with, to the shock and horror of her boyfriend, Harry. Honestly, shapeshifting seems a more reasonable metaphor for teenage angst than vampirism and zombie apocalypses so we're fully on board.
The After Party (film streaming August 24th)
When an aspiring rapper named Owen (Kyle) goes viral for projectile vomiting on Wiz Khalifa before having a seizure, his dreams of a career in hip-hop seem well and truly done. Like stick a fork in it done. But his best friend/manager has a plan to get him a record deal by the end of the night. The only catch? The two must find a way into an exclusive after party, so Owen can spit his rhymes to heavyweights like French Montana, Pusha T, and DJ Khaled.
Follow This (series streaming August 23rd)
The life of a culture reporter is a strange and awesome thing and Netflix is banking on our curiosity to sell it's latest docuseries, which takes a look at the behind-the-scenes of some Buzzfeed scribes. There's plenty to explore here — safe injection spaces, men's rights, sex workers, Afro-survivalists — and to take us on this journey are a few game reporters from the site, who seem as terrified and interested as the rest of us about these taboo topics. At a time when journalism seems to be on everyone's hit list, it might be nice to connect with the people writing the news? Just a thought.
Here's a full list of what's been added in the last week:
Avail. 8/19/18
The Investigator: A British Crime Story: Season 2 (NETFLIX ORIGINAL)
Avail. 8/21/18
Year One
Avail. 8/23/18
Deadwind (NETFLIX ORIGINAL)
Follow This (NETFLIX ORIGINAL)
Great News: Season 1
Avail. 8/24/18
Ask the StoryBots: Season 2 (NETFLIX ORIGINAL)
Bert Kreischer: Secret Time (NETFLIX ORIGINAL)
Ghoul (NETFLIX ORIGINAL)
The After Party (NETFLIX FILM)
The Innocents (NETFLIX ORIGINAL)
Trolls: The Beat Goes On!: Season 3 (NETFLIX ORIGINAL)
Young & Hungry: Season 5
And here's what's leaving next week, so it's your last chance:
Leaving 8/25/18:
The Road