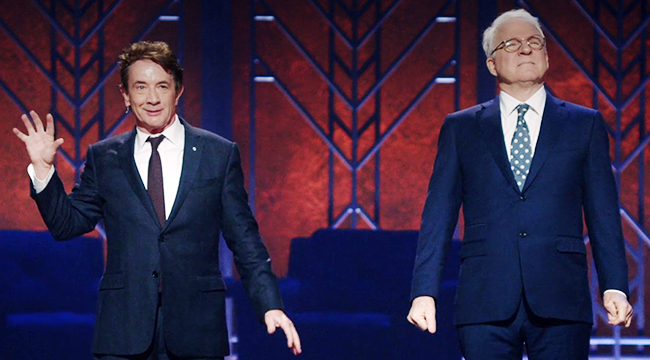 Even with an already extensive archive of shows and movies, it seems like every week, a wide variety of titles come to Netflix, along with a few that end up disappearing. It can be tough to keep up with what needs to be binged at the moment. That's why we're bringing you a round-up of what's new to Netflix and what's departing this week of May 26th, including a joint special from two comedy legends and a new season of a documentary series on the toys we grew up on. As we're approaching the end of the month, there's also a slew of Netflix deletions, so it's your last shot at catching some great titles.
The Toys That Made Us, Season 2 (all episodes streaming 5/25)
Toys are a strange thing. They can unlock a child's imagination or an adult's nostalgia simply by them holding cheap plastic and making unrealistic gun sound effects. Netflix once again takes us on an in-depth look into the toys that have stuck around the longest, making an impression on generation after generation for decades. Moving on from Star Wars, Barbie, He-Man, and G.I. Joe, Season 2 examines Star Trek, Transformers, Lego, Hello Kitty. It's a playful, enthusiastic series that embraces what unites the young and young at heart.
Steve Martin & Martin Short: An Evening You Will Forget For The Rest Of Your Life, (streaming 5/25)
Is it possible that the youth of today aren't familiar with the genius of Steve Martin and Martin Short? It's a depressing thought. It seems like the two iconic comedians knew that releasing a new special on Netflix would help people remember their skill (and undoubtedly get a big paycheck). Two of the Three Amigos take to the stage for musical numbers, good-natured ribbing, and walks down memory lane. While the special doesn't re-invent comedy or anything, the pair have still got it, and fans will get more than a couple laughs.
Ibiza, (streaming 5/25)
A PR rep (Gillian Jacobs) and her best friends (Vanessa Bayer and Phoebe Robinson) traverse the streets and drugs of Spain, on the hunt for a DJ missed connection (Richard Madden aka Robb Stark). It's…ok, if you're looking for some uncomplicated humor and plot turns, with Jacobs and Bayer doing their best with what they've got.
Here's a full list of what's been added in the last week:
Avail. 5/20/18
Some Kind of Beautiful
Avail. 5/21/18
Señora Acero: Season 4
Avail. 5/22/18
Mob Psycho 100: Season 1 — NETFLIX ORIGINAL
Shooter: Season 2
Terrace House: Opening New Doors: Part 2 — NETFLIX ORIGINAL
Tig Notaro Happy To Be Here — NETFLIX ORIGINAL
Avail. 5/23/18
Explained — NETFLIX ORIGINAL
Avail. 5/24/18
Fauda: Season 2 — NETFLIX ORIGINAL
Survivors Guide to Prison
Avail. 5/25/18
Ibiza — NETFLIX FILM
Steve Martin and Martin Short: An Evening You Will Forget for the Rest of Your Life — NETFLIX ORIGINAL
The Toys That Made Us: Season 2 — NETFLIX ORIGINAL
Trollhunters: Part 3 — NETFLIX ORIGINAL
Avail. 5/26/18
Sara's Notebook — NETFLIX FILM
And here's what's leaving next week, so it's your last chance:
Leaving 5/30/18
Disney's The Jungle Book
Leaving 6/1/18:
50 First Dates
8 Mile
Gridiron Gang
J. Edgar
Men in Black
My Left Foot
Neerja
Out of the Dark
Princess Kaiulani
The Angry Birds Movie
The Brothers Grimm
The Spy Next Door
The Young Victoria
Training Day
Untraceable
Vice
What Our Fathers Did: A Nazi Legacy
While You Were Sleeping
Leaving 6/2/18:
Shark Men: Season 3