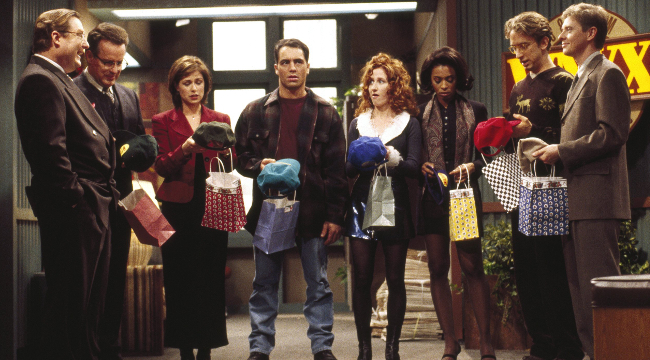 The story of NewsRadio's five-season run on NBC is so full of intrigue and drama that it could be its own series. Twenty years ago this week, the employees of the fictional AM news station WNYX found their way into our living rooms, and the show was unlike anything that NBC had aired to that point. Showrunner Paul Simms, just 29 years old at the time, had basically created the anti-sitcom, as he had no intentions using the standard formulas because NewsRadio was going to be the show that did things its own way.
At the same time, NBC had given its sophomore series Friends a prime piece of sitcom real estate as the opener for the Thursday night must-see TV block. A show that played by the network's rules, Friends obviously went on to become one of the most successful sitcoms in television history. NewsRadio, on the other hand, changed time slots 11 times during its 1995-99 run, which explains why it never had the ratings that NBC executives hoped for when they believed that it, and not Friends, might be the network's next Seinfeld. Of course, that was capped off with Simms' epic 1997 interview with Rolling Stone, in which he referred to NBC's must-see TV lineup as a "big double decker shit sandwich." That was just the tip of his iceberg of frustration and rage.
The young showrunner's point was clear. NewsRadio was different from everything else, and it suffered because it took a chance. From Tuesday, it moved to Sunday, then from Sunday to Wednesday, then from Wednesday to the canceled pile. Twenty years later, though, you can mention NewsRadio in a conversation about the best shows in TV history and faces light up. But we wanted to go straight to the heart of the WYNX studio, so we talked to some of the show's stars — Dave Foley, Stephen Root, Maura Tierney and Khandi Alexander — as well as writers Brad Isaacs and Joe Furey, to find out how they feel about this series two decades later.
Now hiring at WNYX
I was now playing one character every week instead of five or six characters every week, and I never had to put on fake tits.
With his experience writing for "Late Night with David Letterman" and the HBO series "The Larry Sanders Show," Paul Simms was a rising comedy talent. Despite being considerably young for a showrunner, Simms had a vision for a new series, and his idea was created with two specific sketch comedy stars in mind: Saturday Night Live's brilliant Phil Hartman and The Kids in the Hall's fresh-faced Dave Foley. However, CBS also had eyes for Foley, and if he hadn't been all wrong for that network's part, he may have never ended up on "NewsRadio."
DAVE FOLEY, "Dave Nelson": Paul Simms gave me a call. I was at my house in Toronto, and he said, "What are you up to? I'm making a show for NBC and I want you to star in it." He called me literally 24 hours after I signed a deal with CBS to do a pilot for them. I had to say, "Well, I can't do it." Paul and I met at a party a year before that and he wrote the show with me in mind, but then just forgot to mention it to me. So, he called me right after I had signed to this other show, but then luckily I flew out to L.A. to shoot the pilot for CBS, and as they cast my wife they decided to fire me. I called Paul up and let him know, "I'm now free to do NewsRadio if you haven't cast it yet," and he hadn't. I wandered back over there and got to play the part of Dave.
MAURA TIERNEY, "Lisa Miller": I was living in New York, and I had to audition, but they were in California, so I had to go on tape in New York. I went to the casting director's office, did my audition and left. A day or two later, they called me and said, "You know what, we completely lost your audition. You have to come back and redo it." And I was like, "Ugh, God." And the day I had to go back, the casting director's office was right by where they light the tree in Rockefeller Center, and I thought it was a pain in the ass to have to go back and redo the whole thing. The day they light the tree in Rockefeller Center there is so much traffic, but then it ultimately proved to be worth it [laughs].
STEPHEN ROOT, "Jimmy James": It was a straight audition for me. At that point I was doing a lot of guest staring on Bochco shows. I did one series called Harts of the West with Beau Bridges and Lloyd Bridges. But I hadn't been a regular on a show except for that. So it was a straight audition for me. I liked that it was kind of bent, and I like doing bent characters. They were looking for more of a Mr. Carlson from WKRP, an older guy. Kind of a bumbling guy in his '50s. That wasn't interesting to me. But I gave them, and by them I mean Paul Simms and the casting director, a more interesting take that I had on it. Then Paul kind of guided me through the audition in that way, and so that we had a very useful idiot-savant type of character.