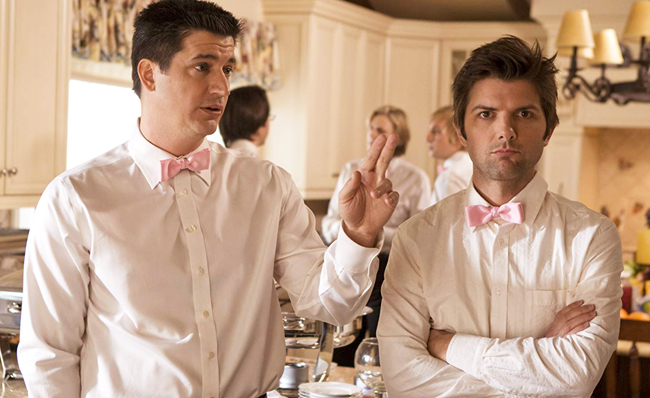 For those uninitiated, Party Down was a critically-acclaimed, cult-beloved sitcom that ran on Stars from 2009 to 2010 that gifted the world with the above catchphrase, "Are we having fun yet?" The series featured a stellar, all-star comedic cast including Adam Scott, Lizzy Caplan, Martin Starr, Jane Lynch, Ken Marino, and Megan Mullally, among others, as employees working for the titular Los Angeles catering company, with notable guest cameos such as Kristen Bell, Steve Guttenberg, Thomas Lennon, Paul Scheer, and J. K. Simmons.
Unfortunately, the ratings for Party Down never came close to eclipsing the reception of die-hard fans, and Stars canceled the series after just two seasons. For years, viewers have been clamoring for more, but the longer time goes on, the odds of a revival or a movie seem less and less likely to come to fruition — which is a bummer for both fans and the cast themselves.
On Tuesday morning however, series star Adam Scott gave fans a little taste of a reunion by posting a group photo with himself with Caplan, Mullally, Marino, and Starr on Twitter.
It's unclear what the occasion was, but people definitely seemed happy to see (some of) the gang back together again, and everybody had the same thing to say.
Admittedly, it is a pretty great catchphrase, but for my money you still can't beat "call an ambulance."