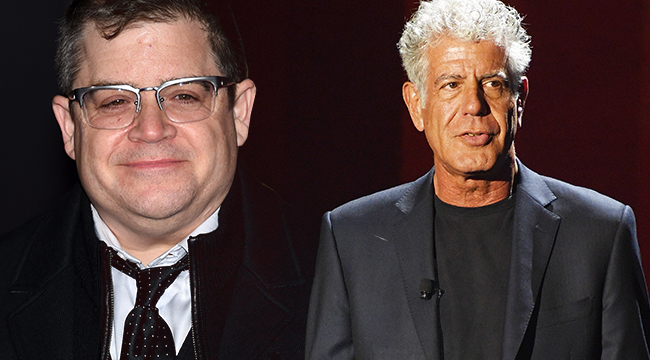 Several days after Anthony Bourdain's death by suicide at age 61, no shortage of tributes has poured forth from those who knew him best. Those who knew him professionally also grew emotional while remembering the famed traveler, chef, and author, and now, Patton Oswalt has come forward with a story that recalls the classic, uncompromising Bourdain nature.
On Twitter, Oswalt revealed how — when he and new wife Meredith Salenger were planning their Parisian honeymoon — he decided to consult the expert on how to enjoy the City of Light. Oswalt's inner circle had already given him far too much input on what to eat and where to go, and Bourdain was happy to bluntly cut through the clutter. Oswalt said the response makes him realize how much he loves and misses Bourdain, who offered this:
"Patton, I'm a fan and an admirer so gotta tell you this is no way to enjoy Paris. F*ck them. All of them. They're THERE, everywhere. You will see them from the car window as you go and do important sh*t like live your life. In Paris! Try and plan as little as possible."
Aside from advising Oswalt to dispense wtih everyone else's excessive recommendations, Bourdain did not disappoint while dropping his own advice:
"Le Comptoire is great. Amazing food and perfect atmosphere. Show early and squeeze in to L'Avant Comptoire next door. Le Dome for shellfish tower. Rue Mouffetard for the market. And sandwiche jambon or fresh croissant anywhere at right time."
Bourdain's close friend, French chef Eric Ripert, discovered his body on Friday in the village of Kayserberg, a former commune located on the Alsace wine route in northeastern France. He was on location to film an upcoming episode of CNN's Parts Unknown. Read Bourdain's full email to Oswalt below.