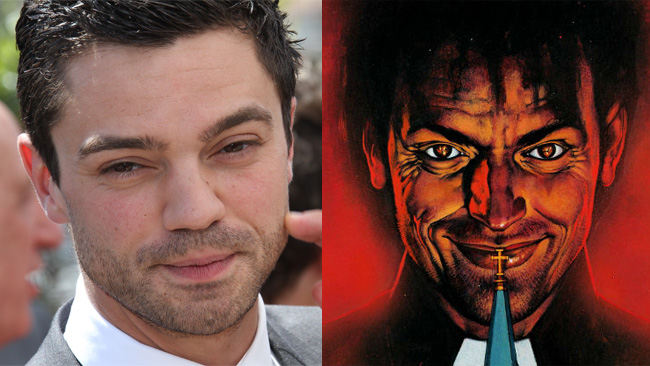 The time is almost nigh for Preacher to premiere on AMC. Fans of Garth Ennis' landmark comic book have been salivating (well, most of them) for a first look at Seth Rogen and Evan Goldberg's take on it, and now we know when we can expect to watch the first scenes from the series.
On November 1, during a 90-minute The Walking Dead episode, AMC will air the world premiere trailer for Preacher! I'm using exclamation points because I'm excited! Unlike some purists, foam is pushing through the gaps in my teeth and running down into my cereal at the thought of Ennis' brilliantly depraved comic book coming to life. In my humble opinion, Preacher is the greatest story ever told in comic book form — that's saying a lot, because I've read a lot of comics, and never have I been more enjoyably disgusted than when I inhaled the damn thing in two sittings.
If you don't know yet, Preacher follows Jesse Custer (Dominic Cooper), a preacher with a dark past who becomes one with a heavenly and devilish entity that gifts him the "word of God" power. With it, Jesse can command people to do whatever pleases. Along with his assassin girlfriend, and his drunk, Irish vampire pal, they'll traverse the landscape looking for God, who vacated his seat in heaven. The series premiere is coming sometime in mid-2016, so we'll have to chew on the preview for a while until we get the whole shebang.
Earlier this year, Preacher got a full, season one order, but hopefully it makes it to the second season, because Custer's backstory — and the subsequent way it catches up to him — is probably the best material in the comic's run.
(via Bloody Disgusting)