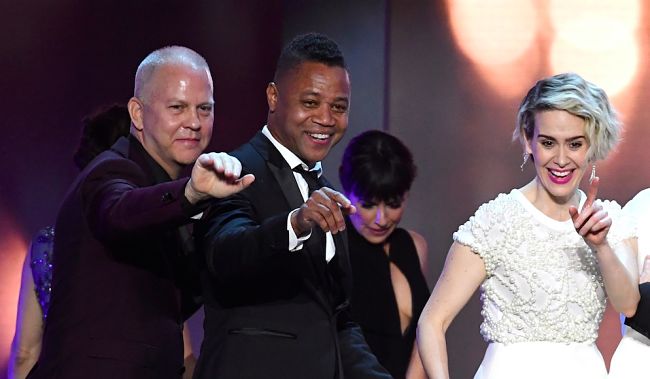 The fate of Screen Queens is still up in the air (in Magic 8-Ball terms, the outlook is not so good), but creator Ryan Murphy has already moved on to his next project. Well, "projects," because he still has American Horror Story, American Crime Story, Feud, and now 911. The Fox procedural, which stars Murphy and co-creator Brad Falchuk's frequent collaborator Angela Bassett, is about "911 operators and the calls that come through the emergency telephone number with stories inspired by calls," according to the Hollywood Reporter. "The network is expected to announce a straight-to-series order."
It's unclear where Murphy will find the time. It's not just that he's working on the three shows mentioned above — he's already thinking ahead to the next three seasons of American Crime Story, centered on Hurricane Katrina, Gianni Versace's assassination, and the Bill Clinton/Monica Lewinsky sex scandal; the next two seasons of American Horror Story, including the much-discussed Murder House/Coven crossover; and the Princess Diana and Prince Charles-focused season of Feud. Oh yeah, and there's also the glitzy, coke-fried Pose.
I got exhausted just listing everything Murphy's working on — imagine how he must feel. He could use Hermione's Time-Turner, which reminds me: "Ryan Murphy Options Harry Potter For Anthology Series." It's going to happen.
(Via the Hollywood Reporter)