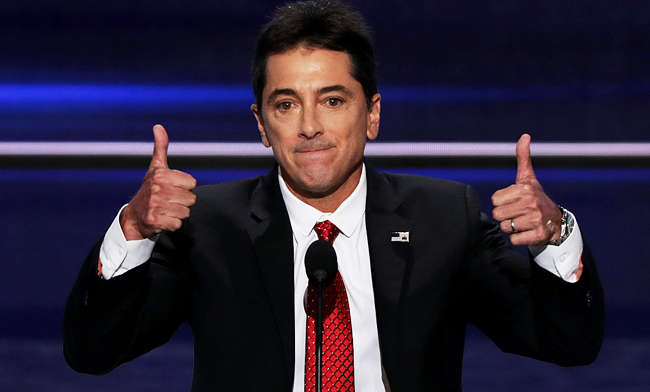 The death of Happy Days star Erin Moran has led to an outpouring of heartfelt remembrances from her fans and co-stars across the world. But now, as Moran's reported cause of death becomes public as complications of stage 4 cancer, it's her old TV boyfriend/husband and embattled right-wing Hollywood mouthpiece Scott Baio that's stealing headlines due to his perceived extreme insensitivity.
The whole situation is messy, and it's one of those times when Scott Baiao probably could've just tweeted out "thoughts and prayers" and moved on until he had something more meaningful to say. Instead, he jumped the gun, and even if Moran's past led to her falling ill, it doesn't mean you have to be so harsh about it. Not now. "Too soon" comes to mind.
Going down the Mr. Baio timeline to give him the benefit of the doubt here. He offered his condolences, then seemed to go down a dark, confusing path that has led to this seemingly irrevocable mess. It was the headline stating "For Me, You Do Drugs or Drink You're Gonna Die" that has set off the outrage of the internet, but Baio defends his remark by repeating the fact that he said "if" before discussing Moran. Still — even when you put "if" in the headline, it still can be perceived as pretty cold and callous 48 hours removed from the death of someone people loved.
Let's take a look: "For Me, If You Do Drugs or Drink You're Gonna Die." Or: "For Me, You Do Drugs or Drink You're Gonna Die." It still seems like a cold response either way.
But, Baio's Conjunction Defense wasn't the only shield he put up on Twitter. He believes people are coming at him mostly because he's a Trump supporter. He might not be wrong if you look at some of the responses (with Scott Baio explaining the whole situation after the outrage):
https://twitter.com/witchelli/status/856676721956970497
Now here's Baio's explanation from his personal Facebook:

Saturday, April 22nd around 3:30 PM my wife received a text message saying Erin Moran had died. I couldn't believe it. NO PRESS OR MEDIA HAD REPORTED THIS. I thought it may be a hoax. Shortly after that TMZ reported this to be true, along with every other news outlet to follow. I was sad, in disbelief, sick to my stomach, and in complete shock.
Sunday, April 23rd I sat in my office, collected my thoughts to post a statement. I wanted to remember all the best, my most fondest times with Erin. I was still trying to process this loss.
Later that evening, the Internet and television stations were blasting headlines "Erin Moran died due to a heroine overdose ". This made me very upset and angry. This is one of my worse fears for her, or anyone else. Especially in this business. I was on an emotional rollercoaster. I hadn't slept well since the news of her passing.
Monday, April 24th at 6AM Pacific time I did a live radio interview. I was asked ONLY about Erin's troubled past due to drug & alcohol abuse. I was still upset and said I felt that living that kind of a lifestyle will catch up with you and nothing good would come of it.
THIS WAS BEFORE THE CAUSE OF DEATH WAS ANNOUNCED STATING STAGE 4 CANCER.
Now it seems every news outlet & tabloid wants to paint a different picture of me and of what really happened. They're stating that I'm saying drugs caused her to die after it was reported stage 4 cancer. This is so wrong! Now I truly understand the meaning of "Fake News". This is crazy.
I'm also trying to process this loss. Erin was my very first real girlfriend. My wife and Erin contacted each other and spoke often for over a decade. I even had her on my reality show years ago. I DID reach out to her over a span of 30 years.
Please stop assuming the worse in me. I'm a compassionate person. I'm very heartbroken over her passing, especially since it was cancer.
I don't see people going after or attacking every network that said it was a drug overdose.
I've openly stated my truths.
I'm done.