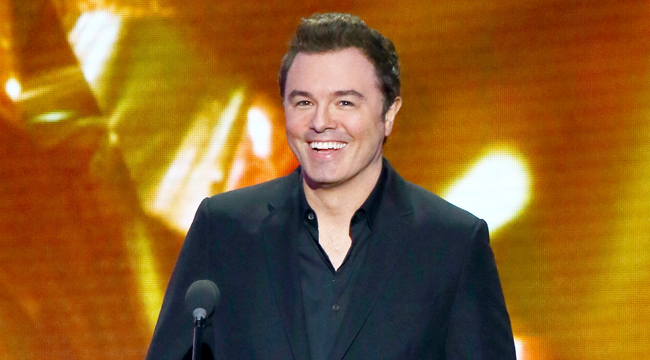 Over the weekend, Family Guy creator Seth MacFarlane angst-tweeted about Fox News, which he labeled as "fringe sh*t" that "makes me embarrassed to work for this company." MacFarlane was, of course, alluding to how he's worked for decades under the 20th Century Fox umbrella that encompasses conservative news channel Fox News, which has sparked outrage (including from Judd Apatow) for its coverage of current border immigration practices, especially detention centers where children are separated from parents.
Following MacFarlane's tweet, Fox News executive Michael Tammero fired back to point out how Seth is "NOT quite embarrassed enough to not cash that check" while being heavily involved with multiple current Fox programs. MacFarlane has heard that return criticism, so he's putting his money where his tweet-mouth is. Deadline reports that MacFarlane has donated $2 million to NPR and tacked on another $500,000 for KPCC, which distributes NPR to LA and much of SoCal. An NPR spokesperson issued a statement of gratitude:
"We are deeply appreciative of the generous gift from Seth MacFarlane, which will go to supporting local news coverage, allowing NPR and Member stations to continue working together to tell the story of the whole country from everywhere in the country."
MacFarlane hopes that his dollars will go towards countering a recent sentiment from Fox News host Tucker Carlson, who has suggested that viewers should eschew all other news outlets as untrustworthy. The donation will be applied directly toward NPR's Collaborative Journalism Network that shall help NPR's 1,800 or so embedded journalists come together on overall coverage while digging in more efficiently on breaking and investigative reporting. Ideally, this will help viewers benefit from more comprehensive local coverage rather than simply being left to, you know, tune into cable news.