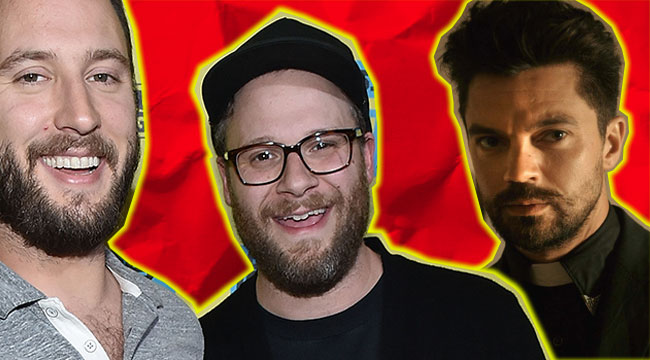 From This Is the End to the forthcoming Neighbors 2: Sorority Rising, childhood friends and comedy partners Seth Rogen and Evan Goldberg have worked on numerous projects together. Preacher can now be added to that list — it's the much-anticipated new AMC series based on the cult favorite, Garth Ennis-penned, Steve Dillon-drawn comic that debuts Sunday, May 22 at 10 p.m. ET.
Unlike their previous work, however, Preacher presented Rogen and Goldberg with a story far more serious than comedic. Which is why many were surprised when, in late 2013, rumors began swirling that these comedy maestros were adapting the series for the small screen. Even when AMC confirmed the news a few months later, Preacher fans and novices alike were still confused. But now, as we near the premiere, it seems pretty clear that the pair not only nailed the adaptation, but they also succeeded in saving Preacher from the pits of development hell — something others had been trying and failing to do since before the comic's last issue was published in October of 2000.

First Attempts
As early as May 1998, Ennis was trying to translate his popular property into cinematic success. Hence, the 127-page script he wrote based on the "Gone to Texas" story arc. Tank Girl's Rachel Talalay was attached to direct the project, which was being financed by British company Electric Entertainment while Kevin Smith and Scott Mosier would produce. By 2000, though, Smith had departed the film.
Despite this setback, Electric Entertainment announced in 2001 that Preacher was still a go. Talalay would still direct from a watered-down version of Ennis' original script with a budget of $22 million, but by 2006, a TV adaptation seemed like the answer with Daredevil and Ghost Rider director Mark Steven Johnson at the helm.
Johnson wrote a new and, perhaps, too-faithful adaptation of the comic, but in 2008, HBO moved on. From there, Columbia took the reigns and the project bounced from Spectre director Sam Mendes to Eagle Eye director D.J. Caruso.

Nth Time's the Charm
Despite the renewed buzz Caruso's announcement generated, Columbia's efforts to adapt Preacher didn't survive as long as Electric Entertainment's unsuccessful attempts. News regarding whether or not the comic book would ever see the light of day in theaters or on television screens withered into nothing, and the matter was all but dropped. Or at least until November 2013 when rumors surfaced that AMC — the home of The Walking Dead and Breaking Bad — had ordered a pilot. Considering the channel's pedigree, the prospect of Preacher joining such ranks excited everyone from hardcore fans to greenhorn newcomers. And then came the revelation that Seth Rogen was behind it.
At the time, Preacher readers and television writers didn't know what to think, but less than three months later, AMC confirmed the rumors and revealed that Rogen and Goldberg would produce alongside Breaking Bad producer Sam Catlin, who would serve as showrunner. With Catlin's experience on one of television's all-time best dramas and what HitFix critic Alan Sepinwall called Rogen and Goldberg's "surprising flair for blending comedy, blasphemy, and horror" in This Is the End, the project's potential was becoming clear.
Aside from Rogen's jokes about hiring famous friends like Duncan Jones and Rian Johnson to direct an episode or two, most of 2014 passed without any news. Then, just before the new year, AMC revealed in December that they had officially ordered a pilot based on Rogen and Goldberg's script, with Goldberg set to direct and Caitlin on to produce.
With that, 2015 quickly became the year of all things Preacher. Casting rumors and announcements ran rampant across the internet, naming Captain America: The First Avenger and Agent Carter's Dominic Cooper as Jesse, Agents of S.H.I.E.L.D.'s Ruth Negga as Jesse's girlfriend Tulip O'Hare, and The Misfits' Joseph Gilgun as the Irish vampire, Cassidy. By April, all three (and many more) cast members were locked in for the pilot and, following a stellar early screening for AMC executives, an additional nine episodes. A full 10-episode season of Preacher would be coming to American television sometime in 2016, and everyone had the guys behind some of the past decade's best cinematic weed and dick jokes to thank.
In a set video released by AMC back in March, executive producer James Weaver exclaimed, "Seth and Evan's childhood passion has willed this into existence." Earlier in the one-and-a-half-minute clip, Rogen said he'd "been a fan of the comic for so long" and as soon as he and Goldberg finished reading it "over 10 years ago," they "tried to start making it." Per the timing, this would suggest that the duo tried to get in on the action just before HBO hired Johnson to take the reigns following the final death of the first film adaptation attempts.
Perhaps these delays were for the best because Rogen and Goldberg's efforts with AMC seem to be paying off well before the May 22 premiere date. Not only was the first trailer for the series everything fans had been pining for for so long, but the show's loudest champions have continuously proven the naysayers wrong along the way. From a literal treasure trove of acclaimed classic and contemporary sources, to repeated promises to never compromise for the sake of censors, these two collaborators and the expert team they've gathered around them have put together what looks like a fantastic adaptation of Ennis' books.
Preacher will come at you from the heights of heaven and the depths of hell on Sunday, May 22 at 10 p.m. ET, only on AMC.