Sons of Anarchy creator Kurt Sutter took a gang of bikers that often committed cold-blooded murder and other heinous crimes and he humanized them to the point where you forgot they were mostly criminals.
Now that SOA is officially over and Sutter has moved onto The Bastard Executioner, fans have had time to re-digest the entire series and find Easter eggs and other behind-the-scenes facts that mostly went unnoticed during their first viewing. So, here's a look at a few interesting ones.
Keeping it in the family
Many fans know that Kurt Sutter is married to Katey Sagal, who played Gemma Teller. But they may not truly understand how deep the Sagal family influence in Sons of Anarchy goes. Katey is one of five siblings, and some of them were involved in the making of SOA. Her younger sister, Liz, was a producer, her brother Joe appeared in an episode and Margaret Murphy, Tara's boss, was played by McNally Sagal, Katey's sister-in-law.
Bonus note: Jackson "Jax" Teller may even be named after Katey Sagal's son, Jackson James.
Keeping it in the Family Part 2
Continuing a theme, sometimes there's no one better suited to play a family member in a show than someone you're actually related to. The same was the case in Sons of Anarchy where Donal Logue played Lee Toric, a drugged out former U.S. Marshal that was working to avenge the murder of his sister Pamela. Pamela was actually played by Karina Logue, Donal's sister.
Calling back The Shield
For those that weren't following Sutter until he started Sons of Anarchy, you may not have realized that a lot of the actors that appeared on the show were also in the cast for The Shield, a show Sutter was a producer, writer and director on. Actors that were called back from The Shield include Walton Goggins, Kenny Johnson, David Marciano, CCH Pounder, Benito Martinez and many more. It was practically all of them, but Sutter was more hesitant about bringing Michael Chiklis (aka Vic Mackey from The Shield) aboard. That is until the very end when he played an important role in the series finale.
The Return of Bachman
If you were watching Sons of Anarchy during its third season, you would've noticed a cameo appearance from one of the show's biggest fans – Stephen King. The famous horror writer appeared in an episode as a cleaner named Bachman, which is actually an ode to his early career pseudonym, Richard Bachman.
Putting a new face on things
The role of Clay Morrow may have seemed like it couldn't have been played by anyone other than Ron Perlman, but there was actually a time when they tried to make that happen. When they first filmed the pilot for Sons of Anarchy, Clay was played by Scott Glenn (The Silence of the Lambs and Daredevil). They went back and reshot most of Clay's scenes to fit in Perlman, but you can still catch Glenn in the background on occasion in footage from the first episode.
Happy Hell's Angel
Happy was so well received by viewers that he went from being a nomad to a full-fledged member of the SAMCRO charter in a short amount of time. This promotion means even more when you learn that David Labrava was brought onto the set of Sons of Anarchy as a technical assistant due to his experience with bikes. Oh, did we forget to mention that he's actually a member of the Hells' Angels? Yep, he's the real deal.
Real Life Founder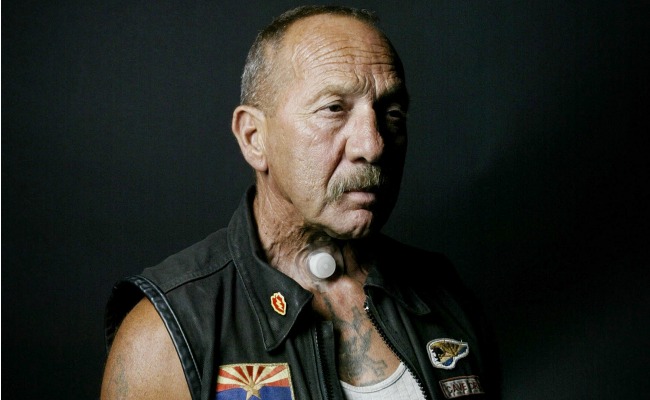 Happy wasn't the only person on set that had connections to a real life bike club. The "First 9" of SAMCRO were the nine founders of the club way back when. One of those founders is Lenny, who's played by Sonny Barger, a founding member of the Hell's Angels' Oakland chapter.