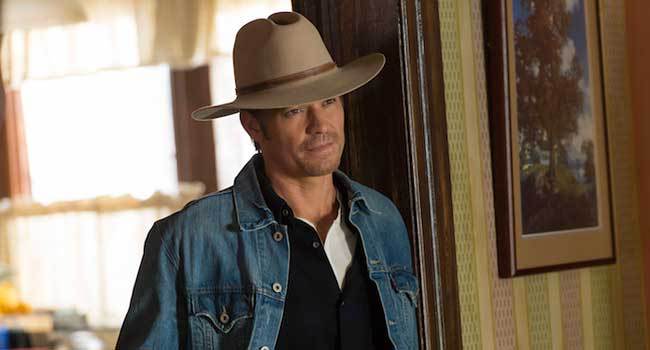 Good news and bad news.
BAD: Justified ended its six season run this week, meaning we've seen the last of Raylan and Boyd and the rest of the crew from Harlan.
GOOD: Starting this Sunday, April 19, and lasting until April 25, Screenbid will auction off memorabilia from the show, and they are selling everything. From office supplies to SUVs to a very famous severed prop arm. I really recommend flipping through all 32 pages of items up for auction, if only to sit there thinking about who would actually bid on some of it. It's fascinating and so very, very weird.
But if you don't have the type of job where you can take an hour to scroll through 32 pages of memorabilia from cable television shows, fear not. I do have that kind of job, and I pulled out some highlights.
Item: Darryl Crowe, Jr.'s 1985 Suburban
Description: "In season 5, Darryl Crowe Jr. drives this classic 1985 GMC Sierra Suburban Diesel 6.2L. VIN #: 1G5GK26J6FF526926 Odometer reads 48,161 The interior driver's seat is torn and both driver and passenger side arm rests are missing. Headliner fabric needs to be replaced. The exterior is in good shape. The A/C has been retrofitted to R134A from the old R12 system. The engine mounts and transmission needs work. Overall, it's in decent shape, but it definitely needs a little work. VEHICLE IS SOLD AS IS A $150.00 document transfer fee will be required for this vehicle."
You know what the best part of this is? I mean, besides the thing where the opening bid for every item is set at $25 and even that seems a little steep for a 30 year old diesel-powered Chevy Suburban with no arm rests and a half-shot transmission. I'll tell you. Picture some guy, probably named Randy, pulling up to his friend's house in this thing and proudly saying "Look familiar?" while his friend looks on in complete confusion.
Item: Severed Rubber Arm
Description: "This severed (rubber prop) arm is bloody at the edges and features a ring on the finger. It was detached from season three villain Robert Quarles by Ellstin Limehouse."